2 Charts on Today's 2 Key U.S. Data Releases: Q3 GDP & Initial Jobless Claims
Two key numbers on the U.S. economy were released this morning at 8:30 a.m.: (1) the standard weekly initial jobless claims number; and (2) the 'Advance Estimate' of Q3 gross domestic product (GDP) change.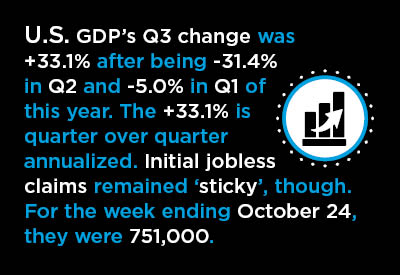 Both results are highlighted in the graphs below. The bigger story is sure to be the outsized increase in GDP and I'll come to that in a moment.
But first, initial jobless claims remained 'sticky.' For the week ending October 24, they were 751,000.
They have been higher than 2008-2009's recessionary peak of 665,000 for 32 weeks in a row.
They need to fall to around 400,000 before there can be sighs of relief that the economy is truly on the mend.
In the last recovery phase, it was when they moved below 300,000 that optimism reigned once again.
Graph 1: U.S. Initial Jobless Claims Weekly - as of October 24, 2020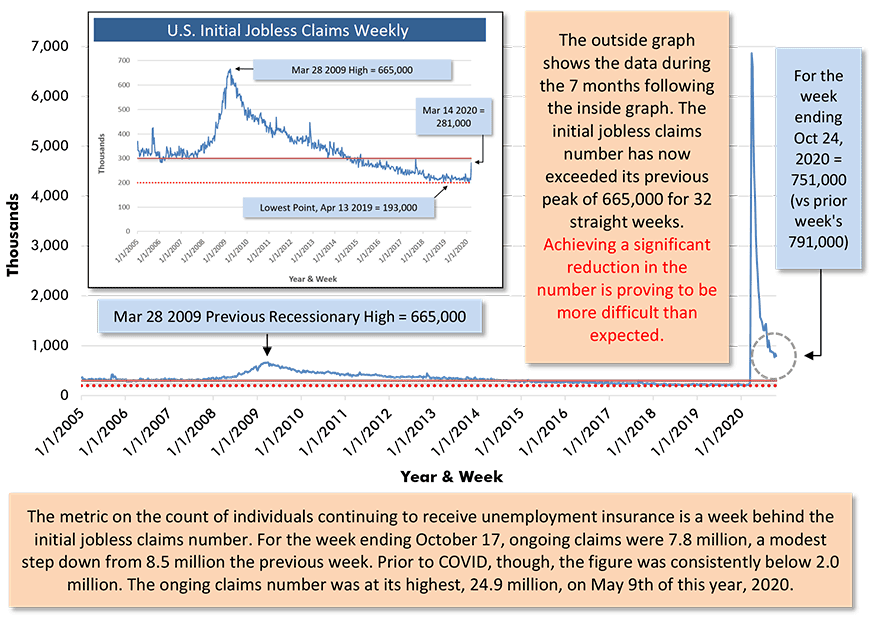 Data source: Department of Labor & Census Bureau.
Chart: ConstructConnect.
As for GDP's Q3 change, it was +33.1% after being -31.4% in Q2 and -5.0% in Q1 of this year.
The +33.1% is quarter over quarter annualized. In other words, it's the q/q change extended, hypothetically, over a full year.
There's another way to look at the GDP number that provides a clearer picture.
Constant-dollar U.S. GDP peaked in Q4 2019 at $19.254 trillion. By Q2 of 2020, due to the COVID-19 outbreak and lockdown measures, it had fallen to $17.303 trillion. That was a decline from peak of -10.1%.
In Q3 of this year, there was a significant bounce back of GDP, to reach $18.584 trillion.
It's important to know that $18.6 trillion is still -3.5% compared with Q4 2019.
Graph 2: U.S. 'Real' GDP Growth, Y/Y & Q/Q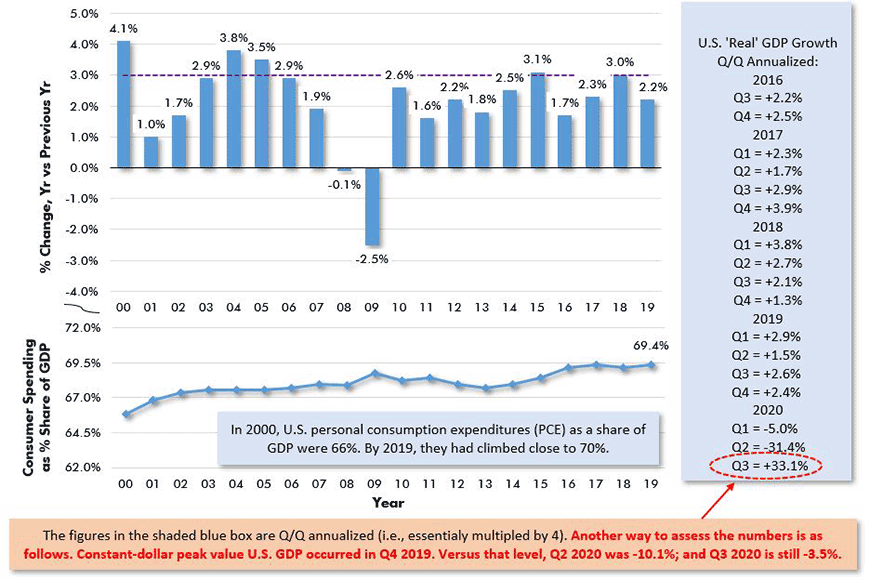 'Real' is after adjustment for inflation.
Data source: Bureau of Economic Analysis (BEA).
Chart: ConstructConnect.
Some individual line items in the latest GDP report are as follows (and keep in mind that these are all annualized):
Personal Consumption Expenditures (PCE) +40.7%;
Durable Goods within PCE, +82.2%;
Investment in Nonresidential Structures, -14.6%;
Investment in Residential, +59.3%.
There's a dichotomy in construction activity at the moment, with the homebuilding side seeing an upswing while the nonresidential side remains hunkered down.
---
About Alex Carrick
Alex Carrick is Chief Economist for ConstructConnect. He has delivered presentations throughout North America on the U.S., Canadian and world construction outlooks. Mr. Carrick has been with the company since 1985.
See Related Posts
Economic News, COVID-19