9 Mid-June Economic Nuggets ‒ With an Emphasis on U.S. Jobs Recovery
June's mid-month Nuggets report features eight graphs on employment levels in key segments of the economy (red line), versus the total number of nonfarm jobs in the U.S. (blue line).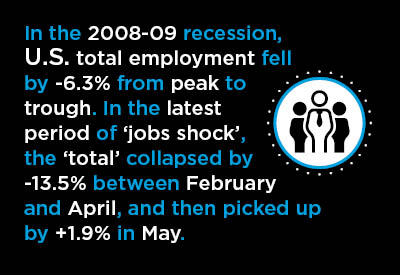 The graphs below are interactive. When one slides a cursor across the chart, call-out boxes appear showing values for each data point, as well as percent changes year over year and month over month.
In all eight graphs, there are drops in employment in late-winter/early-spring. The degrees of those declines vary widely. In May, there were some significant upticks in employment again. In other words, there were recoveries of job losses.
Surprisingly, though, May's jobs improvements were not as universal as might be imagined. In four (i.e., half) of the eight industrial subcategories, there were further small deterioration in staffing.
(1) Construction Jobs Make Nice Comeback
In the 2008-09 recession, U.S total employment fell by -6.3% from peak to trough. During roughly the same period, the construction sector's contraction in jobs was -29.4%, or a figure approaching minus one-third.
In the latest period of 'jobs shock,' the 'total' collapsed by -13.5% between February and April, and then picked up by +1.9% in May.
Construction's slide from February to April of -12.8% was closely aligned with the fall for 'total'. But in May, construction's improvement of +7.1% was considerably better the gain registered by 'total'.
---
Interactive Visual: Graph 1
---
(2) Architectural & Engineering Services Jobs Hold Relatively Steady
In the Great Recession, 'architectural and engineering services' employment, from peak to trough (-12.6%), fell by more than 'total' jobs (-6.3%), but less than 'construction' jobs (-29.4%).
In the current year's jobs retreat, initiated by the coronavirus pandemic, the 'architectural and engineering services' employment decline from February to April was a relatively minor -5.2%. And in May, there was a slight jobs pickup, +0.5% month to month.
The Architectural Billings Index (ABI), of the American Institute of Architects (AIA), which monitors the volume of new design work appearing on drawing boards, has plummeted of late. Nevertheless, the jobs numbers in the sector have not been affected to anything like the same extent, so far.
There is still carry-over activity from a strong pre-COVID-19 construction marketplace to be completed.
---
Interactive Visual: Graph 2
---
(3) Manufacturing Struggles with Long-term Jobs Decline
Between 2000 and 2010, manufacturing jobs in the U.S. shrank by one-third (-33.9%), due to a combination of 'offshoring' and automation.
From 2010 to early 2020 (i.e., over the past decade), manufacturing jobs were slowly on the rise. But then the economy-wide lockdown in second-half-March and full-April of this year caused production-line jobs to retreat by -10.4%.
Famously, motor vehicle manufacturing plants ceased operations to place a check on accumulating inventories of unsold cars and trucks. Also, several large meat packing plants were closed for health reasons. The coronavirus was spreading too rampantly throughout their workforces.
In May 2020, total U.S. manufacturing jobs were +2.0% month to month.
The Purchasing Managers' Index (PMI) of the Institute for Supply Management (ISM) remained weak at 43.1% in May, although that reading was a little better than April's 41.5%. A figure less than 50.0% indicates the manufacturing sector is in decline. (In April 2009, the PMI dropped to just 39.9%.)
The Federal Reserve's latest (April) calculation of manufacturing's capacity utilization rate places it at just 61.1%. In January and February of this year, it had been 75.0%.
---
Interactive Visual: Graph 3
---
(4) Motion Picture & Sound Recording: A Recession Like No Other
The Bureau of Economic Analysis (BEA) has declared that the latest recession began in February of this current year, 2020. This is not a recession like any others in the past, however. And certain sectors reveal the truth of that statement more clearly than others. Take what's happened to employment in the 'motion picture and sound recording' industry.
From Graph 4, companies making movies, videos and recorded music barely set off any job tremors in the 2008-09 recession. Grasping the necessity for social distancing in the spring of this year, however, studios and on-location film sets were quickly shut down.
More than half the jobs in the sector (-52.9%) have now vanished. Moreover, 'motion picture and sound recording' was one of the few unfortunate sectors to experience further job losses in May.
Streaming services are being forced to dig ever deeper into their 'vaults' to find shows to keep the world entertained.
---
Interactive Visual: Graph 4
---
(5) Restaurant and Bar Employment Demonstrates 'Low Base Effect'
Some sectors of the economy have been negatively impacted far more than others. Air travel, hotels and motels, and bars and restaurants immediately come to mind.
From Graph 5, employment at 'food services and drinking places' nosedived by half (-49.2%) between February and April of 2020. Then in May, with 'phased' business reopenings underway in nearly all states, jobs in the sector shot up, in percentage terms, by +21.9%.
That +21.9% figure for May versus April demonstrates a serious difficulty in interpreting the data. The month-to-month percentage-change is large and suggests great news. But it's only so big because the denominator in the calculation (i.e., the base figure with which the new number is being compared) is so small. Jobs with 'food services and drinking places,' even with May's improvement, were still -38.0% compared with their level earlier in the year.
The 'low base effect,' leading to large percentage changes that are somewhat misleading, is going to be an issue with respect to any number of economic data series (e.g., retail sales, gross domestic product) from now through the end of this year.
---
Interactive Visual: Graph 5
---
(6) Hospital Jobs Decline Challenging to Explain
Hospital employment in the U.S. flattened during the 2008-09 recession, then began what was mostly a slow steady climb over the next nine year. The curve was inclining a little more steeply in 2019 and the first quarter of 2020. In April and May, though, it fell.
The March to May drop in hospital jobs was modest, only -2.9%, but it's challenging to understand (i.e., with a health crisis underway), nonetheless.
Some high-profile hospitals have been able to take more advantage of financial help offered by government. Others have been experiencing financial stress, resulting in layoffs, as elective surgeries have been placed on hold to deal with the immediate coronavirus threat. Charges for elective surgeries pay most hospital bills.
There may also be an 'exhaustion' element in the hospital jobs figures. Worker burnout in COVID-19 front-line situations, such as encountered in New York, has undoubtedly placed some hospital staff on the sidelines.
---
Interactive Visual: Graph 6
---
(7) Innovation Jobs Helping to Keep the Economy Alive
As is apparent from Graph 7, staffing in the 'computer systems design services' sector was minimally impacted by the Great Recession. And the jobs contraction in the latest recession has also been relatively tepid, -4.1%.
'Software publishing jobs' have displayed a similar pattern. They're not being shown as a graph, though, because the latest month's data is for April, not May. (The jobs numbers for a great many type-of-work subsectors are a month behind the 'broader' series.)
It's to be expected that employment in 'innovation' pockets of the economy will be outperforming more traditional job slots. Widespread implementation and usage of high tech in communications, inventory control and financial oversight are what have been keeping the economy alive in its most-desperate-in-decades hour.
---
Interactive Visual: Graph 7
---
(8) Most Recent 'Essential' Trucking Employment -6.2%
Truck Transportation jobs in the 2008-09 recession fell considerably more, relatively speaking, than 'total' jobs, -15.1% to -6.3%.
In the latest downturn, though, trucking as an 'essential' service, has retained jobs (-6.2%) better than the economy in whole (-12.8% as of May 2020).
Analysts will often say that truck transportation statistics can serve as a 'proxy' for how the economy in general is performing. While the percentage changes won't be precisely the same, there is a mirroring with respect to the timing of cyclical upturns and downturns.
Graph 8 largely confirms this hypothesis.
---
Interactive Visual: Graph 8
---
(9) Canadian Housing Starts Refuse to be Knocked Off Course
In April, Canadian housing starts plunged to 166,000 units seasonally adjusted and annualized (SAAR). But the sizable dip was because the province of Quebec's figure was zero. All construction work in la belle province was suspended by government edict.
With Quebec construction workers back in the field again in May, the national new-home starts level, at 193,000 units SAAR, returned close to its traditional perch of 200,000 units. It has hovered around 200,000 units for the past ten years.
Among Canada's six most populous cities, only Vancouver is showing serious year-to-date softness, -37% for total starts (with multiples at -39%). Montreal is also significantly down, -20% ytd (with multiples -21%), but the one-month shutdown in April has been the cause.
Calgary new home starts ytd are -2% (with multiples -12%). But Toronto starts are +18% (with multiples +14%).
And how about Edmonton and Ottawa (on the Ontario side of the river)? The former's residential groundbreakings are +30% ytd (+39% for multiples) and the latter's, +40% (+46% for multiples).
---
About Alex Carrick
Alex Carrick is Chief Economist for ConstructConnect. He has delivered presentations throughout North America on the U.S., Canadian and world construction outlooks. Mr. Carrick has been with the company since 1985.
See Related Posts
Economic News