AEC Cares' Blitz Build Renovates Center for Women & Families
For the seventh straight year, AEC Cares took on the Herculean task of renovating a building serving a local community in a single day. This year's "blitz build," dubbed projectOrlando, saw the revitalization of the Coalition for the Homeless of Central Florida's Center for Women and Families (CWF).
This year's annual "blitz build" took place on April 26, the day before the American Institute of Architects' (AIA) Conference on Architecture in the host city of Orlando. Over 125 volunteers from the architecture, engineering and construction industry came together to make this year's "blitz build" a success.
Volunteers diligently worked to refurbish and upgrade the CFW's lobby, family room and dormitory hallways. Work involved painting, carpentry and trim work, furniture construction, and installing new ceiling, art and signage.
"We helped to improve the lives of the men, women and children temporarily living at the Coalition for the Homeless by renovating their facility," said Laura Marlow ConstructConnect vice president of strategic partnerships and AEC Cares executive director. "With new paint, new flooring, new ceiling tiles, new wall covering, new artwork and more, we were able to leave Orlando a little better than we found it."
AEC Cares projectOrlando by the numbers:
25+ corporate sponsors
125+ volunteers
500+ hours of design and planning
50 gallons of new paint
200 sf of new carpet tile
400 sf of new ceiling tile
3,000 sf of new flooring
5,487.5 sf of wall protection
$350,000+ worth of renovations
1 very long, hard day of work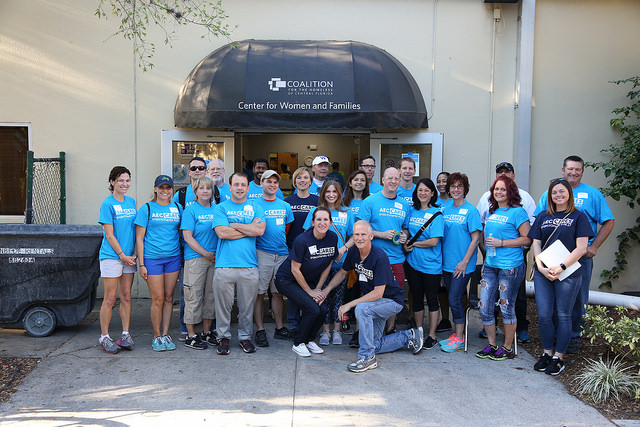 The Coalition for the Homeless of Central Florida, founded in 1987, provides shelter, meals and training to approximately 500 people a day.
"We are honored and very grateful for the work that AEC Cares did to renovate the Center for Women and Families," said John E. Hearn, President/CEO of the Coalition. "The updated and welcoming atmosphere will provide hope to the hundreds of families who walk through our doors each year."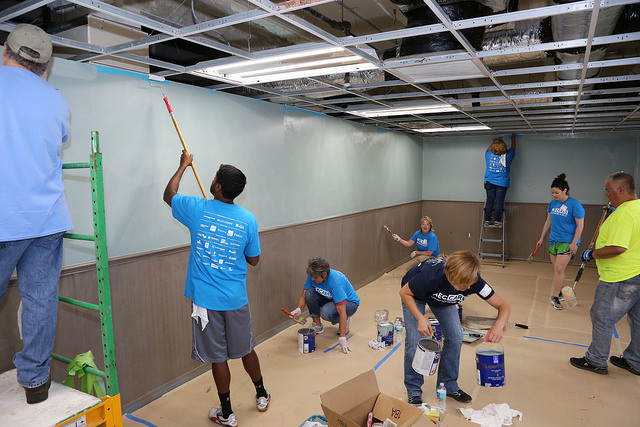 In addition to meeting basic needs, the Coalition also provides help with daycare services, job skills training and education and financial literacy. The goal is to aid their clients on their journey to establishing permanent housing and becoming self-sufficient. The Coalition provides three programs to the community: the Center for Women and Families, the Men's Service Center and the Women's Residential and Counseling Center.
"Shelter is the most basic human right. It is a basic human need that has one of the most stabilizing effects on a person. It can dramatically improve conditions for a person in need of assistance in life," said Ronok Nichols, AIA, with DLR Group and design lead for projectOrlando. "In this case, we are providing a temporary place for families to come home to at night, increasing their level of pride and sense of safety. This provides them the best start in their tough journey ahead."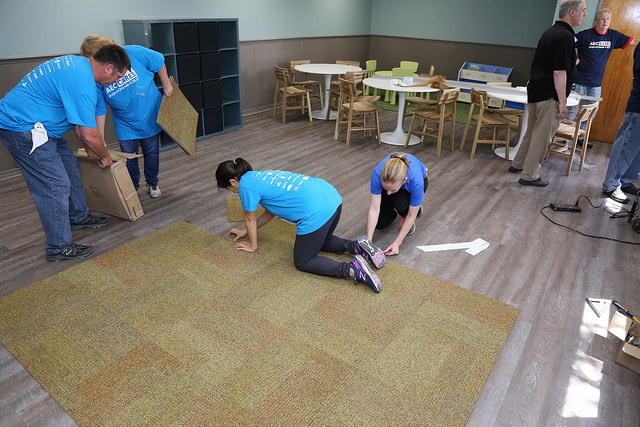 Community service is one of the core values here at ConstructConnect. "The ConstructConnect team is an enthusiastic supporter of AEC Cares and its mission," said Dave Conway, ConstructConnect CEO and president of AEC Cares. "We are excited to support AEC Cares in revitalizing the Coalition for the Homeless of Central Florida's CWF. It is an honor to collaborate with architects, contractors, and product manufacturers to create a warmer and brighter space for families in the Orlando community."
AEC Cares began in 2011 when ConstructConnect, the American Institute of Architects (AIA) and Hanley Wood partnered to rebuild five homes in New Orleans destroyed by Hurricane Katrina. Recent projects included renovating the Athletic Recreation Center in the Sharswood neighborhood in Philadelphia, transforming a former school annex for use as the Metropolitan Family Service's Early Learning and Wellness Center in Chicago and renovating Covenant House Georgia in Atlanta which serves homeless and at-risk youth.
About Kendall Jones
Kendall Jones is the Editor in Chief at ConstructConnect. He has been writing about the construction industry for years, covering a wide range of topics from safety and technology to industry news and operating insights.
See Related Posts
ConstructConnect News, Community Outreach