Architecture Billings Hit Seventh Straight Month of Growth in April
The Architecture Billings Index (ABI) was at 52.0 in April, one point higher than the 51.0 recorded in March. This marks the seventh consecutive month of growth for design activity according to the latest report from the American Institute of Architects (AIA). Growth for demand for design activity had been slowing over the past couple of months prior to April's uptick.

For the ABI, any score over 50 indicates an increase in billings, while scores below 50 indicate a decrease. The ABI is a leading indicator of future construction activity with construction spending following architectural billings by approximately nine months to a year.
The new project inquiry index and the new design contracts index both reflected growth in April, but growth has been slowing for both these indices recently. The new projects inquiry index for April was 56.7, after scores of 58.1 in March and 62 in February. The new design contracts edged down again to 50.1, following scores of 51.5 in March and 54.5 in February.
Even though the new project inquiries index and design contracts index were both above 50, the slowdown in growth may be a cause for concern as we head into the summer months.
The three-month regional averages in April have three of the four regions in positive territory. The West led all regions for the fourth consecutive month with a score of 55.1, a nice increase from March's score of 53.4. The South was next with a score of 51.8 in April. This is the fifth straight month the score has decreased in the South, indicating growth in design activity is slowing.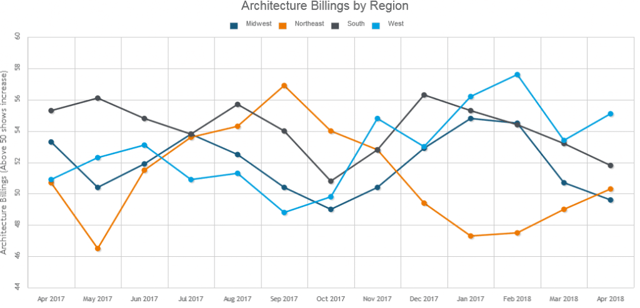 The Midwest's score fell again in April, dropping from 50.7 to 49.6. This is the first time that design activity has decreased in the Midwest since October 2017. The Northeast finally climbed above 50, with a score of 50.3. The last time the Northeast had a score above 50 was back in November 2017.
All sectors showed growth in design activity in April. Commercial/Industrial had the highest three-month average in April with a score of 52.7, down from March's 53.1. Institutional got back into positive territory, notching a score of 52.0 in April after falling to 48.7 the previous month.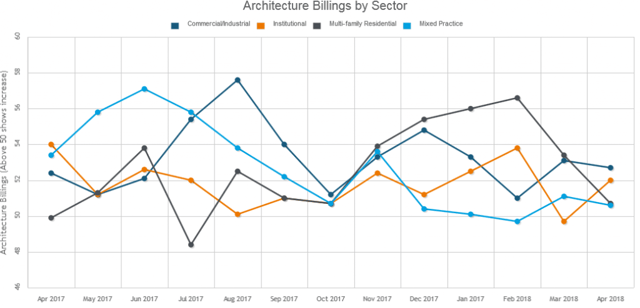 Multi-Family Residential, which had delivered the strongest score for all sectors over the previous five months, fell to a score of 50.7 in April. Mixed Practice, which got back into positive territory last month with a 51.1, managed to show growth despite dropping to score of 50.6 in April.