Architecture Billings Index Bounces Back in February
After a slight decline in billings in January, the Architecture Billings Index (ABI) bounced back in February with a score of 50.7, according to the latest report from the American Institute of Architects. The ABI acts as a barometer future nonresidential construction spending and activity. The average lead time is nine months to a year between billings and construction spending. For the ABI, scores above 50 indicate an increase in billings and scores below 50 indicate a decrease.

Coming off a score of 49.5 in January, the slight increase in design activity for February is a welcome sign. The last time the ABI was below 50 was back in September and December posted the highest score for all of 2016.
The new projects inquiry index increased from 60.0 in January to 61.5 in February. The design contracts index, an indicator of future billings, was 54.7 in February, up from 52.1 in January. Both of these should be good signs for the coming months.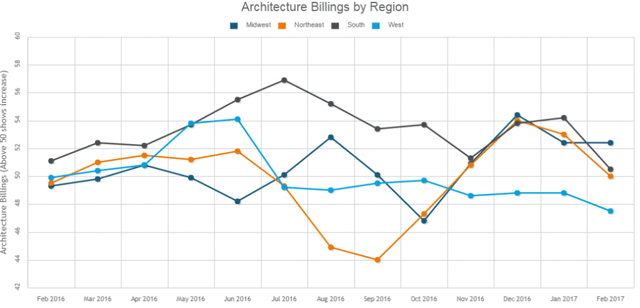 While not as strong as last month, three of the four regions remained in positive territory based on the three-month regional averages. The Midwest posted the highest score with a 52.4, the same as in January. The South was at 50.5 after an impressive 54.2 in January. The Northeast was still in positive territory with a 50.0 in February after posting a 53.0 the previous month. The West region continues to struggle, dropping from a 48.8 to a score of 47.5 in February.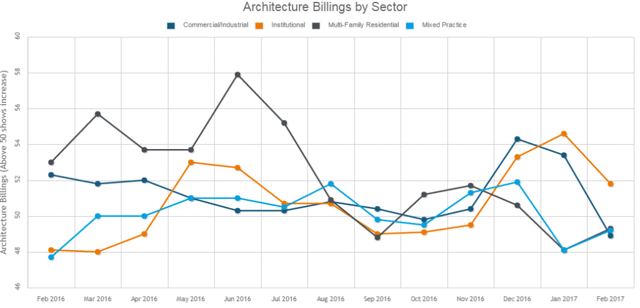 Looking at the sector breakdown for February, Institutional with a score of 51.8 was the only area in positive territory for the month. The Institutional sector score for January was 54.6. Commercial/Industrial dropped from 53.4 to 48.9 in February. Mixed Practice and Multi-Family Residential both improved from their 48.1 in January with Multi-Family Residential climbing to 49.3 and Mixed Practice scoring a 49.2.
ConstructConnect's Chief Economist Alex Carrick feels the construction industry is heading in the right direction.
"Employment in construction surged in the first two months of this year. Average weekly and average hourly earnings for onsite work rose by more than +3.0% year over year, which was better than the 'all jobs' performance for the economy as a whole," said Carrick. "And the latest national housing starts figures climbed to almost 1.3 million units annualized, near its peak since the Great Recession."
"The ABI results are just the latest in a string of indicators suggesting the U.S. construction sector is enjoying increasingly good health," said Carrick.