Architecture Billings Index Posts 11th Consecutive Month of Growth
Demand for design services was strong again in August, according to the latest Architecture Billings Index (ABI) from the American Institute of Architects (AIA). The August ABI score was 54.2, up from July's score of 50.7, and the eleventh consecutive month for growth for architecture billings. This sudden uptick is a positive sign as growth in billings had been slowing over the previous few months.

For the ABI, all scores above 50 indicate an increase in billings and scores below 50 indicate a decrease in demand for design services. The ABI acts as a barometer for nonresidential construction starts with construction activity following architectural billings by nine months to a year.
While the project inquiries index was strong in August, the design contracts index fell below 50. The project inquiries index dropped from 60.5 in July to 58.0 in August. The design contracts index fell from 53.8 last month all the way to 49.6. While that score is just below 50, it does indicate a decrease in design contracts.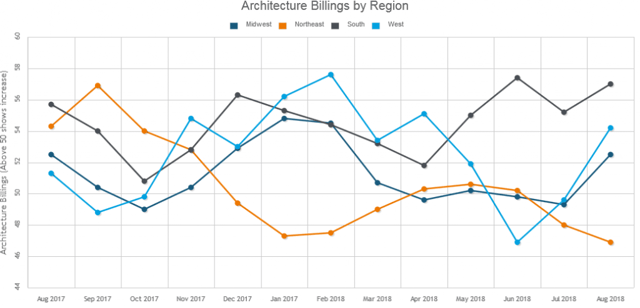 A majority of the regions that fell below 50 in July rebounded nicely in August. The South continues to be the strongest area in the country for architecture billings. The South had a score of 57.0 in August, a nice increase from the 55.2 in July. After dropping to below 50 the previous month, the West saw a huge improvement, going from a 49.6 to 54.2 in August. The Midwest ended its two-month skid with a score of 52.5, a decent jump from the 49.3 in July. The Northeast fell even further in August, going from a 48.0 the previous month all the way down to 46.9.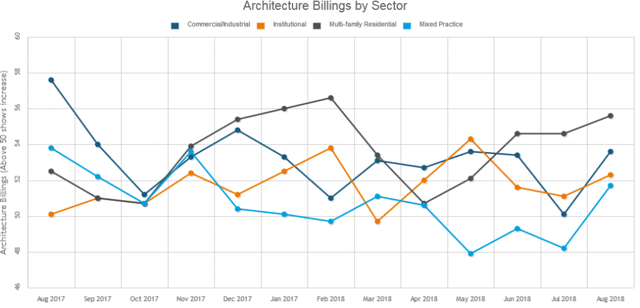 All of the sectors showed positive growth in August. Multi-Family Residential led all sectors again with a 55.6, up a point over July's 54.6. Institutional saw a decent increase, going from 51.1 in July to 52.3 in August. Commercial/Industrial regained what it had lost last month and climbed from a 50.1 to a 53.6. After being the only sector below 50 in July with a score of 48.2, Mixed Practice got back into positive territory with a 51.7.
About Kendall Jones
Kendall Jones is the Editor in Chief at ConstructConnect. He has been writing about the construction industry for years, covering a wide range of topics from safety and technology to industry news and operating insights.