Architecture Billings Index Reports Solid Growth in August
Demand for design services continues to grow with August marking the seventh consecutive month of growth per the latest Architecture Billings Index (ABI) from the American Institute of Architects (AIA). August's ABI score was 53.7, a nice jump from July's score of 51.9. With the exception of January, all ABI scores this year have been above 50. For the ABI, scores above 50 indicate an increase in billings, while scores below 50 indicate a decrease.

The Architecture Billings Index (ABI) is a leading economic indicator of nonresidential construction activity. The average lead time between architecture billings and construction spending typically ranges between nine months to a year.
The new projects inquiry index grew again in August, increasing from a score of 59.5 in July to 62.5. The new design contracts index dropped a bit last month, declining from 56.4 to 54.2 which is still a solid score. The strong scores from these two indices along with the ABI paints a positive picture for construction spending through next year.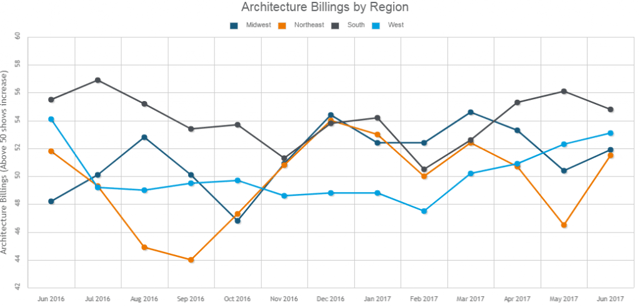 All areas of the country are reporting strong demand for design services based on their rolling three-month averages. The South led all regions with a score of 55.7, up from 53.8 the previous month. The Northeast region continues to improve, increasing from 53.6 to 54.3 which is good seeing how that area had fallen to 46.5 back in May. The Midwest eased down a bit from July's score of 53.8 to 52.5 for August. The West saw a bit of an increase in August, climbing from 50.9 to 51.3.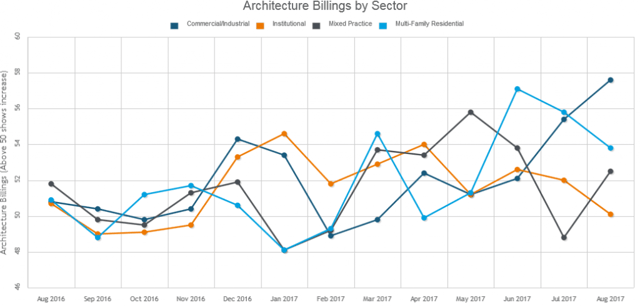 Looking at the sector breakdown in August, all areas were back in positive territory. Commercial/Industrial had another sizeable increase in August, going from 55.4 in July to 57.6. Mixed Practice got back above 50 in August, increasing from 48.4 to 52.5. Multi-Family Residential and Institutional both fell a bit from their previous month's scores. Multi-Family Residential slipped 2 points from 55.8 to 53.8 in August. Institutional dropped from 52.0 in July to 50.1.
Here is Chief Economist Alex Carrick's analysis on the latest ABI report:
"Construction starts numbers and put-in-place investment figures have been wallowing in a dry spell over the past several months.
"Contractors, hoping the lull is only temporary, can take encouragement from the AIA's latest positive survey results.
"Design services billings and new order placements are good predictors of upcoming on-site work.
"The conclusion to be drawn is that construction activity will be warming up again moving into 2018."