Architecture Billings Notches Fifth-Straight Month of Growth in June
The Architecture Billings Index (ABI) recorded its fifth consecutive month of growth in billings in June according to the latest report from the American Institute of Architects (AIA). June's score of 54.2 was up from May's score of 53.0 and the second highest score of the year, just under March's 54.3.
With the exception of January's 49.5, demand for design services has been strong all year and is a positive sign for the construction sector. The ABI is a leading indicator for construction activity with the average lead time between architecture billings and construction spending being between nine months to a year.
Both the new projects inquiries index and the design contracts index were down from their May scores but were still above 50, reflecting an increase from the previous month. The new projects inquiry index dropped from 62.4 to 58.6 in June. The new design contracts index dropped from 54.8 to 53.7. Both indices have reported strong numbers all year and billings are starting to get closer to those scores.
Billings across the country are looking good with all four regions reporting strong scores in June. The Northeast got back above 50 with a score of 51.5 after a dismal 46.5 in May. The South decreased from 56.1 in May to 54.8 in June. The Midwest ticked up from 50.4 to 51.9. The West also increased from 52.3 last month to 53.1 for June.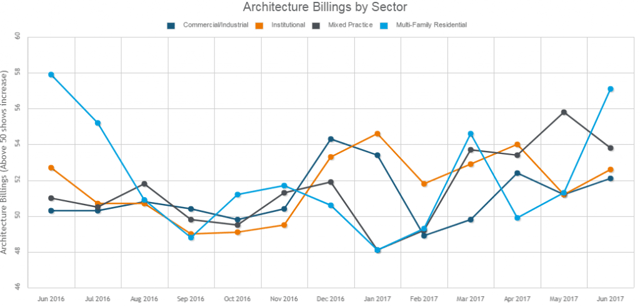 Demand for design services also increased across all sectors in June. After a sub-50 score a couple of months ago, Multi-Family Residential came on strong in June with a 57.1, nearly matching the 57.9 it hit in June 2016. Commercial/Industrial and Institutional both saw increases in their scores from the previous month. Commercial/Industrial increased from 51.2 to 52.1 and Institutional went from 51.2 in May to 52.6 in June. Mixed Practice dropped a couple of points, going from a 55.8 last month to 53.8 in June.