August Jobs Increases +130,000 in U.S. and +81,000 in Canada
Revision to July Cuts U.S. Jobs Count by -20,000
The latest Employment Situation report from the Bureau of Labor Statistics records an increase in the total number of U.S. jobs amounting to +130,000 in August. But that's versus a newly revised July figure that is down by -20,000 compared with what was reported a month ago.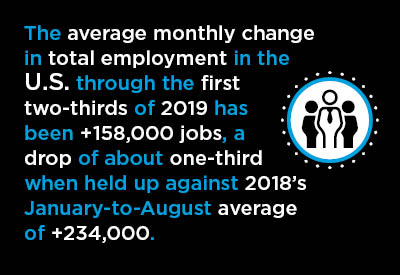 Therefore, August's jobs count is only +110,000 relative to the number that was the headline figure for July as originally reported.
In August versus July, the participation rate rose slightly to 63.2% from 63.0%, but it had no detrimental effect on the unemployment rate, which stayed the same, 3.7% SA (seasonally adjusted).
The average monthly change in total employment in the U.S. through the first two-thirds of 2019 has been +158,000 jobs, a drop of about one-third when held up against 2018's January-to-August average of +234,000.
On a percentage-change basis, year-over-year employment in the U.S. is currently +1.4%. Services employment, which is by far the biggest subset of total employment, has a y/y jobs improvement of +1.6%.
Construction Hiring Weak; Manufacturing Barely Making Headway
The construction sector continued to sport a remarkably low unemployment rate in the latest month, 3.6% NSA (not seasonally adjusted). (The NSA jobless rate for the economy overall in August was 3.8%.)
The month-to-month jobs pickup in construction, however, was relatively weak, +14,000. Construction's monthly jobs gain through the first eight months of this year has been less than half of what was managed last year, +14,000 down from +31,000.

Manufacturing has fared even worse. Average monthly hiring in production-line work so far in 2019, at +5,000, has been off by three-quarters compared with the +21,000 average number achieved from January through August in 2018.
In August, the Purchasing Managers' Index (PMI) of the Institute for Supply Management (ISM) fell below 50.0% for the first time since August 2016, three years ago. The history of the PMI data series says that a figure below 50.0%, but still above 42.9%, signals an economy that is growing, but a manufacturing sector that is contracting.
The U.S. manufacturing sector's capacity utilization rate remains tepid, at 75.4%, down from 76.7% a year ago.
Biggest Surge in Employment Provided by Government
In the latest month, government staffing climbed by +34,000 jobs. Most of the increase occurred at the federal level, +28,000. Almost all the jump (+25,000) has been due to taking on temporary workers to help with next year's Census.
State hiring in August was +6,000, while local government made no hiring initiatives.
The total number of U.S. government jobs is now +49,000 compared with what was reported in July. July's earlier reported figure has been revised upwards by +15,000.
Industrial subsectors with noteworthy increases in employment in August were: 'temporary help services,' +15,000; 'accommodation and food services,' +12,000; 'computer systems and design services,' +10,000; and 'hospitals,' +9,000.
The retail sector continued its backwards march in the latest month, with -11,000 jobs shed.
Neither 'transportation and warehousing' nor 'information services' showed any inclination to add to payrolls in August.
U.S. Wage Growth Healthy, but Not as Upbeat as in Canada
U.S. average hourly earnings in August were +3.2% year over year, about where they've been for the past 16 months. Average weekly earnings were +2.9%.
While the U.S. compensation climb has been healthy, it has not kept pace with north of the border. Canadian workers reaped rewards of +3.7% hourly and +3.6% weekly, according to data released by Statistics Canada in its August Labour Force Survey report.
The most striking Canadian wage gains in the latest month were realized by non-union workers, +4.0% hourly and +4.1% weekly.
U.S. construction sector earnings in August were +2.7% hourly and +3.3% weekly.
Canadian Hiring Much Stronger in 2019 Than in 2018
The Bank of Canada (BOC) recently chose to stand pat on interest rates. If it weren't for the fact that the Federal Reserve has turned dovish on interest rates (i.e., inclined to lower them), the BOC would likely be more aggressive on the yield front.
Canadian employment in August shot up by +81,000 jobs. The participation rate rose from 65.6% to 65.8% and the unemployment rate, at 5.7%, stayed steady.
Average monthly employment in Canada year to date has been +38,000 jobs, way better than last year's comparable figure of +4,000.
Total employment in Canada is currently +2.5% y/y; with services at +2.7%; construction at +3.5%; and manufacturing, +1.9%. The U.S. comparable percentage changes are +1.4%, +1.6%, +2.4%, and +1.1% respectively. The U.S. is trailing in all four categories.
The Canadian full-time jobs increase in August was +23,000, a decent enough number on its own, but it took a back seat to the pickup in part-time employment, +57,000
Youth employment (aged 15 to 24), and especially among females, rose dramatically in August, by +42,000. The sectors with the most jobs increases were: 'finance and insurance,' 22,000; 'professional and scientific services,' +17,000; and 'education services,' +21,000.
Quebec and Ontario have Boasting Rights re. Jobs
The province with the lowest unemployment rate at present is Quebec, 4.7%. In second and third places are British Columbia, 5.0%, and Saskatchewan, 5.1%.
The fastest rates of employment increase are being registered by Ontario, +3.5%, and B.C., +3.0%.
Of the +471,000 net new jobs created in Canada since August 2018, more than half (+250,000) have originated in Ontario.