Canada's August Jobs Count Bounced Higher by One-Quarter of a Million
The 'Tough Love' Unemployment Rate 9.0%
Canada's total jobs count climb in August was +246,000, which wasn't as high as in July or August, +419,000 and +952,000 respectively. Nevertheless, the month-to-month percentage change was +1.4%, which was better than the +1.0% advance that was achieved in the U.S. The latest numbers come from Statistics Canada's August Labour Force Survey.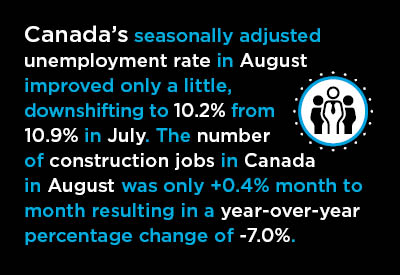 Canada's seasonally adjusted (SA) unemployment rate in August improved only a little, downshifting to 10.2% from 10.9% in July. The nation's not seasonally adjusted (NSA) unemployment rate, however, utilizing the same 'tough love' methodology as in the U.S., improved to 9.0%, which wasn't distant from the comparable U.S. figure of 8.5%.
The U.S. 'tough love' methodology is rigorous in counting, as among the unemployed, only those individuals who are trying hard to find work (i.e., not workforce members who are ambivalent on the subject).
Most interesting is to consider the proportions of the enormous jobs losses (total and by sector and by age cohort) from February to April of this year that have been recovered. February to April was when the economy was in lockdown to combat COVID-19's spread.
Key jobs recovery ratios, also termed 'claw-back' ratios, are set out in Tables 1 and 2.
Table 1: Monitoring the Canadian Employment Recovery ‒ August 2020

Data source: Statistics Canada.
Table: ConstructConnect.
Total Jobs Claw-Back Ratio in Canada Nearly Two-Thirds
The claw-back ratio for total jobs in Canada has moved up to nearly two-thirds, 63.5%. In July, it had been 55.3%. Canada's 63.5% jobs recovery rate is considerably better than America's 43.8% (i.e., less than half).
Lower coronavirus infection and mortality rates north of the border have allowed Canada's economy to reopen in smoother fashion, with fewer fits and starts from regional and intermittent flare-ups, than in the U.S.
Furthermore, it's not as if Canada's February-to-April total jobs decline was less severe than America's. In fact, on a percentage-change basis, it was more drastic, -15.7% to -13.5%.
Table 2: Provincial Employment 'Claw-Back' Ratios
* Recovery in number of jobs since April 2020 as % of Feb-Apr's 'Big Drop' in jobs count.
Background Data: Statistics Canada.
Table: ConstructConnect.
Quebec & N.B. Lead; Ontario & Alberta Lag in Claw-Back Ratios
Table 2 shows the jobs 'claw-back' ratios for Canada's provinces. They have all managed to retrieve more than 50% of their Spring jobs drops. Quebec,76.8%, and New Brunswick, 73.6%, have done best. Ontario, 55.5%, and Alberta, 54.5%, are in the rearguard.

Nationwide, the number of Canadian manufacturing jobs in August was +1.8% month over month. Manufacturing jobs are now -4.9% year over year in Canada, compared with -5.6% in the U.S.

The number of construction jobs in Canada in August was only +0.4% month to month, resulting in a year-over-year percentage change of -7.0%, worse than the comparable U.S. figure of -3.9%.

Private sector employment in Canada pulled ahead by +1.5% m/m in the latest month and now sits -6.4% y/y. Public sector employment in August increased by a tepid +0.7%, but on a year-over-year basis, it's only -1.1%. Government jobs have been by far the most secure during the pandemic.

As in the U.S., the sector continuing to account for the biggest shortfall in jobs relative to February pre-COVID-19 days is 'accommodation and food services' (known as 'leisure and hospitality' south of the border), -21.3% (-19.7% y/y from Table 3). Nor is it a coincidence that the gap in employment among 15-to-24-year-olds in Canada is stunningly outsized, -15.3%. Bar and restaurant and hotel/motel payrolls are heavily weighted towards young people.

Table 3: U.S. and Canadian Jobs Markets – August 2020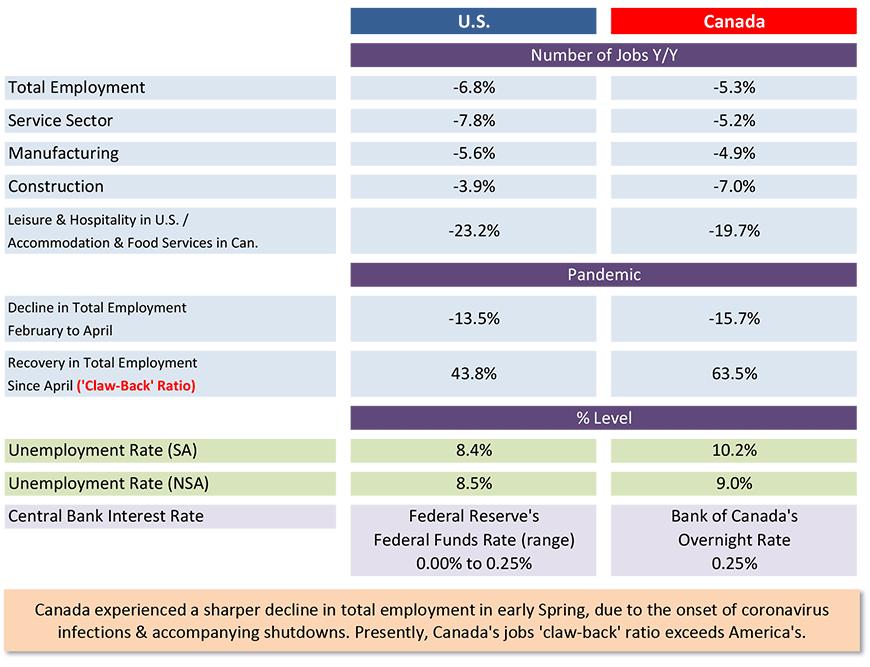 SA is seasonally adjusted / NSA is not seasonally adjusted.
U.S. labor data is from a 'payroll survey' / Canadian labour data is from a 'household survey'.
Canadian NSA unemployment rate 'R3' is adjusted to U.S. concepts (i.e., it adopts U.S. equivalent methodology).
Data sources: U.S. Bureau of Labor Statistics (BLS) & Statistics Canada.
Table: ConstructConnect.
About Alex Carrick
Alex Carrick is Chief Economist for ConstructConnect. He has delivered presentations throughout North America on the U.S., Canadian and world construction outlooks. Mr. Carrick has been with the company since 1985.
See Related Posts
Economic News