December's ABI Score is Largest Increase in 2016
The Architecture Billings Index (ABI) reported its third straight month of increased demand for design services to finish out 2016 with growth in nine out of 12 months. The December ABI score of 55.6 was the highest all year, well above the 50.6 in November. (All scores above 50 indicate an increase in billings and scores below 50 indicate a decrease.)

The ABI serves as a barometer for future nonresidential construction spending and activity with a lead time averaging between nine months to a year from billings and construction spending.
The new projects inquiry index was 57.2 in December, down a bit from the 59.5 in November. The design contracts index, which is an indicator of future billings, increased in December, climbing from 50.2 in November to 51.2.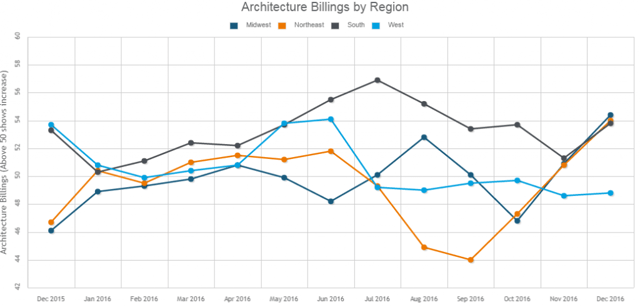 Things appear to be heading in the right direction according to the latest three-month regional averages. For the Midwest, the regional average rose from 50.9 to 54.4 and in the Northeast, it jumped from 50.8 in November to 54.0 in December. The South also saw a decent increase going from 51.3 to 53.8 in December. The West dropped again in December, declining from 49.6 in November to a score of 48.8.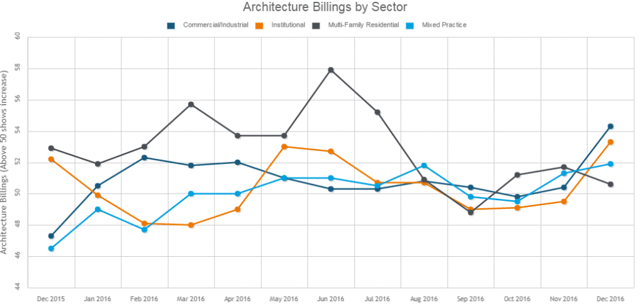 All sectors saw growth in December based on their three-month rolling averages. Commercial/Industrial had the highest sector average, increasing from 50.4 in November to 54.3 in December. The Institutional sector got back into positive territory in December with a score of 53.3 after hovering below 50 at 49.5 in November. Mixed Practice increased from 51.3 to 51.9. Multi-Family Residential also managed to score above 50 but dropped from 51.7 in November to 50.6 in December.
Nine months of growth in billings in 2016 should bode well for the construction industry as we get further into the year. Growth in billings from last year should equate to growth in construction activity and spending in 2017.