10 Mid-October Economic Nuggets
The current assessment of the world economic climate seizes on a happenstance that has not been apparent in more than a decade. There is virtually simultaneous growth in the major industrialized countries and trading blocs around the globe. The U.S., Canada, the European Union, Japan and China are all engaged in what is being termed a 'synchronous' expansion.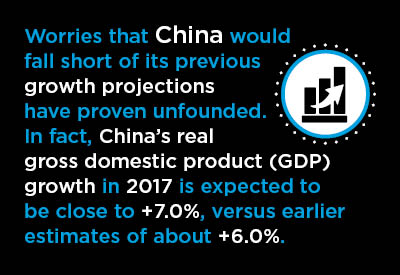 China may be the best news story of all. Worries that China would fall short of its previous growth projections have proven unfounded. In fact, China's real (i.e., inflation-adjusted) gross domestic product (GDP) growth in 2017 is expected to be close to +7.0%, versus earlier estimates of about +6.0%. Furthermore, sincere efforts are underway to address a severe problem overhanging the nation's banking sector, a threatened tsunami of defaults from bad loans.
In the mid-00s, when Chinese growth was in double digits annually (i.e., a range of +10.0% to +12.0%), the country was consuming about 40% of the world's production of raw materials. Assuming that a less rapid rate of growth would diminish the appetite for inputs overlooks a key development. Since the mid-00s, the size of China's economy has at least doubled. As a result, each incremental degree of growth in China is now on top of a much larger base. Chinese output increases are once again beginning to place a strain on resources, thereby warming up prices.
Against this background, there are the following 'economic nuggets' to be gleaned from recent public and private sources of data, although a cautionary note needs to be added. Due to survey-versus-reporting-date lags, many of today's statistics were derived on the cusp of when Hurricanes Harvey and Irma swept through southern Texas and much of Florida. Over the next couple of months, some key standard statistical series, especially with respect to jobs, will be skewed first downwards (due to work stoppages), then upwards (due to rebuilding efforts).
(1) The latest reported 'real' (i.e., inflation-adjusted) gross domestic product (GDP) growth rate for the U.S. economy was +3.1% (annualized) in Q2 of this year. Q1 had been slower at +1.2%. Q2 2017's +3.1% performance was the fastest increase in more than two years, dating back to Q1 2015's +3.2%. The 'Holy Grail' for U.S. annual GDP growth has become +3.0% or higher. That level is unlikely to be reached this year. The Q3 result will be held back by the extensive jobsite downtimes caused by Hurricanes Harvey and Irma. The most recent five-year history of U.S. annual GDP growth has been: +2.2% in 2012; +1.7%, 2013; +2.6%, 2014; +2.9%, 2015; and +1.5%, 2016. The last time +3.0% or more was achieved occurred in 2005, at +3.3%.
(2) Canada, on the other hand, is likely to exceed +3.0% GDP growth this year. Canada's Q2 figure was an outstanding +4.5%, which came on top of an almost-as-great +3.7% in Q1. The last time Canada had a GDP growth rate as strong as in 2017's Q2 was in 2011's Q3, at +5.7%. Canada's large gains of late can be partly explained as a rebound effect. There were three instances between Q1 2015 and Q2 2016 when Canadian quarter-to-quarter GDP change (annualized) slipped below zero: -1.0% in Q1 2015; -0.4% in Q2 2015; and -1.4% in Q2 2016. Nor has it been just the preliminary upticks in energy and metals commodity prices that have provided the uplift. Many aspects of high-tech have gained momentum north of the border.
(3) Groundbreakings on three mega projects with a combined value of $17 billion gave a huge boost to ConstructConnect's non-residential construction starts in September. The headliners were: a petrochemical plant for Exxon Mobil in Texas ($10 billion); a new Delta Airlines terminal at La Guardia Airport in New York ($4 billion); and the Atlantic Sunrise natural gas pipeline in Pennsylvania ($3 billion). The first is categorized to industrial; the latter two to engineering/civil. Through Q3 of this year, compared with the same time frame of last year, total non-residential construction starts are +9.4%, led by industrial (+46.6%) and engineering (+29.2%), with institutional holding steady (+1.1%) and commercial in mild decline (-5.1%).
(4) While the Conference Board's index measure of U.S. consumer confidence declined slightly in September, to 119.8 from August's 120.4, it remained solidly upbeat. It stayed well above the pivot point of 100.0, which was established in 1985 when sentiment was about evenly divided between optimism and pessimism. September's reading of 119.8 was buffeted downwards by extraordinary regional effects. Darker moods prevailed in Texas and Florida as many consumers struggled with how to put their lives back together in the wake of hurricane devastation.
(5) The current-dollar (i.e., not adjusted for inflation) volume of U.S. retail and food services sales managed a strong month-to-month showing in September of +1.6%. And while the desirable target for year-over-year sales is +5.0%, the latest month's performance of +4.4% advanced closer to reaching that benchmark. Non-store retailers (i.e., shopkeepers with Internet platforms rather than bricks and mortar locations) chalked up a +9.2% year-over-year advance. Among all retail sectors, the only double-digit year-over-year percentage change rung up in September was by 'building material and garden equipment and supplies dealers', +10.7%.
(6) The Conference Board also surveys CEOs as to their level of confidence in the economy. Rather than monthly, though, this exercise is conducted quarterly. This year's Q1 reading reached a high not seen since before the recession. But there has been modest slippage over the last two quarters. Q3's index value was 59, down from 61 in Q2. Above 50 indicates more positive than negative responses. According to the Conference Board, 29% of CEOs say they have raised their capital spending plans since early this year and only 14% have cut back. The reason most often cited for upping capital spending is an expectation of higher sales volumes.
(7) In September, the Purchasing Managers' Index (PMI) of the Institute for Supply Management (ISM) bobbed up two percentage points to 60.8% from 58.8% in August. The PMI is presently sitting on its loftiest perch since May 2004's 61.4%. To illustrate how feverish manufacturing activity has become, a section of text in the ISM's press release highlights that a PMI reading above 60.0% has historically corresponded with outstanding real GDP growth of at least +5.0%.
(8) The ISM survey results also indicate that, between August and September, there were input cost increases for 23 commodity categories. Aluminum, copper, lumber, nickel, all manner of steel products and a variety of oil and natural gas derivatives (e.g., plastic resins and polyethylene/polypropylene products) are on the list. As for those raw materials with declines in pricing, there were none. The bottom-line result was a 9.5 percentage-point jump in the ISM's Price Index (which is really a cost index), to 71.5% from 62.0% in August. Furthermore, hurricane aftermath issues have caused some supply chain difficulties, particularly in chemicals.
(9) Canada's housing starts in September, at 217,000 units seasonally adjusted and annualized (SAAR), handily breached the 200,000-unit threshold for the eighth time to date this year. Only in May (194,000 units) did new home foundation work fail to meet the established standard. Average monthly housing starts in Canada through the first three quarters of 2017 have been 217,000 units, +9.3% relative to 2016's comparable 199,000 units. Among provinces, Manitoba (+54%) has offered the most fertile soil for homebuilders. With respect to major cities, it's been Ottawa-Gatineau (+35%) leading the way, followed by Edmonton (+25%), Calgary (+22%) and Montreal (+19%). Toronto (+4%) has made minimal headway. Vancouver (-18%) has lagged.
(10) For the fourth time this year, the Dow Jones Industrial (DJI) average has broken through a thousand-point barrier. The DJI began 2017 at 19,763. On October 18, it shot above 23,000. The DJI's effervescence may be terrific news for investors, but it does lead one to wonder if it makes sense. It was 30 years ago, on the 19th of October 1987, that the DJI dropped by 23% in a single day. In stock market lore, that day of infamy has earned the title Black Monday. While there is little reason to think that today's magic carpet ride is in danger of soon ending, there will eventually and inevitably come that harrowing moment when it will be advisable to dismount.
See Related Posts
Economic News