12 Mid-August Economic Nuggets
The U.S. quarter-to-quarter annualized advance in gross domestic product (GDP) in the second quarter of this year was an outsized +4.1%. It was the fastest leap forward since 2014's third quarter jump of +4.9%. Some of the strength has been attributed to exports that were shipped early to beat target dates for the imposition of tariffs.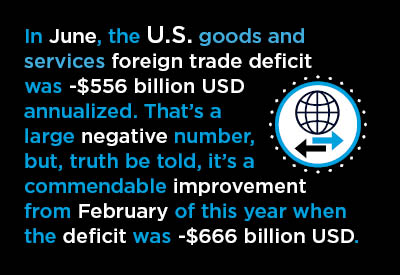 Nevertheless, it's fair to say that America's economy is presently firing smoother on more cylinders than it has in a long time. And even when problems do crop up, such as a potential Turkish currency crisis, they are – to all outward appearances − being dealt with and hustled aside quickly.
The foregoing is not to imply that there are no nagging points of concern. After all, inflation is shaking off its long slumber and preparing to possibly initiate trouble. The all-items Consumer Price Index (CPI) in July was +2.9% year over year. Even the 'core' rate (+2.4%), which omits volatile food and energy components, exceeded the +2.0% level favored by the Federal Reserve.
But the 'headline' unemployment rate at 3.8% is exceptionally low and almost all appears bright on the jobs and earnings front. Nor is the good news with respect to minimal unemployment limited to the U.S. For example, in July in the province of Ontario the construction sector recorded a jobless figure of only 1.3%, an all-time record dating back to 1976.
In what seems like a major oversight, there are no monthly state level statistics available from the Bureau of Labor Statistics (BLS) on construction unemployment rates.
With the foregoing as background, there are the following additional observations to be derived from the latest government agency and private sector data releases.
(1) Life has been a little more difficult for stock market 'players' so far this year. Anticipation of the big corporate tax cuts propelled equity prices upwards last year. From the beginning to the end of 2017, the DJI was +25.1%; the S&P500, +19.4%; and NASDAQ, +28.2%. From the conclusion of last year through August 15th's closing this year, however, the DJI is only +1.8% and the S&P 500, +5.4%. NASDAQ has done better, +12.6%. (By the way, the Toronto Stock Exchange was +6.0% in 2017, but it's been flat, at -0.4%, so far in 2018.)
(2) But there are indications the love affair with some of the big-name high-tech stocks is coming to an end. Within the span of just a few days in late July, Netflix and Facebook both lost more than 20% of their value. Where did the faults lie? The former fell short of its new subscriber target and the latter, besides coming under congressional scrutiny for confidentiality failings, struggled to meet revenue projections.
(3) U.S. retail and food services sales in July were a pleasantly upbeat +6.4% year over year. Retail alone was +6.0%. Cash registers at 'food services and drinking places' were on fire, at +9.7% year over year. Largely due to a big hike in the price of petrol (i.e., +25.4% year over year as recorded in the CPI report), gasoline station sales were +22.2% year over year.
(4) Several other U.S. retail sales leaders were: 'clothing and accessories stores', +6.4%; 'health and personal care stores', +5.0%; 'grocery stores', +4.9%; and 'electronics and appliance stores', +4.2%. The revenue earned by non-store retailers (i.e., from Internet platforms and online auctions) was +8.7%. But what have 'sporting goods, hobby, musical instrument and book stores' been doing wrong? Their sales in July backtracked -4.9% year over year.
(5) In June, the U.S. goods and services foreign trade deficit was -$556 billion USD annualized. That's a large negative number, but to what degree is it scary? Truth be told, it's a commendable improvement from February of this year when the deficit was -$666 billion USD. Also, worth keeping in mind, is that prior to the 2008-09 recession (i.e., the so-called 'Great Recession'), the U.S. foreign trade shortfall occasionally touched on -$800 billion. In June 2018, approximately half (49.5%) of America's goods-alone (i.e., omitting 'services') trade deficit was with China.
(6) U.S. oil imports halfway through 2018, expressed in number of barrels, were -9.0%. So far this year, there have been big drops in volume imports from Saudi Arabia (-38.1%) and Venezuela (-43.0%). Supplies from Canada (+3.3%) and Mexico (+4.5%) have climbed a bit. Canadian supplies as a share of total U.S. imports are now 46.5% (i.e., nearly half).
(7) Here are some additional interesting oil sector 'share' or 'slice' statistics. The share of U.S. oil imports provided by OPEC nations has fallen to about one-third (33.7%). The share of U.S. total oil consumption that is imports is now 19%. The share of U.S. total oil consumption that is coming from Middle-eastern OPEC nations is now only 3.8% (i.e., less than 4.0%).
(8) U.S. total employment through July of this year has been +1.6% year over year. The year-over-year pick-up in services-providing jobs has been the same as for all jobs, +1.6%. Within goods-production, however, both construction (+4.4%) and manufacturing (+2.6%) have beaten the all-jobs improvement. The payroll increase in production-line manufacturing is particularly noteworthy. As recently as January 2017, the manufacturing sector was shedding jobs, -0.1% year over year. Also noteworthy, for taking on more staff over the past year, have been: 'transportation and warehousing', +3.1%, and 'professional and business services', +2.5%.
(9) At a more granular level, some of the largest year-over-year increases in hiring in America have occurred in the following industrial sub-sectors: 'machinery and equipment rental', +13.2%; 'couriers and messengers', +9.4%; 'electronic shopping and electronic auctions', +5.6%; 'oil and gas extraction', +5.2%; 'waste management', +4.8%; and 'pet and pet supplies stores', +4.7%.
(10) Sure, almost all the U.S. jobs news lately has been uplifting. But there are some 'gloomy-gus' corners nonetheless. The following are industrial sub-sectors where year-over-year employment has taken a tumble: 'logging', -0.4%; 'travel agencies', -1.4%; 'telecommunications', -2.2%; 'book stores and news dealers', -5.3%; and 'video tape and disc rental', -16.4%. The latter is no shock whatsoever given that nearly all of us are now downloading or streaming our most desired shows to engage in that newest of vices, 'binge-watching'.
(11) Canada's latest monthly housing start number slipped back by nearly one-fifth from 246,000 units seasonally adjusted and annualized (SAAR) in June to 206,314 units in July. The monthly average for national housing starts throughout 2017 was 220,000 units. In the first six months of this year, it was 222,000 units. The only province with a double-digit percentage increase in residential groundbreakings in 2018 to date has been Quebec, +11.0%. Ontario (+2%) and B.C. (+1%) have barely made any forward progress and Alberta (-6%) has shifted into reverse.
(12) Among Canada's six most populous cities, Montreal (+17%) has been the frontrunner in total housing starts so far this year. Next in line are Toronto (+6%) and Calgary (+5%). Vancouver is flat (0%) and Ottawa-Gatineau (-9%) and Edmonton (-15%) are in decline. The biggest surprise, though, is to be found in multi-family starts. The condo boom in Toronto appears to be never-ending. Through the first seven months of this year, multi-family unit starts in Toronto were +21%, beating second-place Montreal's +20% and third-place Calgary's +11%.