13 Mid-December Economic Nuggets
Stock market indices are still soaring to new heights; the U.S. unemployment rate is at a seventeen-year low; Disney Corp., through a planned acquisition of 21st Century Fox, is about to become even bigger; Congress is close to passing an all-encompassing tax reduction bill; long-standing 'net neutrality' can no longer be taken for granted; and the Federal Reserve has advanced another step along its path to 'normalization'. These are just the peaks of the mountain range in economy-land these days. There's a whole lot of turmoil and excitement going on.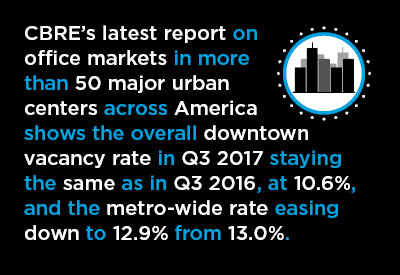 Since late-2015, the Fed has instituted five hikes, of 25 basis points each (where 100 basis points = 1.00%) in its trend-setting interest rate. Three of those upward bumps have come this year. For seven years, the federal funds rate sat at rock bottom, between 0.00% and 0.25%. During the same time frame (2009-2015), inflation was rarely an issue, almost never climbing above +2.0% year over year. 'All-items' inflation in the U.S. currently stands at exactly +2.0% year over year.
With commodity costs on an uptrend and wages perhaps on the cusp of a break-out, – i.e., above the current barrier of +3.0% year-over-year – 2018 may finally see first stirrings of real concern about where prices are headed. Janet Yellen is handing over chairmanship of the Fed to Jerome Powell on February 3. There's her legacy to be considered. Ms. Yellen won't want to hear later that she failed to take sufficient pre-emptive action to head off inflationary challenges.
Since everyone knows the economy is presently in rip-roaring shape, the rest of this Nuggets report will mainly concentrate on some subject areas, particularly relating to cities, that are different than the usual. Have no fear. The 'soil' is still rich and the 'crop' abundant.
(1) Rental rates, 'cap' rates (i.e., a rate of return on investment calculation used by developers), changes in office-based employment, net absorptions of space and completions of new space all play roles in the construction of office facilities. Much of the foregoing is captured in office vacancy rates. CBRE's latest report on office markets in more than 50 major urban centers across America shows the overall downtown vacancy rate in Q3 2017 staying the same as in Q3 2016, at 10.6%; the suburban rate improving slightly to 14.1% this year from 14.3% a year ago; and the metro-wide rate easing down to 12.9% from 13.0%.
(2) Regionally, according to CBRE, the metro-wide office vacancy rate is currently lowest in the West (12.1%), followed by the East (13.4%) and the Midwest (15.6%), with the South (15.8%) trailing. In downtown office towers, thanks mainly to Manhattan's exceptionally large and tight market, it's the East (9.9%) in front, followed by the West (11.4%) and the Midwest (15.0%), with the South (15.9%) hanging back.
(3) Focusing on urban cores, since that's where most of the eye-catching skyscrapers are located, the cities across America with the stingiest (i.e., only single-digit) downtown office vacancy rates are: Oakland (5.2%); San Francisco (6.3%); Austin (7.6%); Seattle (8.8%); Boston (8.9%); Charlotte (also 8.9%); Nashville (9.9%); and Orlando (also 9.9%). Manhattan has three separate designations: 'Midtown-South' (6.9%); 'Midtown' (8.1%); and 'Downtown' (9.4%).
(4) CBRE further reports that the Top 10 cities in the U.S. for year-over-year office-using jobs growth, of between +3.0% and +5.0%, are: Orlando, Atlanta; Charlotte; Raleigh; Tampa; Dallas; Fort Lauderdale; Houston; Kansas City; and Nashville. Perhaps the most striking note in CBRE's Q3 report is the observation that just five cities are accounting for nearly 50% of all new office supply under construction: Manhattan (13%); San Francisco (11%); San Jose (9%); Washington, D.C. (8%) and Seattle (7%). In most instances, "tech-tenants" are the source of the new demand.
(5) A city's population growth derives from 'natural increase' (i.e., births minus deaths), net domestic migration (i.e., inflows minus outflows) and net international migration (i.e., immigration less emigration). A significant portion of a strong population increase often results from good jobs prospects. In turn, a healthy population gain on its own helps drive institutional and engineering construction (e.g., schools, hospitals and infrastructure). Furthermore, extra people with more earnings and more consumer spending helps propel commercial and industrial construction. Therefore, it's always interesting to know where the most significant population increases are occurring.
(6) As posted on the Web, the Census Bureau's latest population numbers for U.S. metropolitan statistical areas (MSAs) have been estimated as at July 1, 2016. MSAs are downtown cores and suburbs where there are close back-and-forth home-to-workplace commuting ties. Over the latest year for which the data is available (i.e., July 1, 2016 versus July 1, 2015), the ten cities in the U.S. with the largest nominal increases in residents have been: Dallas-Ft. Worth (+143,000); Houston (+125,000); Phoenix (+94,000); Atlanta (+91,000); Seattle (+72,000); Miami (+65,000); Tampa (+61,000); Orlando (+59,000); Austin (+58,000); and Washington, D.C. (+54,000). Notice that the states of Texas and Florida dominate the foregoing list. With three each, they account for six of the ten MSAs.
(7) The latest year-over-year increase in the entire population of the U.S. has been +0.7%. Among urban centers with populations of at least a million, there have been eight MSAs with population gains three times as fast as the national average, or more. Those seven cities are: Austin (+2.9%); Raleigh and Orlando (tied at +2.5%); Charleston and Las Vegas (tied at +2.2%); and Jacksonville, Tampa and Phoenix (tied at +2.1%). Charlotte, Dallas, San Antonio and Nashville (tied at +2.0%) and Seattle and Houston (tied at +1.9%) have barely missed the +2.1% benchmark.
(8) In the latest MSA population statistics, six major cities have recorded notable nominal declines: Chicago (-23,000); Pittsburgh (-19,000); Cleveland (-9,000); Hartford (-8,000); Rochester (-5,000); and Buffalo (-4,000). As an aside, the July 1, 2016 populations of Buffalo and Rochester were almost the same, 1.13 million versus 1.08 million, according to the latest Census Bureau data. On a percentage change basis, the six U.S. cities with the largest drops, July 1, 2015 to July 1, 2016, were: Pittsburg (-0.4%); Hartford (-0.3%); and Buffalo, Rochester, Cleveland and Chicago (tied at -0.2%). By the way, there was a time when Cleveland was vastly more prosperous. It's where John D. Rockefeller lived when he created Standard Oil.
(9) Similar to the way in which MSA populations are larger than core populations, the Census Bureau has an even larger urban area boundary designation which it terms a 'combined statistical area' (CSA). A CSA includes suburbs that are further out from downtowns, plus it also sometimes adds together near-by adjacent MSAs. The latter is said to be justified when there are overlapping labor and media markets. Washington and Baltimore are separate MSAs, but they are one CSA, with a population of 9.7 million. Similarly, San Francisco and San Jose form a CSA with a population of 8.8 million.
(10) As for the three largest cities in the U.S., the MSA population of New York is 20.2 million, whereas its CSA population is 23.7 million. For Los Angeles, the two numbers are 13.3 million (MSA) and 18.7 million (CSA); and for Chicago, 9.5 million (MSA) and 9.9 million (CSA). Talk about CSAs leads logically to a consideration of even larger urban areas. Specifically, there are four major cities lying along America's eastern or Atlantic coastline for which the separation from one to the next is never more than 100 miles: New York, Philadelphia, Baltimore and Washington. The summed population of that megalopolis, − one is tempted to call it "Gotham" – tops 40 million.
(11) The Conference Board's measure of consumer confidence not only stayed at a 17-year high in November, but also rose for the fifth month in a row. Its present level of 129.5 (1985 = 100.0) is closing in on November 2000's exuberant reading of 132.6. The latest Purchasing Managers' Index (PMI) of the Institute for Supply Management (ISM) stayed well above 50.0%. If its November value of 58.2% were to be sustained for a full year, it would correspond with 'real' (i.e., after adjustment for inflation) gross domestic product (GDP) growth of +4.7%.
(12) The October Job Openings and Labor Turnover (JOLTS) report from the Bureau of Labor Statistics (BLS) provides insightful information on what many analysts consider to be a stressed construction labor market. Employers determine 'layoffs and discharges' levels and rates; employees set their own 'quits' levels and rates. Whereas 'layoffs and discharges' levels and rates are down considerably year over year (from 180,000 to 148,000 for the former and from 2.7% to 2.1% for the latter), 'quits' levels and rates are markedly higher (from 127,000 to 172,000 and from 1.9% to 2.5%). Construction workers have been gaining the upper hand over employers and are no longer hesitant to move on to other opportunities.
(13) Canada's economy is roaring ahead as well. The improvement in the world price of oil, while not being fully realized by producers in Alberta (i.e., there are pipeline supply delivery issues), is helping nonetheless. The Toronto Stock Exchange (S&P/TSX) is reaching new all-time highs. And housing starts are continuing to defy expectations. In November, they shot up again. At 252,184 units, seasonally adjusted and annualized (SAAR), they were at their best level in any month of this year. (March was only a little less buoyant, at 251,630 units).