13 Mid-January Economic Nuggets
According to the 'headline' number (4.1%) released by the Bureau of Labor Statistics (BLS), the U.S. economy is now operating close to full employment. And there is widespread delight over the smorgasbord of tax cuts recently made available to corporations and individuals. In the stock markets, there are presently few curbs on the enthusiasm of investors.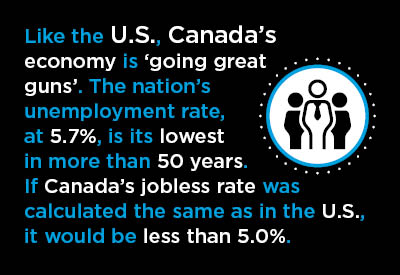 But some analysts are hearing a warning bell over the cheering. The as-yet mild caution they are picking up on concerns the possibility of an outbreak of inflation.
With respect to labor, the year-over-year increase in compensation for all workers in the U.S. in December was +2.9%. For construction workers, it was +4.7%.
On the materials side, not only will newly-imposed duties on some imports (e.g., lumber) add to costs, but it should also be noted that the price of oil has clawed its way back above $60 USD per barrel. Further with respect to commodities, November 2017's Raw Materials Price Index (RMPI), published by Statistics Canada, was +14.2% year over year, with 'crude energy products' +25.4%.
Therefore, the sub-text of much of this month's Nuggets report, especially from point (4) on, is pricing.
(1) Each year, the Milken Institute – a think tank based in Santa Monica, California – compiles a Best Performing Cities Index, based on nine criteria that include job creation, wage gains and technology advancement. In first place in the latest Top 10 listing is Provo (south of Salt Lake City), Utah. Next in line are: Raleigh, North Carolina; Dallas, Texas; San Francisco, California; Fort Collins (north of Denver), Colorado; Sarasota, Florida; Orlando, Florida; Nashville, Tennessee; Austin, Texas; and Salt Lake City, Utah. Note the high ranking (i.e., 6th) for Sarasota, where the holding company (Roper Technologies) that owns ConstructConnect is headquartered.
(2) Milken points out that many of the cities on the 'fastest track' for growth have large health care and/or national defense sectors. It's also helpful for a city when it is home to one or more well-known colleges or universities. For example, Provo plays host to Brigham Young University. Nor should the importance of a thriving high-tech sector to a local economy be underestimated. But it's interesting that rising wages and rents in the best-known technology hubs, such as Silicon Valley, are now causing opportunities to spread further afield.
(3) The cities in positions 11 through 15 in the Milken ranking are: San Jose, California; West Palm Beach, Florida; Charlotte, North Carolina; Atlanta, Georgia; and Tampa, Florida. Among states, Florida has the most urban centers that are moving ahead vigorously. Four of the fifteen highest-ranking cities are situated in the Sunshine State.
(4) For one of three reasons, – i.e., due to previously enacted legislation, or a positive result from a ballot box initiative, or a 'cost of living' adjustment – 18 U.S. states have begun 2018 with a higher official 'minimum wage' than they had at the end of 2017. At $12.50 per hour, the District of Columbia has the highest minimum wage in the country. None of the 50 states currently has a minimum wage above $12.00 per hour. Five states have no minimum wage whatsoever: Alabama; Louisiana; Mississippi; South Carolina; and Tennessee.
(5) Occasional talk about raising the federal minimum wage notwithstanding, it remains at $7.25 per hour. Regionally, the most aggressive plan for upping the minimum wage is in California, where it will be lifted to $12.00 on January 1, 2019, and to $15.00 on January 1, 2022. The District of Columbia's minimum wage will climb to $15.00 on July 1, 2020. In the state of New York, there is an elevated tier for the City of New York. For firms in NYC employing 11 workers or more, the minimum wage will shift upwards to $15.00 per hour on December 31, 2018.
(6) If $15.00 per hour has become the next major target for the minimum wage, the provinces in Canada are much further down that path than are U.S. states. Ontario has just hiked its minimum wage to $14.00 from $11.60 and, a year from now, will extend the advance to $15.00. Moving from $11.60 to $15.00 in little more than 12 months will be an increase of +29%, or nearly one-third. On October 1st of this year, Alberta is expected to boost its minimum wage from $13.60 to $15.00. While there are no other provinces in Canada with minimums greater than $13.00, the floor levels are above $10.00. Nova Scotia, at $10.85, and Saskatchewan, at $10.96, are lowest.
(7) In December, the Purchasing Managers' Index (PMI) of the Institute for Supply Management (ISM) improved to 59.7% from 58.2% in November. December's reading was the second best in 2017, beaten only by September's 60.8%. The ISM tracks the historical relationship between the PMI and 'real' (i.e., inflation-adjusted) gross domestic product (GDP) growth. According to this match-up, the PMI's latest 12-month average value of 57.6% corresponds with a year-over-year constant-dollar GDP burst of +4.5%.
(8) Two of the sub-set indices derived from the overarching PMI survey, and designed to provide context, yielded noteworthy results in December. The 'new orders index', at 69.4%, soared to a peak not seen since September 2004. And the raw materials 'prices' index, at 69.0%, marked 22 straight months of upwards trajectory. The proportion of survey respondents saying they paid more for material inputs was vastly higher (41%) than those reporting they paid less (3%). The remainder (56%) said their material costs were stable.
(9) The capacity utilization rates set out by the Federal Reserve, however, are still disappointing. Keep in mind that reaching 80.0%, at least, is the standard for launching a new wave of capital spending. Total American industry in November 2017 was operating at a usage rate of only 77.1%, although that was better than the 75.5% of November 2016. Manufacturing in November 2017 had improved only slightly to 76.4% from 75.1% a year prior.
(10) Out of more than 20 U.S. industrial sub-sectors, there are eight with usage rates above 80%: 'computers and peripheral equipment', 94.6%; 'paper products manufacturing', 85.6%; 'mining', 84.5%; 'electrical equipment, appliances and components', 84.4%; 'fabricated metal products', 82.4%; 'plastics and rubber products', 81.9%; 'motor vehicles and parts', 81.7%; and 'petroleum and coal products', 81.0%. Several of the foregoing are benefitting from ongoing good consumer demand for cars and light trucks. On that score, Toyota and Mazda have announced they will be building a new $1.6 billion joint-venture plant in Huntsville, Alabama.
(11) Canada's capacity utilization rates are another perkier story entirely. Canada's latest (Q3 2017) reading for 'all industry' from the Bank of Canada was 85.0%, up significantly from 80.7% a year before. Manufacturing charged forward to 85.2% from 81.6%. Six manufacturing sub-sectors were sitting north of 90.0%: 'plastics products', 93.5%; 'rubber products', 92.6%; 'textile mills', 92.0%; 'paper products', 91.7%; 'machinery', 91.3%; and 'petroleum and coal products', 91.1%. 'Electric power generation, transmission and distribution' was at 88.9%. 'Transportation equipment, which includes the auto sector, was at 83.0%.
(12) Like the U.S., Canada's economy is 'going great guns.' The nation's unemployment rate, at 5.7%, is its lowest in more than 50 years. If Canada's jobless rate was calculated the same as in the U.S., it would be less than 5.0%. But there are more potential fault lines north of the border. There's a lengthy list of worries one could easily obsess over: the danger that NAFTA may be scrapped; the high duties imposed on softwood lumber, newsprint and aerospace product exports to the U.S.; the more stringent rules now being applied for mortgage approvals; and the onset of a higher interest rate regime, especially given the heavy indebtedness of Canadian consumers.
(13) Wishing to close on a positive note, though, it's nice to report that Canada's housing starts in December, at 217,000 units seasonally adjusted and annualized (SAAR), once again exceeded 200,000. Only in May 2017 (194,000) did they fail to reach that threshold. For full-year 2017 versus full year 2016, Canadian residential ground-breakings were +11%. Among the nation's six most populous cities, the 2017 annual percentage change in new home starts was strongest in Montreal (+39%), followed by Ottawa-Gatineau (+31%), Calgary (+25%) and Edmonton (+14%). Toronto (-1%) and Vancouver (-6%) weren't invited to the party.