15 Eye-Catching Charts that Highlight Trends in Canada and U.S. Jobs (Part 1)
There's a diversity of ways to assess the strength of an industry within the broader context of the overall economy. Stock market investors prefer to look at profit levels and price-earnings ratios. Financial institutions focus on debt and cash flow. Economists often choose jobs levels.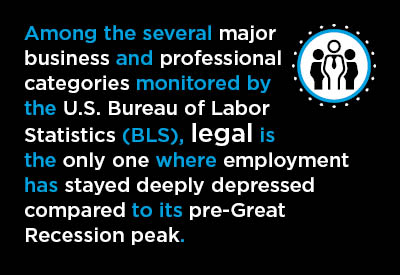 Whether or not employment is on the upswing can give a pretty good indication of which way firms in a particular sector are leaning in terms of investment spending or construction projects.
The underlying data for the U.S. and Canada comes from surveys of employers. A significant point of difference, however, is that the U.S. numbers are seasonally adjusted. For Canada, they are moving 12-month averages of not seasonally adjusted (NSA) figures, placed in the latest month.
A moving 12-month average will accurately capture up-and-down tendencies over an extended period of time, but it's not as responsive in the short term. A large month-to-month swing will become somewhat muted on account of the 11 periods that went before. It's what we have to work with, however, and there are interesting conclusions to be drawn nonetheless.
Canada Forestry and Logging (Graph 1): The recognition that many 'bricks and mortar' retail locations are being pushed aside by sales over the Internet is just one aspect of the shift away from capital spending on square footage and towards different options. The forestry sector is a perfect example of another.
Yes, some of the decline in employment in the woodlands is due to U.S. new homebuilding that is still struggling to regain earlier volumes. Too-easily overlooked, however, is the pulp and paper side of forestry operations. With the advent of smart phones, tablets and other mobile devices combined with e-mailing, text-messaging and additional opportunities to have more direct communication with friends and colleagues through social media, the need for paper has greatly diminished. Advertising, too, while not totally abandoning magazines and newspapers, has more broadly embraced newer high-tech methodology to reach its intended audience.
Graph 1: Canada Forestry & Logging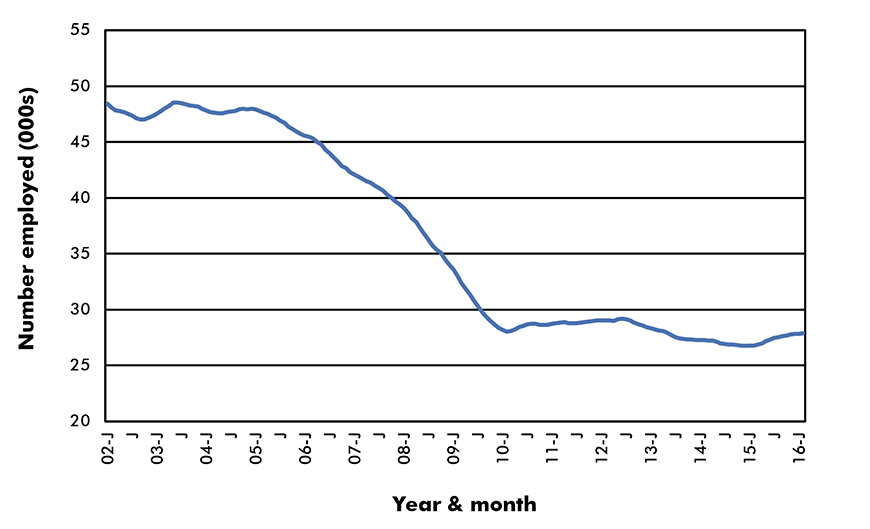 Data source: Survey of Employment, Payrolls and Hours (SEPH), Statistics Canada (Cansim Table 281-0023) / Chart: ConstructConnect.
U.S. Legal Services (Graph 2): It may seem an odd juxtaposition to place U.S. legal services immediately after the Canadian forestry sector, but there are ties binding them that relate to the immense changes underway in the economy as a whole on account of our new digital age.
Among the several major business and professional categories monitored by the U.S. Bureau of Labor Statistics (BLS), which include 'architectural and engineering services' plus 'accounting and bookkeeping services', legal is the only one where employment has stayed deeply depressed compared to its pre-Great Recession peak. Some of the explanation lies in fewer real estate transactions. But again, there may be an unexpectedly large transition towards web services that provide easier and less expensive means to write a will, obtain a divorce and sell or buy a house.
Graph 2: U.S Legal Services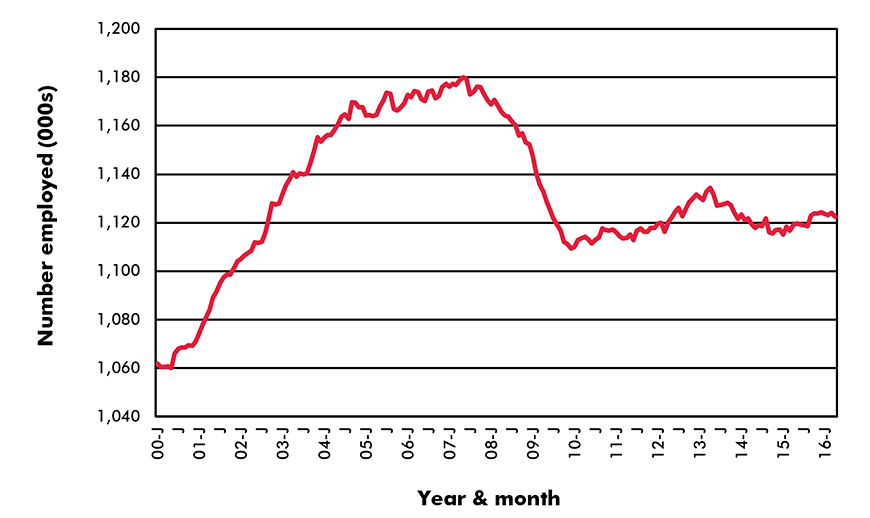 Data source: Payroll Survey, Bureau of Labor Statistics (U.S. Department of Labor) / Chart: ConstructConnect.
Canada Movies, Videos and Music (Graph 3): Never mind what Canada's weakly-valued dollar may be doing to help the nation's manufacturing sector. That's old-style thinking. Instead, have a gander at how the number of jobs making movies, television shows and music videos is skyrocketing north of the border.
Besides, Canadian stars are dominating the Billboard Hot 100 music charts and Ryan Seacrest's Sunday morning Top 40 countdown. Drake and The Weeknd are all over the entertainment news, inspiring other Canadian artists to seek recording fame. So is Justin Bieber, although it's sometimes easier to track his goings-on through police blotters.
Graph 3: Canada Movies, Videos & Music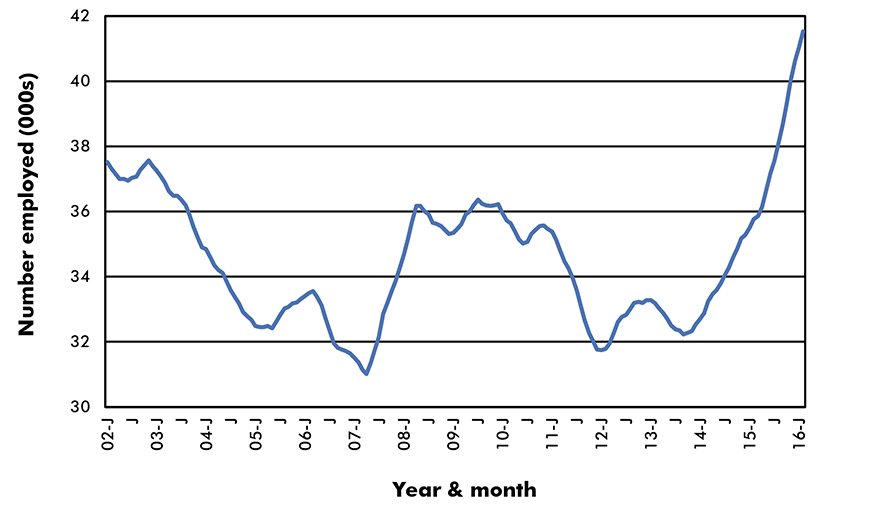 Data source: Survey of Employment, Payrolls and Hours (SEPH), Statistics Canada (Cansim Table 281-0023) / Chart: ConstructConnect.
Canada Hotels and Motels (Graph 4): There's a boom currently underway in U.S. hotel and motel construction and it's being mirrored in accommodation-sector employment, which has moved well beyond its previous peak. In Canada, the number of jobs has picked up nicely since 2010, but still lies below the pinnacle it achieved in 2008. The longer the 'loonie' stays under a shadow, the more it will be a stimulus to visitations from foreign executives and tourists.
Graph 4: Canada Hotels & Motels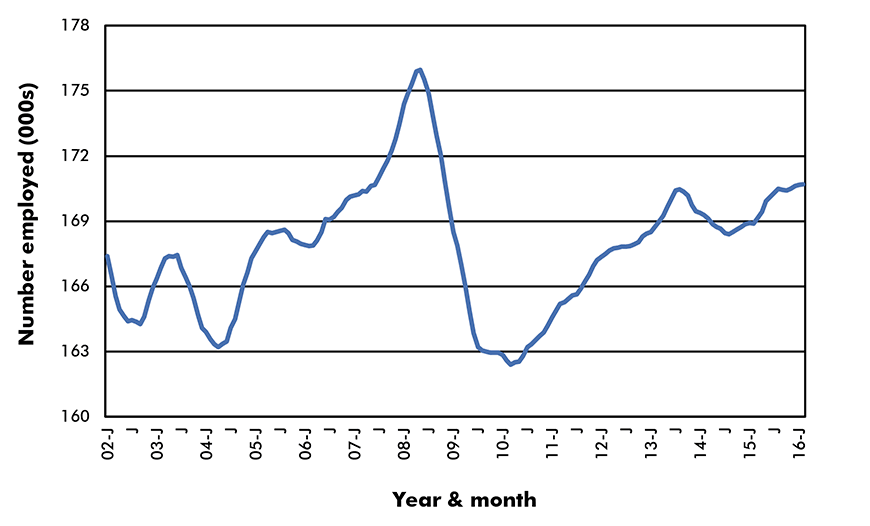 Data source: Survey of Employment, Payrolls and Hours (SEPH), Statistics Canada (Cansim Table 281-0023) / Chart: ConstructConnect.
Canada Truck Transportation (Graph 5): The trucking industry, through hauling a majority of the nation's manufactured and retail goods, is essentially the economy in microcosm. Graph 5 shows clearly the more serious collapse in activity in 2009-2010 than in the earlier 'dot-com' pull-back at the turn of the century. On the upside, the slope has been doing wonderfully well for the past five years, although more recently it has been losing some steam.
Graph 5: Canada Truck Transportation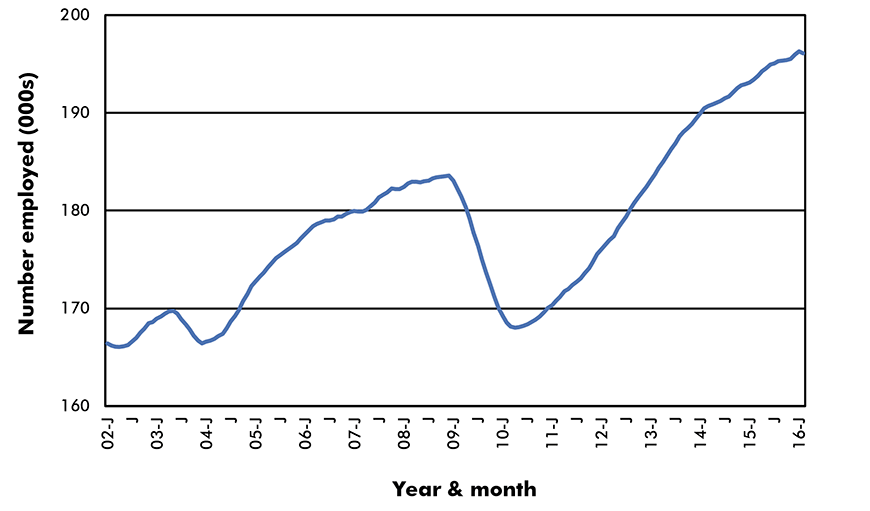 Data source: Survey of Employment, Payrolls and Hours (SEPH), Statistics Canada (Cansim Table 281-0023) / Chart: ConstructConnect.
(Continued in "15 Eye-Catching Charts that Highlight Trends in Canada and U.S. Jobs (Part 2).")