2 Leading Monitors of U.S. Construction Activity, 1 Public and 1 Private – Early Fall 2017
The percentage levels and changes in Table 1 are based on the Census Bureau's seasonally-adjusted (SA) August 2017 and earlier put-in-place construction statistics. 'Put-in-place' as a concept is meant to mirror work-in-process or progress payments as projects proceed.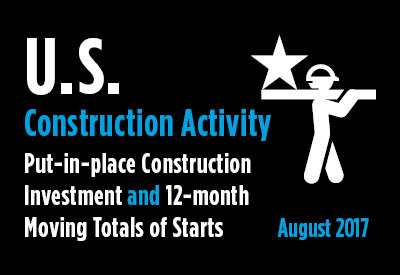 For each type-of-structure, Table 1 takes the behind-the-scenes put-in-place data and compares the percentage changes of latest-12-months-over-previous-12-months versus latest-three-months-over-previous-three-months (annualized).
If the three-month percent change exceeds the 12-month percent change, then construction activity in that type-of-structure category is considered to be speeding up. A check mark is entered in the far right column. (If the opposite is occurring, a check mark is entered in the 'slowing down' column.)
If a type-of-structure category has a latest 3-month percent-change that is negative, but less negative, than its 12-month percent-change, such a circumstance is also considered to be an instance of 'speeding up' and warrants a check mark in the right-hand column. (Or, if it's turning more negative, then it's 'slowing down' further.)
If the percentage changes for a type-of-structure swing from negative to positive, or vice versa, then it's obvious where the check mark should go.
Table 1 shows the three primary categories of 'total', 'residential' and 'nonresidential' slowing down. Residential has at least stayed positive, moving from +11.4% (latest 12 months/previous 12 months) to +7.0% (latest 3 months/prior 3 months, annualized).
Nonresidential, however, has slipped considerably, deteriorating from +1.9% to -11.3%.
Among the 16 nonresidential subcategories, 10 have dialed back their rates of change, one ('power') has stayed about the same (but at a neutral 0.0%), while only five have picked up speed.
'Lodging' (+11.4% to -1.0%), 'office' (+15.5% to +2.1%), 'commercial/retail' (+16.8% to +0.5%) and 'educational' (+3.0% to -18.9%) have all run into speedbumps. Manufacturing (-10.4% to -35.6%) has gone further into reverse.
If nonresidential put-in-place construction were a patient, a physician would say its pulse has been weakening.
Having introduced the subject of 'health care', it's interesting to note that almost alone among subcategories, its level of put-in-place construction has been dispensing a modicum of good news, improving slightly from +1.2% to +2.9%.
Table 1: U.S. Put-in-place Construction Investment − August, 2017
Based on 'current' (i.e., not adjusted for inflation) $s, seasonally adjusted at annual rates (SAAR)
Weighting of type-of-structure category
(% of total $s)
Year to date
2017/
Year to date
2016
(from monthly averages of SAAR data)
Latest 12 mons vs. previous 12 mons
Latest
3 mons vs. previous
3 mons (annualized)
Slowing Down
3 of 3
'Total'
categories /
10 of 16 subcategories
Speeding Up
0 of 3 'Total'
categories /
5 of 16 subcategories
Total Construction
100.0%
4.5%
5.7%
-3.9%
✔
Total Residential
43.2%
11.7%
11.4%
7.0%
✔
Total Nonresidential
56.8%
-0.1%
1.9%
-11.3%
✔
Lodging
2.3%
6.5%
11.4%
-1.0%
✔
Office
5.8%
9.8%
15.5%
2.1%
✔
Commercial (retail)
7.0%
15.2%
16.8%
0.5%
✔
Health care
3.3%
1.8%
1.2%
2.9%
✔
Educational
7.1%
1.2%
3.0%
-18.9%
✔
Religious
0.3%
-8.4%
-7.5%
-1.3%
✔
Public safety
0.7%
0.5%
-1.4%
-7.3%
✔
Amusement and recreation
1.9%
5.8%
7.0%
-5.6%
✔
Transportation
3.4%
-1.2%
-3.0%
-12.2%
✔
Communication
1.9%
5.6%
3.6%
19.0%
✔
Power (electric; oil & gas)
8.3%
-4.1%
0.8%
0.0%
Highway and street
6.7%
-3.9%
-2.2%
-28.2%
✔
Sewage and waste disposal
1.5%
-20.4%
-17.5%
-13.7%
✔
Water supply
0.9%
-10.9%
-8.7%
-7.3%
✔
Conservation and development
0.5%
-12.1%
-6.9%
-35.0%
✔
Manufacturing
5.0%
-11.2%
-10.4%
-35.6%
✔
In the final two columns, if there is no check mark in the cell, then the type-of-structure category has stayed within 1.0%, up or down.
A negative that becomes more negative is considered to be 'slowing down'; if less negative, then 'speeding up'.
Data source: Census Bureau / Table: ConstructConnect
Graph 1 shows moving 12-month totals of ConstructConnect's construction starts figures (i.e., the 'Private Monitor' in the headline).
For example, the most current residential, nonresidential building and engineering figures are the sums of their monthly numbers from September 2016 through August 2017.
Worth noting is that December of each year, being the sum of the previous 12 months, is also the annual total.
A positive feature of this methodology is that a rolling forward 12-month total eliminates the effects of seasonality.
Graph 1 shows a continuing upward improvement in residential starts that has taken its latest 12-month moving total slightly above the nonresidential building figure.
The nonresidential building curve, however, which kept rising until early this year, has been descending over the past several months.
And finally, the engineering/civil 12-month moving total line has been much flatter over its entire length, but since the beginning of 2014, it has mainly been displaying a gentle upward lift.
Graph 1: ConstructConnect's 12-month Moving Totals of U.S. Construction Starts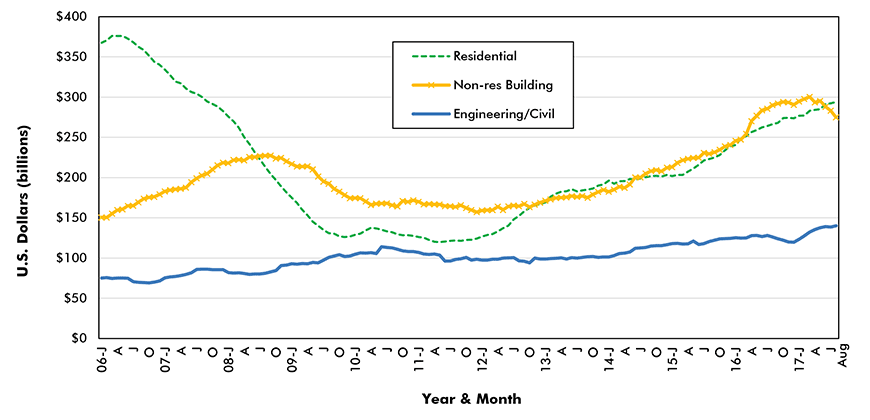 The last data points are for August, 2017.
Data source: ConstructConnect.
Chart: ConstructConnect.