20 Reasons to Support Kinder Morgan's Trans Mountain Pipeline Expansion
The U.S. pipeline company, Kinder Morgan, having already spent a wheelbarrow load of money and still having no assurance that its Trans Mountain expansion project will ever by allowed to proceed, has issued an end-of-May deadline for the removal of obstacles in its path.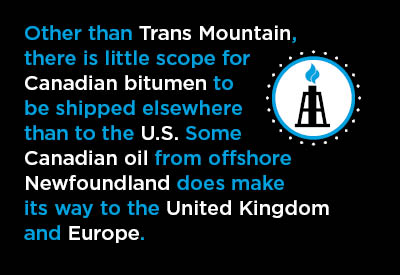 The proposed new investment by Kinder Morgan will triple capacity along an existing line.
Other than Trans Mountain, there is little scope for Canadian bitumen to be shipped elsewhere than to the U.S. Some Canadian oil from offshore Newfoundland does make its way to the United Kingdom and Europe.
Crude from Alberta's oilsands is referred to as land-locked. For foreign distribution, most of it can only be sent south. Because terminals in Oklahoma and Texas receive a glut of Canadian oil, they offer a relatively low price per barrel.
Annually, billions of dollars are lost in the exchange.
Allowing the roadblocks to Trans Mountain's plans erected by environmentalists, Native Rights groups and other assorted lobbyists to remain standing would be folly.
Pipelines as a method of moving oil (i.e., as opposed to the usage of railway tank cars) have an established history of reliably safe operation.
Below are 20 other compelling reasons to support Kinder Morgan's Trans Mountain pipeline expansion.
To stimulate economic growth and jobs creation, which are not 'dirty' concepts;
To support Canada's construction industry, which is now providing almost as much employment as the nation's manufacturing sector;
To reduce Canada's reliance on the U.S. as a customer for our energy exports;
To realize a higher dollar-per-barrel return on Canadian oil shipments to the U.S.;
To more fully participate in the rapidly expanding consumer markets of Asia;
To provide all levels of government with more energy-generated royalty revenues, diminishing the tax burden on ordinary Canadians;
To supply additional government funding to undertake necessary infrastructure building;
To help reduce Canada's foreign trade imbalance which has slipped into serious deficit;
To prop up the value of Canada's dollar which threatens to sink lower;
To not give in to the bullying tactics adopted by a vocal minority;
To not be manipulated by the vested interests of a vocal minority;
To reduce the alienation that the citizens of Alberta must be feeling;
To reward the past commitments undertaken by oilsands producers, whose projects are among the engineering marvels of the world;
To show Canada is still open to major investments in our resource sector from both domestic and foreign sources;
To abide by the constitution which grants final authority on moving goods across country to Ottawa as opposed to the provincial governments;
To establish that Prime Minister Justin Trudeau has as much fortitude as was often displayed by his father.
To prove Canadians aren't hopelessly starry-eyed about their real place in the world;
To demonstrate Canadians can stop shooting themselves in the foot;
To establish that Canadians can think strategically;
To prove Canada works.