2018's First Monthly Jobs Report Launches Year in Fine Style
In January, net new U.S. jobs creation was +200,000, according to the latest Employment Situation report from the Bureau of Labor Statistics. The +200,000 jobs figure was greater than the monthly average increase throughout last year of +176,000.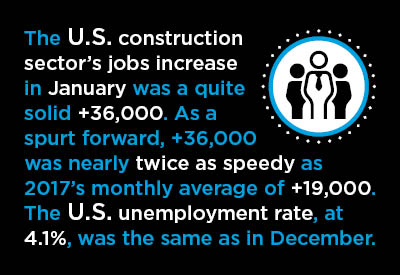 The unemployment rate in the latest month stayed the same as in December, at 4.1%. Only rarely in the past has the jobless level been better. The last time it managed to slip below 4.0% was seventeen years ago, in 2000 at the beginning of the new century.
The ongoing strength in employment continues to find confirmation in the weekly initial jobless claims data. At the height of the Great Recession, the number of first-time unemployment insurance seekers in the economy soared to a truly unpleasant peak of 653,000.
A figure of 300,000 or less is generally considered by analysts to be the benchmark for when the labor market is ticking along smoothly. After the Great Recession, it seemed to take forever for initial jobless claims to recede to the 300,000 level.
The actual length of time that was covered waiting for that magic moment was six years. It occurred for the week ending March 7, 2015.
Oh how things have changed since then!
In four weeks' time, if initial jobless claims remain low, they will be under 300,000 for 156 weeks in a row, or three straight years. (For January 13, 2018, they were a 'rock bottom' 216,000. For the latest week ending January 27, 2018, they were 230,000.)
There continues to be a mystery, however, as to why the ever-tightening labor market is not squeezing out better financial rewards for workers. After some sizable year-over-year increases in hourly and weekly compensation rates for certain segments of the economy in December, January's results were unremarkable once again.
From Table B-3 of the BLS' report, for worker groups including bosses, neither the 'all-industry' nor 'construction' job categories saw year-over-year hourly or weekly wage gains that reached +3.0% or more.
For all workers, the increases in January were +2.9% hourly and +2.6% weekly. For construction workers as a subset, their advances were also +2.9% hourly and +2.6% weekly.
In December 2017, the weekly pay climb for construction workers had been a robust +4.5%.
For worker groupings excluding bosses (Table B-8 of the BLS' report), the 'all-industry' year-over-year earnings increases in January were +2.4% both hourly and weekly. The comparable figures for construction were +2.9% and +3.1%. In December 2017, construction workers excluding supervisors, recorded a year-over-year weekly earnings gain of +5.3%.
Speculation that the Federal Reserve will be hiking interest rates three times this year, by 25 basis points each step along the way (where 100 basis points = 1.00%), has been predicated on an assumption of growing concerns about inflation.
The argument is often made that an accelerating price level will partly result from more strident labor demands. So far, this scenario has been slow in developing.
It's not likely, however, that the Fed − which is in the process of switching leadership from Janet Yellen to Jerome Powell − will alter its already-advertised course.
There is an interesting sidebar to the question of why the business sector is so enthusiastic about the increasing rewards it will reap from the favorable restructuring of the tax regime. Many companies think the lower corporate tax rate will provide them with the financial wherewithal to go out and hire the best workers.
The competition to retain elite workers, or to entice them to switch from one employer to another, is heating up.
The construction sector's jobs increase in January was a quite solid +36,000. As a spurt forward, +36,000 was nearly twice as speedy as 2017's monthly average of +19,000.
The not seasonally adjusted (NSA) unemployment rate in construction in January of this year was 7.3%. Twelve months earlier, in January 2016, construction's jobless level had been 9.4%.
The jobs pick-up in manufacturing in the latest month was +15,000, the same as the sector managed to achieve on average throughout 2017. As a point of interest, there are now 1.8 jobs in manufacturing in the U.S. for every single job in construction.
Among other major industrial sectors, 'education and health services' and 'leisure and hospitality' had good hiring records in January, at +38,000 and +35,000 jobs respectively.
Within 'education and health services', it was 'health care and social assistance' that provided the bulk of the new staffing, +26,000 jobs.
Further worth noting is the recruiting that has been carried out by hospitals, +13,000 jobs in January.
Within 'leisure and hospitality', the big leap forward in jobs creation last month was made by 'food services and drinking places', +31,000 jobs.
"Professional and business services' employment in January was +23,000 jobs. There are now approximately the same number of individuals employed in 'computer systems design and related services' (2.1 million) as there are in 'legal services' (1.1 million) and in 'accounting and bookkeeping services' (1.0 million) added together.
In 2016, the U.S. retail sector had more months of declines in employment than increases. Therefore, it's nice to see that in January of this year shopkeepers added personnel to the tune of +15,000.
'Government' employment in January was nearly stagnant, at +4,000 jobs. The +4,000 number was comprised of +5,000 by Washington; -11,000 at the state level; and +10,000 by local government.
Year-over-year hiring by the three levels of government has been: federal, -0.4%; state, -0.8%; and local, +0.5%. Currently, 65% (or nearly two-thirds) of all employment by government is at the local level; 22% is with state authorities; and 13% is federal.
On a year-over-year percentage-change basis, U.S. total employment in January was +1.5%. A +1.5% increase also held true for manufacturing. Private service-providing employment was a bit better at +1.6%.
Construction, though, doubled those paces, at +3.3%.