Big October U.S. Jobs Gain Has Fed Interest Rate Implications, Canada Quiet on the Jobs Front
According to the latest Employment Situation report from the Bureau of Labor Statistics (BLS), the total number of jobs in the U.S. in October rose by 250,000, an outstanding gain.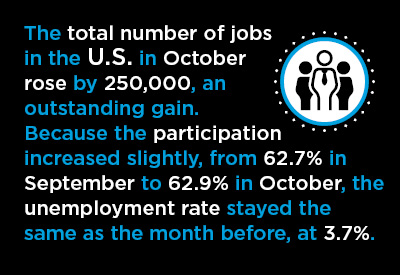 Because the participation increased slightly, from 62.7% in September to 62.9% in October (i.e., more people re-entered the work force), the unemployment rate stayed the same as the month before, at 3.7%.
What's important to remember, though, is that a 3.7% American jobless figure is a 50-year low.
According to the latest Labour Force Survey results published by Statistics Canada, total employment north of the border in October bobbed up by a relatively anemic 11,000 jobs.
Since Canada's labour force participation rate dropped, from 65.4% in September to 65.2% in October, the nation's unemployment rate improved slightly from 5.9% the month before to 5.8% at present.
Which industrial sectors contributed the most to the quarter-million-jobs step-up in U.S. total employment in October?
Let's begin with construction. There was a net 30,000 gain in 'hard hat' jobs in the latest month. The 'specialty trades' (i.e., sub-trades) contributed the major portion (+21,000 jobs) of that advance.
Whereas total employment in the U.S. in October was +1.7% year over year, the pick-up in construction jobs was nearly three times as quick, at +4.7%.
The manufacturing sector also undertook healthy hiring in October, increasing payrolls by 32,000 jobs. The number of production line workers in the U.S. is now +2.4% year over year.
Within manufacturing, the two sub-sectors with the biggest staffing hikes were 'motor vehicle and parts' and 'food production', each with +7,000 jobs. On a year-over-year basis, the former was +2.0% and the latter, +2.2%.
With respect to motor vehicles and parts, a few more months' worth of data will be needed to determine if consumer demand for autos, which has been idling in neutral for a while, is beginning to accelerate once again.
U.S. 'education and health services' jobs in October were higher by +44,000. But forget the school-related portion of that sub-sector title. 'Educational services' jobs were -3,000.
It was 'health care and social assistance' (+47,000 jobs) that carried the banner in the latest month. Health care alone was +36,000 jobs (+2.0% year over year). Within health care, hospital jobs were +13,000 (+2.1% year over year) and 'nursing and residential care facility' jobs, +8,000 (+0.8% year over year).
The 'leisure and hospitality' sector also gave reason to smile in the latest month. Its hiring surged by +42,000 jobs (+1.6% year over year). Leading the charge were 'food services and drinking places', +34,000 jobs (+1.7% year over year).
The U.S. retail sector managed a personnel improvement of only +2.000 jobs in October. But on the flip side, with physical 'bricks and mortar' outlets being abandoned for Internet platforms,
'warehousing and storage' jobs shot up by +8,000. Success in e-commerce depends on efficient fulfilment centers.
Worth bearing in mind, though, is that distribution warehouses are becoming increasingly automated.
Hiring by 'courier and messenger services' in October was up by 8,000 jobs.
Government stayed neutral. Employment by the civil service at the federal level was +1,000 jobs; at the state level, also +1,000 jobs; and at the local level, +2,000 jobs.
Federal Reserve Interest Rate Implications:
Stock markets fell into a tizzy in October partly due to worries about rising interest rates.
There has been speculation that the Federal Reserve might become more cautious in pursuing its march to a 3.00% level for the federal funds rate. It presently sits in a range between 2.00% and 2.25%.
This pattern of stock markets fretting and the central bank backing off most-often worked while Janet Yellen was at the helm of the Fed. It remains to be seen whether Jerome Powell will have more resolve.
Certainly, October's jobs report from the BLS provides ammunition for keeping to a firm schedule of upwards yield adjustments.
Furthermore, with respect to inflation, earnings took a nice jump in the latest month. For 'production and non-supervisory employees on private payrolls' (i.e., all workers, excluding bosses), the year-over-year climbs in compensation were +3.2% both hourly and weekly.
In the construction sector, where there are critical skilled labor shortages, the pay check upticks were even more dramatic, +4.2% for average hourly earnings and +4.5% for average weekly earnings.
Canada Quiet on the Jobs Front:
Canada's +11,000 jobs performance in October was the net result of a +22,000 pick-up in the number of self-employed and a +20,000 leap in the number of private sector employees, but a -31,000 decline in the public-sector employee count.
The number of Canadian construction jobs fell by 3,000 month to month in October, while the manufacturing sector added 2,000 jobs. (Year over year, employment in Canada's construction sector has moved ahead by 14,000 jobs, while the number of jobs in the manufacturing sector has fallen behind by -31,000 jobs.)
Canadian wholesale and retail employers plumped up their payrolls by 23,000 jobs month to month in October, but 'finance, insurance and real estate' firms cut staffing by 15,000 jobs.
Regionally, British Columbia still possesses the lowest provincial unemployment rate in the country, 4.1%. Quebec is second best, at 5.1%, with Ontario and Manitoba in third and fourth spots, at 5.6% and 6.1% respectively.
As for month-to-month jobs increases, Quebec was the provincial leader in October, +9,000. No other province achieved an advance significant enough to mention.
On a year-over-year jobs-count basis, Ontario has set the pace, +83,000. Next in line have been British Columbia, +48,000, and Alberta, +42,000.