In Canada, Good News About Jobs Creation Offset by Bad News About Trade
Since July, when the total number of jobs in the nation fell by 32,000, there has been a string of solidly positive increases according to the latest Labour Force Survey report from Statistics Canada. Month-to-month job creation in August was +27,000; in September, +67,000; and in the latest period, October, +44,000.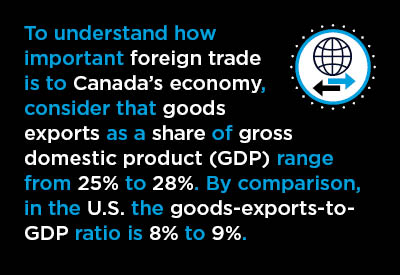 The employment gain in Canada year to date has been +150,000 (or +15,000 on average per month), which has been slower, but only by a little, compared with January through October of last year, +166,000 (or +17,000 on average per month).
The fact the 'participation rate' rose to 65.8% in October from 65.7% in September kept the unemployment rate the same in both months, 7.0%. The country's jobless level has stayed sticky at or near 7.0% for the past 15 months in a row.
In October, the month-to-month change in full-time jobs was -23,000. In part-time work, it was +67,000. The year-to-date change in full-time jobs has been -12,000 and in part-time work, +162,000.
The public sector accounted for +10,000 jobs in October, which lifted its year-to-date contribution to +31,000. The private sector increased staffing by +34,000 in standalone October. Through the first ten months of this year, hiring by the private sector has been +119,000.
Among major industry sub-sectors, the leader with respect to net job creation in the latest month was construction, +24,000. According to Statistics Canada, most of that rise occurred in Ontario and Quebec. The year-over-year climb in construction 'hard hats' has been +46,000.
Second-best at generating new workplace positions in October was wholesale and retail trade', +19,000. In third place was 'educational services', +16,000.
At the same time, a number of industry sub-sectors stumbled on the payroll front. 'Accommodation and food services' shed 10,000 jobs. Manufacturing released 8,000 workers.
Despite the fact the weak-valued 'loonie' (i.e., which has been hovering around 0.70 in U.S. dollars) is supposed to be providing Canadian manufacturers with an advantage when they pitch export sales south of the border, employment in the sector is down by 45,000 jobs year to date.
On a percentage-change basis, Canada's total employment is now +0.8%. The comparable figure for the U.S. is more than twice as fast, +1.7%. In services-providing jobs, Canada is +1.0% while the U.S. is again quicker by a pace that is double, +2.1%.
In construction, the race shifts in Canada's favour, +3.4% compared with +3.0%. In manufacturing, both countries are in retreat, with Canada's -1.5% jobs cutback being worse than America's -0.4%.
All things considered, though, Canada's latest Labour Force Survey report was more or less upbeat. Published on the same day, also by Statistics Canada, was the International Merchandise Trade report and it carried an altogether different message.
The external transactions report recorded that in September, the nation experienced its worst foreign trade deficit ever, -$49 billion CAD annualized. Prior to the Great Recession, Canada consistently achieved monthly merchandise trade surpluses ranging from +$40 billion to +$60 billion CAD annualized.
Low commodity prices and some shifts in demand for Canada's products (e.g., natural gas) have been affecting, in a seriously adverse manner, the nation's trade balance. Although it should also be noted that the latest outsized trade deficit was partly due to the importation from South Korea of a huge topside module to be used at the Hebron offshore oil project in Newfoundland and Labrador.
To understand how important foreign trade is to Canada's economy, consider that goods exports as a share of gross domestic product (GDP) range from 25% to 28%, depending on whether one is looking at 'current' (i.e., adjusted for inflation) or 'constant' dollars. The proportion is higher in constant dollars.
By comparison, in the U.S. the goods-exports-to-GDP ratio is 8% to 9%.
Only two provinces have seen export sales increases so far this year, Ontario (+6.3% ytd) and B.C. (+2.7% ytd). Ontario can thank motor vehicle and parts (+13.9% ytd) and consumer goods (+7.5% ytd) for its overall export sales pick-up. In B.C., it's been forestry product exports (+7.0% ytd) that have led the way.
But the softwood lumber agreement (SLA) between Canada and the U.S. was allowed to run out in the fall of 2015 and the one-year period of grace during which neither side would be allowed to launch legal action has also expired. Fireworks over attempts to initiate new duties (or quotas) may be just around the corner.
Total export sales from Alberta (-21.9% ytd) and Saskatchewan (-21.2% ytd) are down to almost the same degree. Both provinces have seen sharp drops in their energy product exports (-27.4% ytd in Alberta and -39.8% ytd in Saskatchewan). Saskatchewan has also struggled with its metals and minerals exports (-29.6% ytd). Potash producers had a bad start to 2016.
Newfoundland and Labrador's total exports are -18.1% ytd, with its energy product exports -26.6% ytd.
It's no coincidence that the unemployment rates in Alberta (8.5%) and Saskatchewan (6.9%) are higher than in all other provinces outside the Atlantic Region and that on the East Coast, Newfoundland and Labrador has the worst jobless level (14.9%).
Canada's Foreign Trade: The Merchandise Trade Balance - September 2016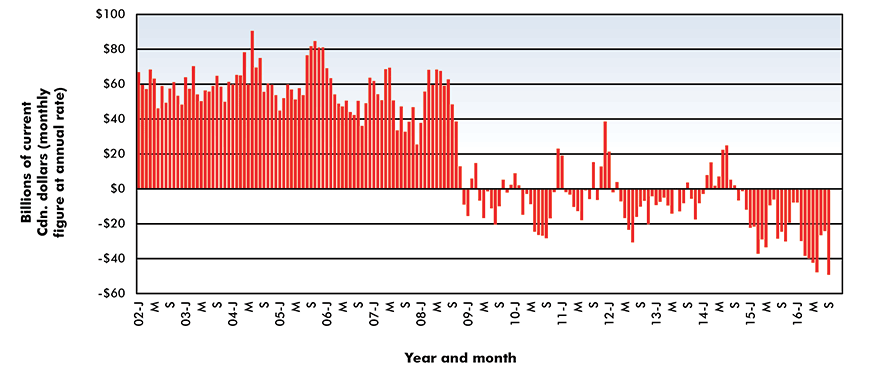 Based on seasonally adjusted monthly figures, projected at an annual rate.

Analysis of Canada's foreign trade position usually focuses on the
Merchandise Trade Balance which is goods exports minus goods imports.
Data source: Statistics Canada.
Chart: ConstructConnect.