Canada's Labour Market Ended 2016 on a High Note
Statistics Canada's Labour Force Survey report for December 2016 records a countrywide gain in total employment of +54,000 jobs.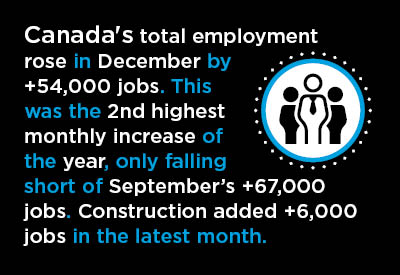 December's rise was the second highest monthly increase of the year, only falling short of September's +67,000 jobs.
Furthermore, the latest monthly climb featured an outsized pickup in full-time jobs, +81,000. The last time more full-time jobs was created occurred in March 2012 (+84,000), nearly five years ago.
Full-time work is usually more stable and higher paying than part-time work and is therefore welcomed more heartily by analysts.
Part-time positions in Canada contracted by -27,000 jobs in the latest month.
The private and public sectors contributed about equally to the total jobs increase in December, with the former pumping up staffing by +25,000 and the latter by +29,000.
The +25,000 figure for the private sector was net of a large retreat (-18,000) in self-employment.
Construction added +6,000 jobs in the latest month and manufacturing, +3,000.
On a year-over-year basis, construction finished 2016 ahead by +28,000 jobs. Manufacturing's year-over-year nominal jobs count, however, was -54,000.
Presently, both sectors can bask in good news from other corners of the economy. On the construction front, seasonally adjusted and annualized housing starts in December improved to 207,000 units from 187,000 in November, according to Canada Mortgage and Housing Corporation (CMHC).
A monthly level of new home groundbreakings that reaches or exceeds 200,000 units is exceedingly positive for residential contractors.
With respect to manufacturers, Statistics Canada's most recent report on foreign trade shows a surplus ($6.3 billion CAD annualized) for the first time since September 2014. Much of the improvement originated in the resource sector as some commodity prices (e.g., crude oil and natural gas) managed upward progress.
But there are also indications that Canada's low valued currency (i.e., relative to the U.S. dollar) is helping the export sales of manufactured goods. Ontario's foreign shipments of motor vehicles and parts (almost entirely to the U.S.) year to date in November of 2016 were +11% compared with the same time frame in 2016.
Ontario's consumer goods (other than autos) exports were +5.3%. Quebec's consumer goods exports through November of last year were +9.0% versus their level in the first eleven months of 2015.
On a year-over-year percentage basis, Canada's total jobs in December 2016 were +1.2%, which was slower than the +1.5% pace for all jobs in the U.S.
Services providing jobs in Canada were, +2.0%, the same rate of change as south of the border.
Canada, in December 2016, was +2.0% year over year in construction employment, but -3.1% in manufacturing positions. The comparable U.S. figures were +1.5% and -0.4% respectively.
Despite the big surge in nominal full-time jobs in Canada at the end of 2016, they were only +0.4% year over year, which did not come close to matching part-time work's +4.5%.
The national unemployment rate in December 2016 was 6.9%. The monthly average for the year, which will become known as the 'official' annual rate, was 7.0%.
Canada's official annual unemployment rate has hovered around 7.0% for five years in a row: 2016, 7.0%; 2015, 6.9%; 2014, 6.9%; 2013, 7.1%; and 2012, 7.3%.
Regionally, as shown in Table 1, British Columbia recorded the lowest jobless level among all provinces in the latest month, 5.8%. Not far behind was a cluster comprised of Manitoba (6.3%), Ontario (6.4%), Saskatchewan (6.5%) and Quebec (6.6%).
Alberta's unemployment rate shot up to 8.5% in the latest month. That's a deterioration from 7.0% one year earlier. Two year ago, in December 2014, Alberta's unemployment rate was the nation's lowest, at 4.4%. Of course, at that time, oil and natural gas prices were much higher.
Then they went into a tailspin. The fact energy prices are finally rebounding, after two years in the doldrums, bodes well for some degree of pickup in Alberta's labour market in 2017.
Quebec had the highest nominal year-over-year jobs increase in Canada in December 2016, +89,500, followed by Ontario, +80,600, and British Columbia, +72,400. B.C. led in percentage change, +3.1%, with Quebec in second place, +2.2%.
Table 1: Canadian Provincial Labour Markets - December 2016
Unemployment rate
Employment (000s)
Province
DEC 2015
DEC 2016
DEC 2015
DEC 2016
Net
% change
Newfoundland and Labrador
14.4%
14.9%
232.8
227.1
-5.7
-2.4%
Prince Edward Island
9.8%
10.7%
72.8
72.1
-0.7
-1.0%
Nova Scotia
8.6%
8.3%
445.9
448.5
2.6
0.6%
New Brunswick
8.9%
9.4%
352.8
354.9
2.1
0.6%
Québec
7.9%
6.6%
4,109.6
4,199.1
89.5
2.2%
Ontario
6.7%
6.4%
6,966.1
7,046.7
80.6
1.2%
Manitoba
5.9%
6.3%
634.0
633.0
-1.0
-0.2%
Saskatchewan
5.5%
6.5%
575.1
568.2
-6.9
-1.2%
Alberta
7.0%
8.5%
2,286.1
2,267.3
-18.8
-0.8%
British Columbia
6.7%
5.8%
2,335.7
2,408.1
72.4
3.1%
Canada
7.1%
6.9%
18,010.9
18,225.0
214.1
1.2%
Data source (seasonally adjusted figures): Statistics Canada.
Table: ConstructConnect.