A Dozen Mid-April Economic Nuggets
U.S. annual gross domestic product (GDP) growth in 2016 was +1.6%, which was slower than in four of the other six other years since the Great Recession: 2015 (+2.6%); 2014 (+2.4%); 2012 (+2.2%); and 2010 (+2.5%). But it was the same or nearly the same as in 2013 (+1.7%) and 2011 (+1.6%). As a reminder of the severity of the Big Dip, 2009's GDP performance was -2.8%.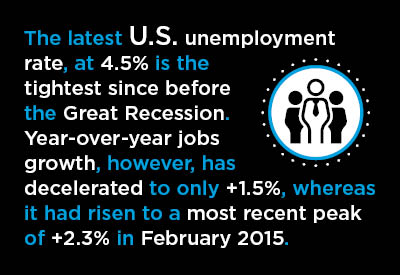 The latest U.S. unemployment rate, at 4.5% is the tightest since before the Great Recession. Year-over-year jobs growth, however, has decelerated to only +1.5%, whereas it had risen to a most recent peak of +2.3% in February 2015.
The latest month-to-month U.S. jobs advance economy-wide was a less than exciting +98,000. The Federal Reserve wants to raise interest rates some more and has basically become locked into that position, but some lingering doubts as the advisability probably persist nonetheless.
Set against the foregoing backdrop, there are the following additional economic 'nuggets' to be gleaned from the latest government agency and private sector data releases.
(1) Ten large metro areas in the U.S., in the latest reporting month (i.e., February 2017), recorded unemployment rates that were less than 4.0%. Placed in order, lowest to highest, they were: Denver and Salt Lake City, tied at 3.2%; San Francisco, 3.5%; San Jose, 3.6%; Austin, Boston and Nashville, tied at 3.7%; and Portland, Seattle and Washington, tied at 3.9%.
(2) Only Boston (3.7%) and Washington (3.9%), among America's ten biggest (by population) urban centers, made it into the listing in point (1) above. As for the other eight most populous cities in the U.S., their jobless rate ranking, lowest to highest, was: Dallas (4.3%); Los Angeles (4.5%); New York (4.7%); Miami (4.8%); Atlanta and Philadelphia (both 4.9%); Chicago (5.3%); and Houston (5.9%).
(3) For the ten most populous cities in the U.S., their ordering according to February 2017 year-over-year employment growth, this time fastest to slowest, was: Atlanta, +3.6%; Dallas, +3.5%; Philadelphia, +2.3%; Miami, +2.2%; Washington, +2.0%; Boston, +1.7%; New York, +1.6%; Los Angeles, +1.5%; Chicago, +0.9%; and Houston, +0.6%. Within Texas, a considerable gap has opened up with respect to labor market strength between Dallas, which is relatively buoyant, and Houston, which has been falling behind.
(4) The Purchasing Managers' Index (PMI) of the Institute for Supply Management (ISM) eased a smidge in March to 57.2% from 57.7% in February. The ISM's press release states that Q1's monthly average PMI level of 57.0% has historically correlated with a 4.3% annualized growth rate for 'real' (i.e., inflation-adjusted) GDP. In the latest survey of ISM manufacturing members, all 18 sub-sectors reported an increase in new orders month to month; 17 of 18 reported an uptick in production; and 14 of 18 said their staffing had increased. Furthermore, 16 of 18 voiced that they are now paying more for raw material inputs.
(5) There's certainly nothing wrong with consumer confidence in the U.S. The Conference Board's gauge of confidence took another giant leap forward in March to 125.6 from what was already a lofty reading of 116.1 in February. The base for the index is 1985 = 100.0. 1985 has been judged to be a period when consumer confidence in the U.S. was neither too hot nor too cold. In March, the Conference Board's 'present situation' and 'expectations' indices, both already above 100.0, also improved – from 134.4 to 143.1 for the former and from 103.9 to 113.8 for the latter.
(6) U.S. consumers may be confident, but that hasn't caused them to go out and spend wildly. U.S. total retail sales in March were -0.2% compared with February. 'Motor vehicle and parts dealers' and 'building material and garden equipment and supplies dealers' experienced the most shrinkage in their cash register receipts month to month, -1.2% and -1.5% respectively. Year-over-year total retail sales, however, did stay nicely ahead, +5.2%. There's never much concern as long as total shopkeeper sales are improved by at least +5.0% year over year. Gasoline station sales in March, largely on account of the price of petrol moving upward, were +14.3% year over year. Sales by non-store retailers (i.e., those with Web platforms exclusively) were +11.9% y/y.
(7) An incredible story has emerged in the U.S. new housing market. Based on historical patterns, with an assist from demographics (i.e., America's population is increasing by +0.7% per year), the annual level of new home groundbreakings should be about 1.5 million units. The last time that goal was achieved was in 2006. During the ten years from 2007 through 2016, U.S. annual housing starts have fallen below 1.5 million units by a combined total of 6.0 million units. A figure of 6.0 million units represents four years of new starts all on its own. It's a huge under-performance. It indicates an extraordinary degree of pent-up demand to be satisfied. If housing construction in the U.S. can ever finally get back on track, it's likely to create huge waves.
(8) U.S. new home starts in March 2017 were 1.215 million units, -6.8% from February's 1.303 million units. But that's enough about U.S. economic activity on home soil. What about the foreign trade picture? U.S. goods and services exports in the latest reporting period (February 2017) were +6.7% month to month while imports were +4.5%. The total foreign trade deficit, therefore, contracted to -$523 billion (annualized) from -$578 billion in January. Before the Great Recession, the U.S. often rang up a monthly foreign trade deficit that approached -$800 billion. A reduced reliance on imported fossil fuels has contributed mightily to the improved, although still deeply negative, trade balance. North of the border, Canada's merchandise trade balance fell into mild deficit in February, after gentle surpluses in the preceding three months.
(9) Canada's GDP growth in 2016 speeded up a little to +1.4% from only +0.9% in 2015. Nevertheless, 2016 fell short of 2014 (+2.6%), 2013 (+2.5%), 2011 and 2010 (both +3.1%) in the seven years since the Great Recession. 2012, on the other hand, at +1.7%, was quite similar. Canada's most recent unemployment rate was 6.7% and the year-over-year jobs improvement north of the border was +1.5% (i.e., almost an exact match for America's +1.6%).
(10) For Canada's six most populous cities, their ordering according to unemployment rates – lowest to highest – in March 2017 was: Vancouver, 4.7%; Ottawa-Gatineau, 5.1%; Montreal, 6.6%; Toronto, 7.1%; Edmonton, 8.4%; and Calgary, 9.3%. With respect to their year-over-year jobs gains – fastest to slowest – the latest month's ranking was: Montreal, +4.0%; Calgary, +2.2%; Ottawa-Gatineau, +2.1%; Vancouver, +1.9%; Toronto, +1.0%; and Edmonton, -2.9%.
(11) New home starts in Canada in March soared to a truly stunning level of 254,000 units, at a seasonally adjusted and annualized rate (SAAR). The last time they were higher was in September 2007 (277,000 units), although April 2012 (252,000 units) was almost on a par. You can't go to a news site in the Toronto area without seeing a headline that shrieks alarm about a housing price bubble. Almost unbelievably, the latest year-over-year resale price increase has been estimated at about one-third.
(12) One way to deflate the Toronto home price bubble would be to increase the supply. But while housing starts across the country are +13% as a monthly average so far this year, they are a quieter +10% in the Toronto census metropolitan area (CMA). In Canada's other five most populous CMAs, year-over-year new home groundbreakings through 2017's first quarter were: Montreal, +69%; Ottawa-Gatineau, +62%; Calgary, +33%; Edmonton, +29%; and Vancouver, -26%. Prior to Toronto having a hot residential real estate market, all the talk was about the torrid pace of prices being set in Vancouver. A series of government measures to penalize speculation and to deter the interest of foreign buyers have clearly dampened that market, drastically.