A Dozen Mid-July Economic Nuggets
U.S. major stock market indices continue to hover in the vicinity of their all-time highs. At the end of June, NASDAQ was +26.8% year over year, the DJI was +19.1% and the S&P 500, +15.4%. Investors, so far, have not been scared off by the moderately higher interest rate environment currently being pursued by the Federal Reserve.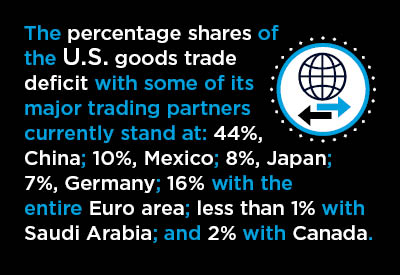 Other central banks are getting in on the action as well. The Bank of Canada has just elevated its policy-setting 'overnight rate' for the first time in seven years, from 0.5% to 0.75%.
Presently-restrained levels of inflation aren't driving yields upwards. Rather, it's 'red hot' labor markets that are inspiring preemptive action. While wages still appear locked into a +2.0% to +3.0% year-over-year range, there is concern about where compensation levels will head if the U.S. and Canada continue to add jobs at the same 'breakneck' speed as they have been doing lately. June's month-to-month nominal increase in employment in America was +222,000 and in Canada, +45,000.
With the foregoing as backdrop, there are the following additional 'nuggets' to be gleaned from the latest government agency and private sector data releases.
(1) Despite the exceptional degree of tightness occurring in the U.S. labor market (i.e., an unemployment rate of only 4.3%), shopkeeper sales have entered a period of sluggish improvement, at best. 'Total retail and food services' sales in June were a disappointing -0.2% month to month (m/m) and a lukewarm +2.8% year over year (y/y). 'Motor vehicle and parts dealers' did a little better, +0.1% m/m and +4.7% y/y. And it's encouraging for the construction sector that 'building material and garden equipment dealers' managed a +5.1% y/y gain. But 'general merchandise stores' struggled with a +1.7% y/y performance and even non-store retailers, which have grown used to realizing double-digit percentage increases, failed to meet expectations, at +9.2% y/y.
(2) There doesn't appear to be anything wrong with U.S. consumer confidence. The Conference Board's index in June stayed well above its 1985 = 100.0 benchmark. It rose to 118.9 from 117.6 in May. (1985 was originally chosen as the standard for confidence due to its middle-of-the road status. It was a time when people were neither too enthusiastic not too pessimistic about their prospects.) The Conference Board's Present Situation Index in June reached a nearly 16-year high of 146.3, up from 140.6 in May. Close to a third of survey respondents believe jobs are plentiful. The six-months ahead Expectations Index, though, turned down slightly.
(3) Designed to be a gauge of manufacturing activity, the most recent U.S. Purchasing Managers' Index (PMI) of the Institute for Supply Management (ISM) achieved its highest level in the ten months since August of last year when it was last below 50.0%. It stepped up to 57.8% in June from 54.9% in May. History has shown that a 57.8% reading for the PMI, if maintained for a year (a feat not so easy to do), corresponds with a 'real' (i.e., inflation-adjusted) gross domestic product (GDP) annual growth rate of +4.6%. U.S. manufacturers with out-of-country customers are beginning to get a break with respect to exchange rates.
(4) Relative to the end of the Great Recession in mid-2009, the value of the U.S. dollar is still up significantly versus the currencies of many of its major trading partners. Since December of last year, however, the greenback has been reversing course and generally softening. In the first half of this year, some of the slippages have been: -3.5% against both the Canadian dollar and the Japanese yen; -5.4% vis à vis the British pound; -7.0% relative to the euro; and -12.3% compared with the Mexican peso.
(5) Of course, there's another way to look at the currency shifts outlined above. Thanks to improving economies elsewhere and an ongoing gradual pickup in world trade, accompanied by somewhat higher commodity prices, those other currencies have been on the mend. There are always two sides to exchange rate shifts. It should also be mentioned that over the course of many years, and dating back to at least July 2009, there has been only minimal variations in the value of the greenback relative to the Chinese renminbi, the South Korean won, the Taiwanese dollar and the Hong Kong dollar.
(6) Canada's dollar, known affectionately as the 'loonie' − based on the picture of a northland bird, the loon, with a unique and plaintive call appearing on the nation's one dollar coinage, and not referring to any personality quirk inherent in the country's citizenry – has been climbing since April 2017. The loonie's record over the past three months has been: +3.7% vs the U.S. dollar; +3.8% vs the Taiwanese dollar; +4.1% vs the Hong Kong dollar; +6.1% vs the Japanese yen; 7.6% vs the Korean won; and +8.4% vs the Brazilian real.
(7) In U.S. foreign trade, May's large deficit in 'goods' (-$810 billion USD annualized) was partially offset by a noteworthy surplus in 'services' ($252 billion USD annualized). The percentage shares of the U.S. goods trade deficit with some of its major trading partners currently stand at: 44%, China; 10%, Mexico; 8%, Japan; 7%, Germany; 16% with the entire Euro area; less than 1% with Saudi Arabia; and only 2% with OPEC nations combined. 2% is also the portion of the U.S. total 'goods' trade deficit that is with Canada.
(8) According to the latest trade statistics from the Census Bureau and the Bureau of Economic Analysis (BEA), U.S. oil imports so far this year, measured in barrels, are +9.7% compared with January through May of last year. The three supplier nations with the largest percentage increases in shipments have been: Iraq (+89.7%); Brazil (+52.8%); and Nigeria (+39.4%). Canada has been pumping +14.8% more barrels of oil to the U.S. and Saudi Arabia has raised its sales by +10.1%.
(9) But when it comes to shares of total U.S. oil imports, Canada remains well out front, with a 41.3% slice. Saudi Arabia (15.1%) is a distant second. Venezuela (9.0%), Iraq (7.6%) and Mexico (7.0%) round out the 'top five'. It's interesting to note that the portion provided by OPEC nations as a whole, at 42.2%, gives Canada a run for its money. The share of total U.S. oil imports originating with Middle Eastern OPEC nations is currently about 25%. Since oil imports as a percentage of total U.S. crude consumption is also about 25%, then the math (0.25 x 0.25) says Middle Eastern OPEC suppliers account for approximately 6.25% of total U.S. oil consumption.
(10) There was cheering north of the border when Canada's merchandise (i.e., 'goods') trade balance finally swung from 24 months of deficits into surplus for three months from November 2016 through January 2017. The celebration was short-lived. During the past four months, overall foreign trade in goods has not been to Canada's advantage. While trade in energy products has rebounded nicely, there have been particularly large shortfalls in motor vehicles and parts and in consumer goods.
(11) The foregoing is not to diminish how much some regions of Canada have benefitted from the improvement in the world price of oil, from a low of $30 USD per barrel to a current range of $45-$50. Canada's three major oil producing provinces are Alberta, Saskatchewan and Newfoundland and Labrador. Year-to-date energy product export sales are +66.8% in Alberta, +70.8% in Saskatchewan; and +54.5% in Newfoundland and Labrador.
(12) Despite a string of impediments, including penalties on foreign buyers, more restrictive rules governing mortgage approvals and expectations of mortgage rate hikes, Canada's home builders broke ground on more than 200,000 dwelling units (seasonally adjusted and annualized) again in the latest month. Only once to-date this year (195,000 units in May) has the 200,000-unit threshold not been beaten. Average monthly starts in Canada in 2017 are +8.5% versus 2016. In the U.S., where single-unit home construction has not kept up with family-formation and other demographic trends for years, a fondly wished-for surge in foundation work remains elusive.