12 Mid-June Economic Nuggets − With a Focus on Incomes and Inflation
In response to a national unemployment rate that is presently as low as it has been in fifty years, − although it was matched on occasion in 2000 − the Federal Reserve on June 13th upped its key policy-setting interest rate for the second time this year by 0.25 basis points, where 100 basis points equals 1.00%. The federal funds rate now stands in a range of 1.75% to 2.00%. Two more such hikes are expected before the end of 2018.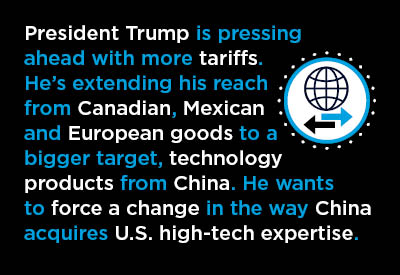 The Federal Reserve, by moving on the interest rate front, is taking precautions to dampen future inflationary tendencies. The extremely tight labor market is causing a gradual uptick in compensation levels. Year-over-year earnings for all jobs both hourly and weekly are clustering around +3.0%. For the construction industry, increases of +4.0% to +5.0% are becoming the norm.
While the word 'booming' is being applied to the U.S. economy, there are still pockets of resistance. The capacity utilization rate in manufacturing has yet to climb above 80.0%. For the moment, the corporate tax cuts are more likely to spur purchases of machinery and equipment than additional square footage, and the former are usually meant to be labor-saving.
President Trump is pressing ahead with more tariffs. He's extending his reach from Canadian, Mexican and European goods to a bigger target, technology products from China. He wants to force a change in the way China acquires U.S. high-tech expertise. Presently, for U.S. firms to be allowed access to the Chinese marketplace, they are required to enter into local joint ventures, prompting a sharing of patents.
In today's world of trans-national supply chains, the current approach to calculating foreign trade statistics has major shortcomings. With respect to many high-tech products, such as smart phones, a Chinese company is merely the final assembler. It is combining components provided by companies in many other countries. Tariffs on Chinese imports will do significant collateral damage to enterprises in South Korea, Taiwan and Japan.
With the foregoing as backdrop, there are the following additional 'nuggets' to be gleaned and highlighted from the recent data releases of prominent public and private sector agencies.
(1) With an assist from rising wages, U.S. 'retail and food services' sales in May soared. In total, and not adjusted for inflation, they were +0.8% month to month (m/m) and +5.9% year over year (y/y). Some of the substantial annual increase was due to sales rung up at the nation's gas pumps, +17.0% y/y. Total 'retail and food services' sales excluding gas stations were +4.9% y/y. A gain of +5.0% or more y/y is usually adopted as the benchmark to indicate when 'retail and food services' sales are on a robust roll.
(2) 'Retail and food services' sub-categories with year-over-year sales increases of +5.0% or more in May were: 'building material and garden equipment dealers', +5.2%; 'clothing and clothing accessories stores', +5.9%; 'general merchandise stores', +5.0%; 'non-store retailers' (i.e., online auction houses and merchants with mainly Internet platforms), +9.1%; and 'food services and drinking places', +5.1%. 'Retail' sales alone, exclusive of 'food services', were a strong +6.0% y/y.
(3) The above-noted surge in gasoline sales begs the question: how much of the +17% y/y rise was due to a higher price? The answer is: all of it. May's Consumer Price Index report from the Bureau of Labor Statistics records an outsized +21.8% y/y jump in what consumers are paying for petrol. The 'All-items CPI', at +2.8% y/y in May, has now firmly risen above the +2.0% level that the Fed says is ideal. The 'core' rate of inflation, however, which omits historically volatile food and energy items, was a more restrained +2.2% in the latest month.
(4) In which states are earnings the highest? According to the latest (2016) data from the American Community Survey (ACS) conducted by the Census Bureau, Maryland is the state with the highest median household income, $78,945. The median is the data point at which half of all the numbers compiled are higher and half are lower. Following closely behind Maryland are Alaska, $76,440; New Jersey, $76,126; District of Columbia, $75,506; and Massachusetts, $75,297.
(5) At the bottom of the median household income ranking are: Alabama, $46,257; Louisiana, $45,146; Arkansas, $44,334; West Virginia, $43,385; and Mississippi, $41,754. The hardships being suffered by the residents of the hurricane-devastated U.S. unincorporated territory of Puerto Rico are cast into even starker relief when it is pointed out that the median household income in that commonwealth is only $20,078, less than half of Mississippi's poor showing.
(6) In 2016, there were 21 states or districts/territories with median household incomes above the country-wide average of $57,617, and 31 below it. In a ranking of the 25 most populous metro areas in the U.S., there were 20 cities above the national average and only five underneath it. The five cities at the top of the ranking are: San Francisco, $96,677; Washington, $95,843; Boston, $82,380; Seattle, $78,612; and Baltimore (benefitting from being within commuting distance of Washington), $76,788.
(7) The U.S. Conference Board's Consumer Confidence Index stayed bullish in May, at a reading of 128.0. The base for the index is 1985 equal to 100.0. In 1985, consumers were neither giddily optimistic nor lethargically morose. The current level of consumer confidence in America is about as good as it gets. Two other measurements compiled by the Conference Board, the 'current conditions' and 'expectations' indices, were also exceptionally upbeat.
(8) The Purchasing Managers' Index (PMI) of the Institute for Supply Management (ISM) was 58.7% in May. A PMI reading above 43.2% corresponds with gross domestic product (GDP) expansion. The PMI has beaten 43.2% for 109 months in a row (i.e., more than nine years). According to the ISM, as set out in its press release, maintaining the PMI at 58.7% for another 11 months would mean annual 'real' (i.e., inflation-adjusted) GDP growth of nearly +5.0%.
(9) In May, Canada's housing starts at 195,613 units, seasonally adjusted and annualized, fell short of 200,000 units for the first time in 12 months, dating back to May 2017's 193,761 units. Housing starts north of the border on average through the first five months of this year were minimally (+1.0%) better than they were during the same time frame of last year. As for residential groundbreakings in Canada's six largest population centers year to date in 2018, the percentage-change results, versus January-May 2017, were: Calgary, +19%; Montreal, +10%; Vancouver, +8%; Toronto, +2%; Ottawa-Gatineau, -16%; and Edmonton, -19%.
(10) Returning to the subject of trade for a few final comments, the main effect of new U.S. tariffs will be to increase prices, leading to some unwelcome results. Higher consumer and business costs will add fuel to inflationary fires. The Fed will be even more determined to stamp them out. A more aggressive program of interest rate increases will further lift the value of the U.S. dollar. An elevated greenback will hurt the export sales of U.S. multi-nationals. It will also reduce the price of imports, necessitating further increases in tariff rates. The wheel will keep on spinning.
(11) Canada, Mexico and Europe are no doubt hoping that as President Trump turns more of his attention to reducing imports from China, that his focus on their steel and aluminum (and in Canada's case, motor vehicles and parts) exports to America will waver. Furthermore, there's a matter which really hasn't been discussed much so far. Canada's largest steel and aluminum producers are headquartered in the U.S. Many American companies have operations around the globe. While tariffs at home may help the domestic operations of those multi-nationals, there will be corresponding detrimental effects on their foreign/international operations.
(12) IBM and the Oak Ridge National Laboratory (ORNL) recently fired up the world's fastest supercomputer. Oak Ridge is 25 miles west of Knoxville, Tennessee. The new Summit machine surpasses the Titan Cray X for speed. It can carry out 200,000 trillion calculations per second (also known as 200 'petaflops'). The goal is to develop what is being termed an 'exascale' model, − i.e., one capable of doing a billion-billion (i.e., ten to the power of eighteen) calculations per second. It will be needed to figure out all the ramifications of the trade and tariff war that threatens to break out.