A Dozen Mid-October Economic Nuggets
Even as I write this—and it's not as if there hasn't been a more than lengthy lead-up to the event—it seems strange that the Presidential election will have taken place and been decided by the time of my next mid-month review. Little more can be done for the moment than to observe developments and hang on for a final wild ride through November 8th.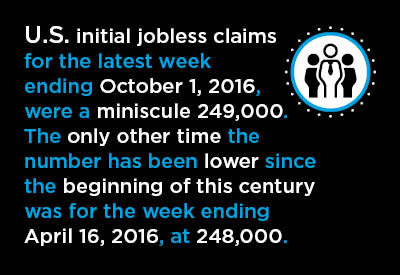 Let it be recorded, though, that the degree of uncertainty rippling out beyond the political sphere into the economic realm remains heightened. In this context, there are the following economic 'nuggets' to be gleaned from the latest government agency and private sector data releases. As I am fond of remarking, the soil is rich and the crop abundant.
(1) U.S. initial jobless claims for the latest week ending October 1, 2016, were a minuscule 249,000. The only other time the number has been lower since the beginning of this century was for the week ending April 16, 2016, at 248,000. The benchmark figure of 300,000—below which layoffs are rare and the search for a job is likely to be rewarding—has now been beaten for 83 weeks in a row. One has to travel all the way back to 1970 to discover a comparable stretch of success for this indicator.
(2) U.S. total employment in September rose by 156,000 jobs. Through the first nine months of this year, the monthly average change in American payrolls has been +178,000. While the pace of job creation has been strong in 2016, it has slowed a bit from the same January-to-September period of last year, when a monthly average rise of +211,000 was recorded, according to the Bureau of Labor Statistics (BLS). The U.S. headline unemployment rate in the latest month was 5.0%. A year ago, in September 2015, it had been 5.1%.
(3) On a year-over-year basis, job creation in the U.S. construction sector in September forged ahead twice as quickly as in the economy as a whole, +3.4% compared with +1.7%. The not-seasonally adjusted (NSA) jobless rate in construction in the latest month was 5.2%, which was an improvement over 5.5% at the same time last year.
(4) The BLS reports employment data for two other worker designations with close ties to the construction sector. Within retail trade, employment at 'building materials and garden supply stores' was +4.1% versus a year ago. And among 'architectural and engineering services' firms, the number of jobs was +2.2% year over year.
(5) Other major sectors with commendable records of year-over-year employment improvement in September were 'professional and business services', +2.9%, 'education and health', +2.7%, and 'leisure and hospitality', +2.4%. Within 'professional and business services', the speediest year-over-year jobs gains have occurred in 'accounting and bookkeeping services', +4.0%, and in 'computer systems design services', +4.1%.
(6) Manufacturing employment in September in the U.S. was -0.4% year over year. For the past seven years, even as the total number of manufacturing jobs in the country has sometimes stagnated, employment at 'motor vehicle and parts makers' has surged. But the rate of jobs increase in the auto sector has been decelerating of late and in the most recent month, it dipped to only +0.3% year over year.
(7) Analysts have been keenly anticipating that higher income levels, to help propel consumer spending, would be a beneficial side effect of the prolonged shift to a healthier labor market. While evidence that this is happening throughout the economy is still sketchy, it appears more certain for the construction sector. Whereas average hourly wages for all workers in the U.S., excluding supervisory personnel, were +2.7% year over year in September, they were +5.1% for the 'hard hat' contingent. With respect to average weekly earnings, the +2.0% change for all employees was a far cry from the +5.6% jump for on-site construction personnel.
(8) In Canada, the hottest subject for discussion right now concerns residential real estate. Hefty resale home price increases have been presenting first-time homebuyers with a staggering affordability challenge, especially in Vancouver and Toronto. Measures by Ottawa to tighten mortgage approvals and by the Victoria government in British Columbia to restrict foreign buyers and to penalize homeowners who leave their properties standing vacant are dampening demand. As for supply, September's new home starts, at 221,000 units seasonally adjusted and annualized (SAAR) were this year's most buoyant. Their low point so far in 2016 was January's level of 174,000 units (SAAR).
(9) Canadians received a cheery lift from their September labor force survey report. The nation's unemployment rate stayed the same as in August, at 7.0%, due to more out-of-work individuals participating in the jobs hunt, but month-to-month total employment shot up by 67,000. That was the biggest month-to-month leap in more than four years, dating back to April 2012 (+93,000). Just the same, Canada's monthly average jobs increase so far this year continues to be anemic, +12,000. Through the first three-quarters of last year, it was +14,000. In a 'good' year, it should be at least +17,000.
(10) Canadian construction employment in September was +7,000 month to month, but a lackluster +13,000 year to date. Manufacturing employment north of the border was +6,000 in September alone, but -38,000 through the first nine months of 2016. Self-employment (+50,000) and part-time positions (+44,000) skyrocketed in the latest period.
(11) Provincially in Canada, British Columbia can boast about having the lowest unemployment rate (5.7% in September) and the highest pace of year-over-year jobs increase (+2.6%). Alberta's economy, which has been battered on account of low energy prices, is suffering under the indignity of possessing the highest unemployment rate (8.5%) among all provinces outside the Atlantic Region. Alberta has also registered a negative year-over-year jobs performance (-2.0%).
(12) While total employment is currently +1.7% in the U.S., it is +0.8% in Canada. In services-providing employment, the U.S. is +2.2% versus Canada's +1.2%. Finally, the advantage also goes to America in construction (+3.4% versus +1.2%) and in manufacturing, although for the latter, neither country can take much pride (-0.4% in Uncle Sam's neighborhood compared with -0.7% in the land of Mounties and maple leaves).
See Related Posts
Economic News