A Dozen Mid-September Economic Nuggets
There's no getting away from the fact that the hotly contested presidential election campaign is playing a key role in how the most current statistics on the U.S. economy are being interpreted.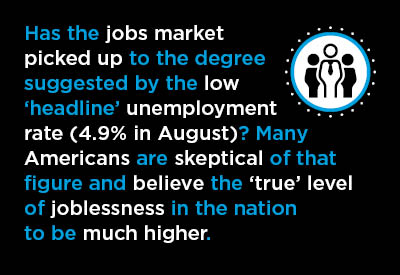 Points (1) to (4) in this mid-September data overview tell the tale of a central bank that is uncertain about the interest rate policy it should adopt to both restrain inflation and promote jobs.
While those deliberations are proceeding internally, there is the sidebar issue of how much independence in its decision making the Fed will be allowed to maintain depending on the outcome of the November 8 vote.
Point (7) goes to the heart of the employment improvement question. Has the jobs market picked up to the degree suggested by the low 'headline' unemployment rate (4.9% in August) reported by the Bureau of Labor Statistics (BLS)?
Without further ado, then, here are some of the most important 'nuggets' to be gleaned from the latest government agency and private sector data releases. As I am fond of saying, the 'soil' is rich and the 'crop' abundant.
(1) In the great debate over whether or not the Federal Reserve will soon raise interest rates further, the Purchasing Managers' Index (PMI) of the Institute for Supply Management (ISM) is figuring prominently. For the first time since February of this year, the PMI dropped below 50% again in August. A PMI reading above 50.0% indicates both the economy overall and its manufacturing subsector are expanding. Above 43.2% up to 50.0% for the PMI has historically corresponded with an economy that is expanding but a manufacturing sector that is contracting. (Under 43.2%, nearly everyone will be hunkering down waiting for a return to better days.)
(2) The fact the PMI has sunk to 49.4% from a most recent high of 53.2% in June is leading many in the financial and investment communities to argue there should be no Fed rate hike in September. They say wait until December, at least, to see whether the numbers on the economy advance sufficiently to warrant a next round of tightening. The weak manufacturing report plus what has been portrayed as a mediocre jobs increase in August (+151,000) suggest an American economy that may be slowing down. Historically, a PMI level of 49.4% goes hand in hand with 'real' (i.e., inflation-adjusted) gross domestic product (GDP) growth of +2.0%.
(3) Hawkish sentiment among some members of the Board of Governors of the Fed, however, seems to be growing. A gain of 151,000 jobs month to month isn't so bad, they feel, plus the initial jobless claims number has been below 300,000 for nearly 80 weeks in a row. They warn of the growing danger of a build-up of pressure on wages that may ultimately be released with explosive force. Besides, they know that pension firms and insurance companies are becoming increasingly concerned that if there is no 'normalization' of rates, they will have difficulty fulfilling annuity commitments to clients. Annuity payments depend on assured higher yields.
(4) And, really, according to those advocating a hike sooner rather than later, what's +25 basis points (i.e., +0.25%) anyway? Surely such a small rise, if indeed it is limited to only one-quarter of a percentage point, won't bring economic activity to a standstill. But there's also the matter of the Fed possibly not wishing to insert into the Presidential election. The Fed's policies are likely to come up for discussion, regardless, especially during the upcoming candidate debate theatrics. For the moment, though, Chairman Janet Yellen may prefer to stay as neutral as possible.
(5) The Fed has a dual mandate, to promote employment and restrain inflation. U.S. labor market statistics are looking pretty good right now, although I'll have more to say on that subject in a moment. And inflation is still under control, although some minor worrying signs are beginning to creep into the statistics. The latest (July) measure of all-items inflation was +0.8% year over year. The percentage change stayed so low because energy prices, and especially gasoline prices, remained deeply negative, -10.9% and -19.9% year over year respectively.
(6) The 'core' inflation rate in July (+2.2% y/y), which omits volatile energy and food items, was slightly above the +2.0% viewed as ideal by central bankers everywhere. Compared with July of 2015, new vehicle prices were the same (0.0%), used cars and trucks were cheaper (-3.7% y/y) and medical care commodities were more expensive (+3.6% y/y). Prices for a number of services were more 'heated': shelter, +3.3%; transportation, +3.0%; and medical care, +4.1%.
(7) August's headline-level U.S. unemployment rate was a low 4.9%. Many Americans are skeptical of that figure and believe the 'true' level of joblessness in the nation to be much higher. The 'headline' jobless rate – which the BLS has been calculating and reporting on consistently for decades − is, nevertheless, only one of six measures provided in each monthly Labor Situation report (Table A-15). The 4.9% is for what is known as 'U-3'. The broadest measure of the unemployment rate is 'U-6'. It is the number of unemployed, plus those working part-time who would prefer to be full-time, plus those marginally attached to the labor force, divided by the labor force, plus those marginally attached to the labor force. (Marginally attached means they aren't seeking work at present, but have looked for a job in the past 12 months and would be interested and available if one was offered.) U-6 is currently 9.7%. A year ago, it was 10.3%. In the Great Recession, it peaked at 17.1%. The lowest it has been since January 2000 is 6.9%.
(8) An indication that the U.S. hot motor vehicle market has cooled a bit, but at a still high level of demand, can be found in the industry-specific jobs numbers. Employment in motor vehicle assembly and parts production has downshifted from a peak of +10.9% year over year in July 2012, to a quieter-running +1.0% in the latest month, August 2016. Further on the subject of subcategory jobs, hiring by bookkeeping and accounting services is +3.6% y/y; by computer systems design and related services, +4.1%; but by oil and gas extraction firms, -9.5%. Staffing at architectural and engineering services firms is +2.4% y/y. Total employment among design firms is within +7,000 jobs of returning to its pre-Recession peak of 1.453 million.
(9) Against a backdrop of +1.7% more total jobs in the U.S. in August of this year versus the same month of last year, there have been some other industrial subcategories that have managed outsized advances in payrolls. The number of workers at firms providing shopping over the Internet is +8.0% y/y. The employee count at hospitals is +3.4%; at assisted living facilities for the elderly, +2.9%; with home health care services, +4.5%; at elementary and secondary schools, +3.2%; at colleges and universities, +2.0%; and at food services and drinking places, +2.8%. Of special interest for construction professionals, the number of jobs in retail with building material and supplies dealers is +4.0%, suggesting buoyancy in new and renovation housing activity.
(10) Canada's total jobs are presently only +0.4% y/y, but some impressive subsector movements have come in the following: motor vehicle assembly manufacturing, +3.8% y/y; hospitals, +2.7%; assisted living facilities for the elderly, +5.2%; universities, +3.3%; computer system and design services, +5.4%; and movie, video and music production, +4.3%. Companies engaged primarily in shopping over the Internet in Canada have upped their staffing by +4.9%.
(11) Three categories with substantial job losses in Canada, however, have been: architectural and engineering services, -4.3% y/y; forestry and logging, -4.9%, and oil and gas extraction, -5.9%. The first of those three can be explained by a $30 billion CAD cut in capital spending on (mainly) resource projects, many of the mega-sized variety, from 2014 to 2016. Ottawa's promised program of accelerated spending on infrastructure will help going forward, but only a turnaround in world trade that lifts commodity prices will fully restore color to the construction sector's cheeks.
(12) Canada's 'total industry' capacity utilization rate in the second quarter of this year fell back to 80.0% from 81.4% in the first quarter. Manufacturing's plant usage rate similarly retreated to 82.2% in Q2 from 83.4% in Q1. Nevertheless, a utilization rate above 80% points to sectors where owners must be giving some thought to expanding facilities. Furthermore, there are several Canadian industries currently experiencing levels well above that benchmark: wood products, 95.1%; paper products, 95.0%; transportation equipment (i.e., cars), 93.5%; and rubber products, 89.0%.