Even Without Tariffs, Construction Material Costs Are Climbing
Q1 2018's U.S. gross domestic product (GDP) increase, quarter-to-quarter annualized, was a modest +2.0%. The 'tracking' forecasts calculated by the likes of Goldman Sachs, the Atlanta Fed and CNBC, however, are projecting that Q2's GDP result will improve to a figure near +4.0%, or possibly even higher.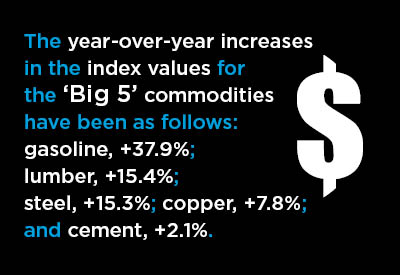 In a 'tracking' forecast, GDP is recalculated with the release of each new monthly or weekly result from a list of key economic variables (e.g., motor vehicle sales, industrial production, personal income, etc.)
Q2's buoyancy will arise primarily from a pickup in manufacturing activity, a recent surge in housing starts and an uptick in retail sales that at +6.0% year over year in May exceeded the +5.0% gain that is generally considered bullish.
Nevertheless, there's a 'caution' flag that is being brought out of storage. For many years, growth in the economy has rested on an assurance of inflation being absent from the picture.
There are emerging indications, however, that such a favorable circumstance may be coming to an end. Furthermore, it appears construction will be among the first sectors in the economy to feel the wind shift.
There's concern in the building industry about the harmful effects on costing due to an already established tariff on Canadian softwood lumber and recently-set tariffs on Canadian, Mexican and European Union steel and aluminum.
There's good reason to be anxious, but not just due to fresh tariffs.
Graph 1 accompanying this report shows the movement in the Bureau of Labor Statistics (BLS)'s Producer Price Index (PPI) sub-series for the 'Big 5' commodities – lumber, cement, copper, steel and gasoline.
The PPI data-set measures changes in prices received by domestic producers for their output. In other words, tariffs on imports are playing no role in the shape of the curves in Graph 1.
And yet, for four of the 'Big 5' commodities, descending slopes reversed course in early 2016 and have been generally rising ever since. Cement has been the exception. It has been on a slow and steady incline since mid-2011.
Most apparent since 2016 have been the rapid ascents in the curves for lumber and gasoline. The climbs for steel and copper have not been as dramatic, but they've been notable nonetheless.
The year-over-year increases in the index values for the 'Big 5' commodities have been as follows: gasoline, +37.9%; lumber, +15.4%; steel, +15.3%; copper, +7.8%; and cement, +2.1%.
Gasoline's surge has resulted from an uptick in the global price of oil. The U.S.-dollar charge per barrel of crude, at $70-plus, has risen to its highest level in four years, dating back to early 2014.
Washington, as part of its withdrawal from the Iran nuclear-pullback accord, is pressuring other nations such as India to reduce their purchases of Iranian oil, effectively reducing the world supply of crude.
The uptick in the cost of lumber has been demand-driven. There were groundbreakings on 1.35 million residential units in May, seasonally adjusted and annualized (SAAR), lifting housing starts to their best monthly performance post-recession.
Reductions in copper-producing capacity world-wide have finally been allowing its price to achieve a measure of recovery. Over the past decade, giant mining firms have been more cautious in their approach to mega project 'capex' spending.
And while there remains a huge excess of steel supply internationally, and especially in China, the price in America has been on a strong upward arc in the first four months of this year. Being aware that tariffs on imports might be coming, domestic producers have been more assertive in their approach to mark-ups.
In summary, the front end of the pipeline on construction material supplies is now coughing up some significant price hikes. But that's only the opening paragraph of the story.
For general and specialty trade contractors, those underlying procurement cost shocks will be exacerbated by the new tariffs
Builders and project owners who have long been benefiting from bargain-basement construction costs are suddenly facing a double whammy.
Graph 1: The "Big 5" Commodities - Price Indices
(Since July 2009 Trough)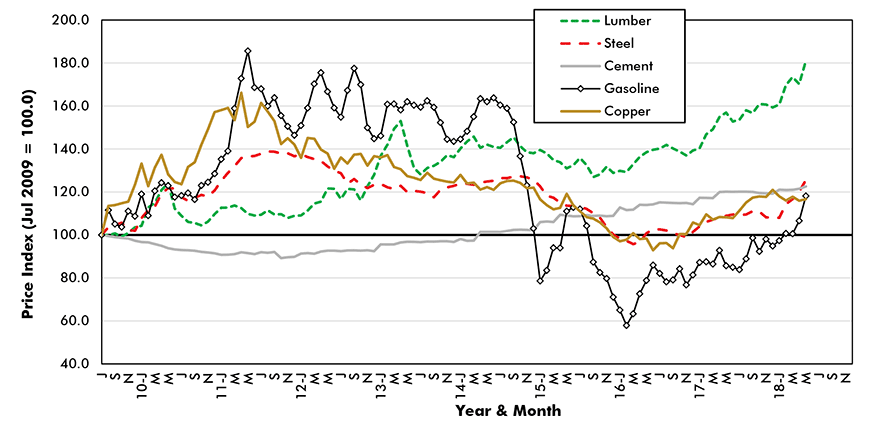 The last data points are for May 2018.
Data source (not seasonally adjusted): Bureau of Labor Statistics (PPI series).
Chart: ConstructConnect.