An Eye-Popping 3.9% Unemployment Rate in April's U.S. Jobs Report
April's Employment Situation report from the Bureau of Labor Statistics (BLS) highlights a month-to-month increase in total U.S. jobs of +164,000. But that figure understates the employment improvement, since March's level was revised upwards by +30,000.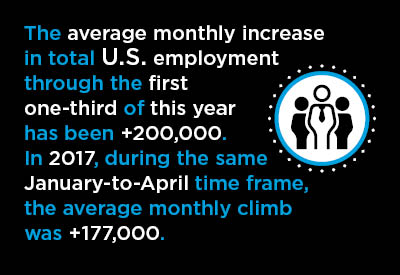 Therefore, the accumulated gain in April was +194,000 jobs.
The average monthly increase in total U.S. employment through the first one-third of this year has been +200,000. In 2017, during the same January-to-April time frame, the average monthly climb was +177,000. The year-over-year increase in the monthly average is +13.0%.
The number that really pops out from the latest data release on the U.S. labor market, however, is the unemployment rate. Prior to April, it had been sitting at 4.1% for six months in a row.
In April, it finally dropped below 4.0% to stand at 3.9%. A 3.9% jobless figure is the lowest since December 2000, almost two decades ago.
Furthermore, there is another measure of the unemployment rate calculated by the BLS that is broader in scope and habitually higher. Its official title is U-6 and it includes individuals only marginally attached to the labor force, plus those who are engaged part-time but would prefer to be occupied full-time.
Even U-6, which rose above 17.0% in the Great Recession, has fallen to an astonishing degree.
U-6 dropped from 8.0% in March to 7.8% in April. 7.8% for U-6 is the best since July 2001.
The usual headline unemployment rate (3.9% in April) is officially labeled U-3. Six versions of the unemployment rate appear in Table A-15 of the Employment Situation report.
It has been apparent for a while that the U.S. labor market has been tight. The optics of a 3.9% unemployment rate (i.e., breaking through the 4.0% barrier) carry that perception an important step further.
The U.S. must now be seen as operating at full employment.
The implications are being reveled in outbreaks of labor unrest over compensations levels. Teachers unions in various states (e.g., Arizona) have been in the forefront of fights for higher wages, among other issues.
Average year-over-year hourly and weekly earnings for all U.S. workers in April were +2.6% and +2.9% respectively.
Employees in the construction sector managed to do better. Omitting bosses, 'hard hat' workers realized year-over-year hourly and weekly earnings gains of +3.9% and +4.7%.
For the past five months, on-site construction workers have been averaging year-over-year weekly earnings increases of nearly +5.0%.
Construction recorded a nice pick-up in hiring in the April, +17,000 jobs, although among goods-producing industries, it was beaten by manufacturing, +24,000 jobs. Construction's not-seasonally-adjusted (NSA) unemployment rate in the latest month was 6.5%, a little looser than the 6.3% level it notched up in April 2017.
Manufacturing's unemployment rate in this year's April dipped to 3.3%, comparing favorably with April 2017's 3.9%.
Within services, the sub-sectors with the biggest bursts in employment in April were: 'professional and business services', +54,000 jobs; 'education and health services', +31,000; and 'leisure and hospitality', +18,000.
In several services sub-sectors, month-to-month employment in April stayed essentially flat: 'retail', +2,000; 'transportation and warehousing', no change; 'financial activities', +2,000; and 'government', -4,000.
Year-to-date, the sub-sectors that have been leading U.S. jobs growth have been: 'professional and business services', +192,000 jobs; 'education and health', +137,000; 'construction', +102,000; 'manufacturing', +97,000; 'retail', +66,000; and 'leisure and hospitality', +65,000.
The year-to-date total U.S. jobs gain has been +799,000.
While total construction employment has made great strides over the past seven years, it has still recovered only about three-quarters of its peak-to-trough decline experienced between 2008 and 2010.
There have been notable differences in the employment performances of the major type-of-structure sub-categories of construction. The jobs pick-up in residential construction has taken its level only about halfway to where it was prior to the recession.
Non-residential building construction employment has climbed dramatically since 2011, but it has another +12% to go before it will reach its former summit, achieved in early 2008.
Heavy engineering construction employment has been the standout. The level of jobs in civil undertakings has now caught up with its peak from before (in 2007), at about 1.0 million.
Over the past year, on a percentage change basis, however, it has been residential construction that has led the way in staffing advances, +5.1%, followed by non-residential building, +3.1%, with engineering trailing, +1.2%.
Total U.S. construction jobs are +3.7% year over year. The 'all jobs' year-over-year percentage change is now +1.6%, with services at +1.7% and manufacturing, +2.0%.
The 3.9% U-3 unemployment rate will stiffen the Federal Reserve's resolve to stay the course with its previously announced program to keep hiking interest rates incrementally but swiftly (i.e., three or four times this year).
Another indication of how strong America's labor market has become can be found in the Unemployment Insurance Weekly Claims report, from the Department of Labor (DOL). Any figure less than 300,000 for weekly initial jobless claims is considered good.
This series has been below 300,000 every week for more than three years. For the latest two weeks, ending April 21 and 28, the numbers have been 209,000 and 211,000 respectively.
In other words, the weekly initial jobless claims number has been flirting with plunging under the benchmark of 200,000. It will be quite the 'red letter' day if that happens.