In August, Canadian Jobs Swung Up But Housing Starts Continued Down
Friday, September 9, has been the date of issue for two key statistical reports—one on labour markets and the other on residential construction—which provide important insight into the state of Canada's economy.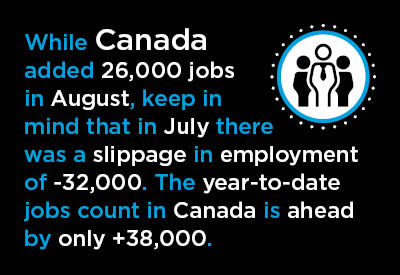 The Labour Force Survey for August 2016 from Statistics Canada records net job creation in the latest month to have been +26,000. That's pretty good, considering that a figure in the range of +15,000 to +20,000 is usually considered acceptable and in line with the long-term trend pattern.
More people jumped into the labour force in August, however, which raised the participation rate to 65.5% from 65.4% the month before. As a result, there was a slight worsening in the jobless level to 7.0% from 6.9% in July.
Statistics Canada takes care to mention in its report that if the jobless rate in Canada were calculated according to the same more-rigorous standards (i.e., with respect to who among the unemployed is looking their hardest for work) as in America, it would be only 5.9%. The U.S. jobless level is presently 4.9%.
There will likely be exuberant headlines about Canada's jobs gain in August, but there are other statistics in the latest employment report that warrant a dampening of enthusiasm and I'll come to those in a moment.
But first, there's the second major data release to be mentioned and it features new home starts as calculated by Canada Mortgage and Housing Corporation (CMHC).
Residential groundbreakings nationwide in August fell to 183,000 units seasonally adjusted and annualized (SAAR). In July, they had been 195,000 units and in June, 218,000 units.
Has the long-anticipated downward dip in Canadian housing starts finally arrived?
In the resale market, skyrocketing home prices in some urban centers—most notably Vancouver and Toronto—have caused local governments to either proceed with or seriously consider deliberate taxing measures to curb demand.
This carries significant implications for construction employment. The number of jobs in on-site construction work is currently +1.1% year over year, which is remarkably upbeat given some of the huge cuts in capital spending that have occurred in other nonresidential segments of the economy.
Over the past two years,—based on 2014 'actuals' and 2016 'estimates'—there has been a $30 billion reduction in the amount of investment going into engineering construction. The weakness in world commodity prices, with crude oil especially failing to keep up with its former 'glory days', has caused many owners in the raw materials sector to postpone or cancel mega projects.
Provincially, Alberta alone accounts for -$25 billion of that national -$30 billion contraction.
Still, new home groundbreakings through the first eight months of 2016 have averaged 195,000 units, which is an increase of +3.5% when compared with the 188,000 units on average recorded from January to August of 2015. It's a little early to surrender to hand-wringing worry just yet.
Returning to the labour market report, while Canada added 26,000 jobs in August, keep in mind that in July there was a slippage in employment of -32,000. The year-to-date jobs count in Canada is ahead by only +38,000.
The monthly average gain in jobs in January through August of 2015 was +15,000. During the same first eight months of this year, the climb has been only +5,000 on average.
Some analysts are going to tout the big month-to-month increase in full-time employment in August, +52,000 jobs. Yes, that's commendably strong, but the year-over-year change in full-time employment remains negative, -0.2%.
The number of part-time positions in August fell by -26,000 m/m.
Self-employment dropped by -39,000 m/m.
The public sector went on a hiring binge, +57,000 jobs m/m.
Canadian manufacturing added 3,000 jobs in August, but its year-to-date level of employment is -44,000 jobs. The benefits to be realized from a low-valued 'loonie' that is supposed to promote export sales and encourage more foreign investment in Canada have been slow to materialize.
The most telling numbers about Canada's labour market lie in a comparison with U.S. statistics.
Whereas Canada's total employment is presently +0.4% year over year, the comparable figure from south of the border is +1.7%. Canada's total service employment is +0.9%. In the U.S., the number of private services-producing jobs is a quite robust +2.2%.
Neither country can boast about manufacturing employment. In Canada, it is -1.0% year over year; in the U.S., -0.3%.
And even in construction employment, where Canada used to always be the leader, the relationship has reversed with the U.S. at +3.1% and Canada at +1.1%.
Provincial and regional labour market statistics are shown in accompanying Table 1. The highlights are as follows.
Outside the Atlantic Region, Alberta (8.4%) now has the highest unemployment rate compared with its siblings. The Wild Rose province has also seen by far the largest decrease in total number of jobs year over year, -53,400.
In Saskatchewan, where natural resource extraction (oil, potash, etc.) has also been particularly impacted by poorly-performing commodity prices, the total number of provincial jobs is -4,500 year over year, but the unemployment rate remains fairly tight at 6.3%.
Ontario and Quebec have managed solid jobs growth year over year, +37,200 and +33,600 respectively. But it's been British Columbia on the West Coast where staffing has been surging this year. B.C.'s year-over-year job creation has been +72,600 in nominal terms (i.e., more than Ontario and Quebec added together) and +3.1% in percentage terms (i.e., nearly eight times as fast as the national average's +0.4%.)
Just as B.C. is the shining star in the employment report, it stands out in CMHC's housing starts data as well.
Year-to-date new home groundbreakings in B.C. are currently +35% compared with January through August of last year. In next-door Alberta, the comparable figure is -41%. Ontario's home starts are +11% while Quebec's are even (0.0%) with the first eight months of last year.
Among the country's six largest population centers (i.e., the only Canadian cities with more than a million residents each), Vancouver is the standout frontrunner in housing starts to date in 2016 (+39% compared with January through August 2015). Montreal (+3%) and Ottawa-Gatineau (+1%) have also recorded increases, but barely.
Toronto (-1%) is marginally down. Calgary (-33%) and Edmonton (-41%) are in steep decline.
Canadian Provincial Labour Markets - August 2016
Unemployment rate
Employment (000s)
Province
Aug 2015
Aug 2016
Aug 2015
Aug 2016
Net
% change
Newfoundland and Labrador
11.7%
12.3%
239.2
235.9
-3.3
-1.4%
Prince Edward Island
10.5%
12.1%
72.3
71.2
-1.1
-1.5%
Nova Scotia
8.4%
8.5%
448.1
445.2
-2.9
-0.6%
New Brunswick
9.8%
9.4%
350.7
351.6
0.9
0.3%
Québec
8.0%
7.1%
4,095.1
4,128.7
33.6
0.8%
Ontario
6.8%
6.7%
6,939.8
6,977.0
37.2
0.5%
Manitoba
5.7%
5.9%
635.6
633.9
-1.7
-0.3%
Saskatchewan
4.8%
6.3%
573.5
569.0
-4.5
-0.8%
Alberta
6.1%
8.4%
2,304.3
2,250.9
-53.4
-2.3%
British Columbia
6.2%
5.5%
2,313.5
2,386.1
72.6
3.1%
Canada
7.0%
7.0%
17,972.1
18,049.5
77.4
0.4%
Data source (seasonally adjusted figures): Statistics Canada.
Table: ConstructConnect.