July the Year's Best Month To-Date for Employment Gain in Canada
Total employment in Canada recorded the best month-to-month increase so far this year in July, +54,000 jobs, according to the latest Labour Force Survey results published by Statistics Canada.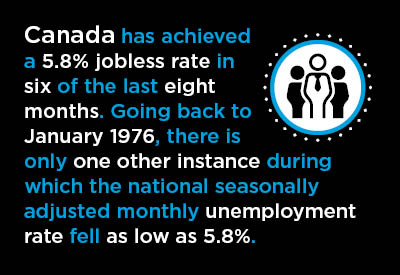 Prior to July, the best month-to-month improvements in 2018 had occurred in March and June, tied at +32,000 jobs.
The pick-up in hiring in July was entirely in part-time work (+82,000 jobs), as the number of positions classified as full-time suffered a setback (-28,000).
The total jobs increase year over year has now been +246,000, or nearly one-quarter of a million.
The nation's unemployment rate in the latest month dipped to 5.8% from 6.0% the month before.
A great deal of attention has been paid to the exceptionally low level of the unemployment rate in the United States at this time, 3.9%. Perhaps unfairly, Canada's stellar performance on the same front has not received as much fanfare.
Canada has achieved a 5.8% jobless rate in six of the last eight months. In Statistics Canada's historical records going back to January 1976, there is only one other instance during which the national seasonally adjusted (SA) monthly unemployment rate fell as low as 5.8%. It happened in October 2007 during the boom times that preceded the 2008-09 recession.
In Statistics Canada's Labour Survey report, total employment is broken down into 'private', 'self-employed' and 'public'. The ratio of 'private' jobs to 'self-employed' jobs is a little more than four-to-one. The ratio of 'private' plus 'self-employed' jobs to 'public' jobs is a bit less than four-to-one.
In July, 'private' jobs plus 'self-employed' jobs rose by only +5,000 month to month, while 'public sector' jobs climbed by +49,000.
Among industrial classifications of work, there is a 'public administration' designation that is a subset of all 'public' jobs. 'Public administration' encompasses jobs in foreign affairs, immigration, national defence, law enforcement and fire-fighting. 'Pub-admin' hiring in July was up by a hardly noticeable +3,000 jobs month over month.
Not included in 'public administration', however, but contributing large shares to all 'public' sector work are 'educational services' and 'health care and social assistance'. In July, staffing in the former surged by +37,000 and in the latter, by +31,000.
As for construction and manufacturing in July, they both recorded job shrinkages, -19,000 and -13,000 respectively. The total number of construction jobs in Canada is now -14,000 year to date, while the total number of manufacturing jobs January-to-July is -50,000.
Ontario is the nation's manufacturing hotbed, but manufacturing has experienced a significant jobs retreat. Therefore, it's surprising to learn that Ontario, at +187,000, has accounted for three-quarters of the nation's total jobs uplift over the past 12 months.
The higher Ontario payrolls have particularly come in 'educational services' (+52,000 year over year in nominal terms), 'transportation and warehousing' (+39,000), 'accommodation and food services' (+27,000) and 'construction' (+17,000).
Ontario's not seasonally adjusted (NSA) construction unemployment rate dropped to an all-time low in July, at only 1.3%. Provincial construction unemployment rates will be featured in the next article.
Ontario currently has the second lowest all-jobs unemployment rate among the provinces, at 5.4%. British Columbia ranks number one, with a jobless level of 5.0%. But B.C. has seen a decline in total employment over the past year, -4,000 jobs.
As for how Canada is doing relative to the U.S. according to year-over-year percentage changes in employment, it's north of the border trailing south of the border in four major categories. In 'total' jobs, the U.S. has been +1.6% to Canada's +1.3%. In 'services-providing' jobs, the race has been tighter with the U.S. at +1.6% but Canada just a small step back at +1.5%.
But in manufacturing, it's been the U.S. +2.6% and Canada, -1.4%; and in construction, the relationship has been +4.4% in America as opposed to +2.5% in the land of Mounties and maple leaves.
Average hourly wages in Canada year over year in July were +3.2% and average weekly wages were +3.1%.
Table 1: Canadian Provincial Labour Markets - July 2018
Unemployment rate
Employment (000s)
Province
JUL 2017
JUL 2018
JUL 2017
JUL 2018
Net
% change
Newfoundland and Labrador
15.7%
15.4%
219.9
225.2
5.3
2.4%
Prince Edward Island
10.3%
9.5%
73.6
76.5
2.9
3.9%
Nova Scotia
8.0%
8.0%
449.3
453.4
4.1
0.9%
New Brunswick
6.5%
7.5%
351.8
354.1
2.3
0.7%
Québec
5.8%
5.6%
4,239.2
4,255.6
16.4
0.4%
Ontario
6.0%
5.4%
7,122.4
7,305.1
182.7
2.6%
Manitoba
5.0%
6.0%
649.1
646.6
-2.5
-0.4%
Saskatchewan
6.6%
6.6%
568.5
567.8
-0.7
-0.1%
Alberta
7.8%
6.7%
2,285.0
2,324.6
39.6
1.7%
British Columbia
5.2%
5.0%
2,477.4
2,473.2
-4.2
-0.2%
Canada
6.3%
5.8%
18,436.2
18,682.1
245.9
1.3%
Data source (seasonally adjusted figures): Statistics Canada / Table: ConstructConnect.