At Launch of 2017, Bullet Points on U.S. Economy - National
General Overview:
Analysts are expecting that 2016's 'real' (i.e., adjusted for inflation) U.S. gross domestic product (GDP) growth will be close to +2.0% versus 2015. With all the tax cuts, foreign profit repatriation and efforts at deregulation being proposed by the incoming Trump administration, the hope is that the next year-to-year GDP comparison (i.e., 2017-to-2016) will rise to +3.0%.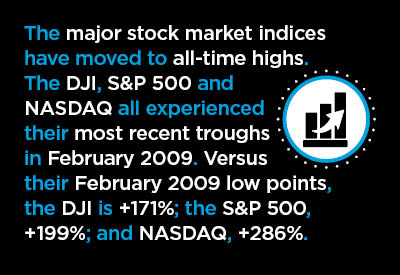 The numbers on the U.S. economy continue to be quite strong, particularly with respect to the overall labor market. Month-to-month employment growth in 2016 has averaged +180,000 jobs. A figure above +150,000 is considered good. The unemployment rate has fallen to 4.6%, its lowest level in almost ten years, dating back to August 2007. And the weekly initial jobless claims figure has been below 300,000 for almost two years. It will reach that milestone in February of 2017. There has been no comparable period of strength for this indicator since it was established in the early 1970s.
The major stock market indices have moved to all-time highs. The DJI, S&P 500 and NASDAQ all experienced their most recent troughs in February 2009. Since then their exponential growth rates have been phenomenal. The DJI has increased by +10.8% per annum; the S&P 500 by +12.7%; and NASDAQ, by a truly remarkable, +15.9%. Versus their February 2009 low points, the DJI is +171%; the S&P 500, +199%; and NASDAQ, +286%. Since +100% is a doubling, the DJI and S&P 500 have nearly tripled and NASDAQ can be said to have almost quadrupled.
The Conference Board's Consumer Confidence Index (CCI) in December jumped to 113.7 from 109.4 in November. It now stands at a 13-year pinnacle. The CCI has adopted 1985 = 100.0. 1985 is viewed as a time when sentiment was neither outstandingly bullish nor depressingly bearish.
The price of oil has moved back above $50 USD per barrel. Saudi Arabia has abandoned its policy of pumping out as much crude as possible. It was hoping to cripple competitors – particularly new investors in hydraulic fracturing − and increase market share. But too high a price has been exacted on Saudi Arabia's government finances. OPEC (with the exception of Iran) and Russia have agreed to limit output.
Some other commodity prices are also on the march upwards, after years of languishing. Zinc has been performing especially well. Copper is trending higher, although it's still nowhere near its previous peak. Aluminum has been making gains. There is talk about a revival in coal. President-elect Trump wants to save jobs in mining, plus he believes that some measures directed towards a cleaner environment have gone too far.
Just the same, new electric power plants will likely use natural gas as a feedstock over coal, although it should be noted that the price of natural gas has also been lifting of late. Gold won't be making a splash again until it climbs back above $1,300 USD per ounce. From the present vantage point, that appears to be a trek of some distance.
The U.S., thanks to the widespread adoption of hydraulic fracturing of shale rock, has become much less dependent on foreign sources of energy. So much so, in fact, that exportation of liquefied natural gas is now proceeding at what is expected to be a rapidly expanding pace from terminals in Louisiana and Maryland. The opening up of wider channels to accommodate bigger ships in the Panama Canal is allowing greater access to potential customers in Asia and Latin America.
An interesting fact to know is that 1 in 3 Americans lives in 1 of only 4 states. The populations of California (39 million), Texas (27), New York (21) and Florida (also 21) sum to more than 100 million. Furthermore, the +0.7% gain in the nation's total population each year stands out relative to many other major industrialized countries, where population counts are level or declining (e.g., Germany and Japan). 'More people' means more spending.
In nominal terms, a population increase of +0.7% in America is an additional two-million-plus individuals each year. For the construction industry, that conjures visions of support structures for an extra two metropolitan statistical areas (MSAs) in each 12 months. (An MSA is an urban core combined with closely integrated commuter-friendly suburbs populated by one million people or more.)
Machinery and equipment manufacturers – for example, in Indiana and Illinois – and sizable portions of the nation's design and construction communities, are anticipating improved activity levels on account of promised new and repair infrastructure building initiatives, although securing financing from Congress may prove to be a challenge. A greater role to be played by the private sector, through joint ventures such as PPP (private-public partnerships) arrangements, is likely to become a necessity.
The enthusiasm concerning the domestic economy may need to be tempered by some speedbumps being erected on the foreign front. First, the Federal Reserve's actions to raise interest rates are providing an exceptional updraft to the value of the U.S. dollar, which in turn hampers goods and services providers when they attempt to make export sales. Second, widely suggested measures to protect American industry from foreign competition, through tariff or other means, raise the threat of retaliation. Trade wars rarely turn out to be of lasting benefit.
The Fed has stated an intention to carry through with three hikes in its trendsetting federal funds rate in 2017. But it said the same thing near the beginning of 2016, and then stayed on the sidelines until the end of the year. There's no doubt, however, that the Fed would like to normalize rates and such a goal would imply a gradual upward adjustment in the federal funds rate to around 2.5%. An easily advanced justification, to be presented before a broad audience, will be that greater inflation – especially on the wage side, and with some commodity prices warming up – may be lurking around the corner.