At Launch of 2017, Bullet Points on U.S. Economy - Regional
East Region:
Many of America's major cities with the lowest unemployment rates are located in the East Region. Boston, with a jobless figure of only 2.6%, is best in the nation. Indianapolis (3.6%) is ranked 6th. Nashville (3.8%) is ninth and Columbus, Louisville and Washington (all at 3.9%) are tied for tenth.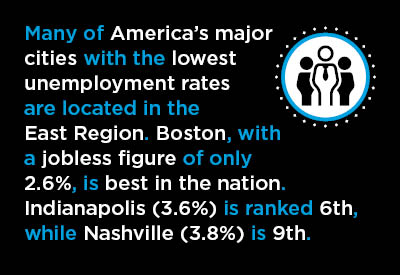 The high-tech sector has perhaps become the preeminent driver of the U.S. economy overall. Most of the crucibles of knowledge-based research and development efforts are located up and down the Atlantic and Pacific Coasts. There are obvious back-and-forth beneficial linkages to be realized between company laboratories, government agencies and top academic institutions. The Washington DC high-tech scene is increasingly spilling over into Virginia and the Carolinas. Raleigh has been spotlighted in the media as an especially promising vision-fostering hub.
Among industry sub-sectors, financial firms (e.g., banks, insurance and pension companies) are expected to receive a boost from higher yields and pharmaceutical enterprises will be grateful for reduced oversight (e.g. deregulation). New York and Charlotte are banking hotbeds. Miami, with wide-spread ties to central and South American institutions, is also big in financials. (As a sidebar, Miami is also the cruise ship capital of the U.S.) Philadelphia carries a bright torch in medical research.
Among Florida's major cities, Orlando (4.5%) currently has the lowest jobless rate. It is also recording the best year-over-year employment growth (+4.0%) in the state, followed by Jacksonville (+3.7%) and Tampa (+2.6%). Since the Great Recession, American families have made terrific strides in reducing debt. As a consequence, they are now easing up on belt tightening. Increased consumer spending is a spur to the amusement and accommodation sectors. It skips along hand in hand with tourism and travel. Orlando is a 'theme park' mecca.
Auto sales in the U.S., while they have recently been decelerating, are still near all-time highs. Much of the new investment may have moved to southern states (and outside the country, especially to Mexico), but Michigan is on the comeback trail nonetheless. The unemployment rate in Detroit is presently 5.4%, down significantly from seven or eight years ago, and year-over-year jobs growth in Ann Arbor and Kalamazoo, at +4.8% and +3.5% respectively, is outstanding. The national year-over-year employment increase is a considerably slower +1.6%.
Many of the fastest year-over-year gains in existing home prices are currently being recorded in the East. According to CoreLogic's Case-Shiller index series, resale home prices in Tampa are +7.8%; in Miami, +6.5%; Detroit, +6.4%; and Atlanta, +6.0%.
The multi-year and multi-billion dollar Hudson Yards project is anchoring a development surge in the New York City area. And before leaving the East Region, Nashville deserves a mention. Not only is it finding fame through its namesake TV show, but it also cradles many of the nation's premier for-profit hospital corporations. With an aging population, and regardless of where the incoming Trump Administration may take health care, medical facility availability will keep gaining traction as a social services priority.
Central Region:
Texas dominates the Central Region. Austin is number five for low unemployment rates nationally, at only 3.2%. Dallas (3.6%) is in position number 6 and San Antonio (3.7%) sits eighth. Houston (5.1%) is way down the chart in 40th spot among the 50 largest (by population) U.S. MSAs. Houston, with its oil company headquarters and globally-engaged well-drilling services firms (e.g., Schlumberger), has been most devastated by the precipitous drop in the world price of oil. But that may be about to change. Oil prices are firming up.
Plus producers in the Permian Basin in West Texas have been able to extract output at low enough cost to generate profits even when the posted price of crude has dipped dramatically. Elsewhere in America, North Dakota (Bakken basin), Ohio and Pennsylvania (Marcellus) have been some of the states reaping substantial rewards from the emergence of hydraulic fracturing, although the last couple of years have been less than kind.
While three of the major cities in Texas have low unemployment rates, Minneapolis is the urban center in the Central Region with the stingiest jobless level, 3.1%, giving it a fourth place ranking among all MSAs. In an ordering of states according to their unemployment rates, lowest to highest, the Central Region does quite well. South Dakota (2.7%) is number one. North Dakota (2.9%) is third; Nebraska (3.4%), ninth; Iowa and Minnesota (both 3.8%) are tied for tenth. Arkansas (4.0%) is thirteenth.
Most hydroelectric and nuclear power generating capacity in America is situated in the coastal regions. Much of the middle of the country has long relied on coal. Those plants will gradually be replaced with natural gas capacity. Wind and solar will pick up larger shares on the grid as well.
Three of the four largest U.S. airline corporations have head offices in the Central Region: United in Chicago and Southwest and American Airlines in Dallas-Ft. Worth. (Delta in Atlanta is the outlier.) Travel for business and pleasure is already a huge industry and can only be expected to become more of an economic force in the future.
Wichita, Kansas is home to Koch Industries and Omaha, Nebraska is famous for its oracle, Warren Buffet, the founder of Berkshire Hathaway. St. Louis hosts Sprint and Dallas has AT&T in its head office bundle. ExxonMobil's executive suite is situated in Irving, Texas. Iowa has become a hub for call and data processing centers. Microsoft has a large and mushrooming presence in Des Moines.
The leaders in year-over-year employment among major Central Region MSAs include Baton Rouge, +3.7%; Dallas, +3.3%; Iowa City, +2.8%; and St. Louis, +2.4%. As further proof of Houston's struggles, the year-over-year rise in jobs in that city is an anemic +0.4%.
West Region:
With respect to low unemployment rates, Denver (2.9%) is leading the West Region and is ranked second nationwide. Salt Lake City (3.0%) is only a smidge behind, coming in third among all MSAs in the U.S. San Francisco and San Jose (both at 3.9%) are tied for tenth among their peers. Neither Los Angeles nor San Diego (both at 4.8%) have particularly tight labor markets. And Riverside (6.1%) is hard pressed to provide work.
Year-over-year employment in the West Region has been led by Spokane, +4.1% and Seattle, +3.7%. Other frontrunners have been Salt Lake City, +3.4%; Denver, +3.6%; Reno, +3.2%; and Portland, +3.0%. Reno, of course, is basking in the luster of its giant-sized Tesla battery plant. As for Seattle, Washington ranks higher among all states in manufacturing shipments than many would likely guess. Aerospace production is a big contributor to that success.
According to the National Association of Realtors (NAR), the West Region is the clear frontrunner in terms of resale home prices. The median price of houses being sold in San Jose is a 'cool' $1.0 million. San Francisco is a step back at $835,000. Next are urban Honolulu, $745,000; San Diego, $589,000; Los Angeles, $537,000; Seattle, $422,000; and Denver, $387,000. To some degree, home prices can stand in as proxy measures for prosperity.
It's interesting that the most expensive housing anywhere in America is located where innovation is most apparent and venture capital most abundant. Speaking of which, a significant migration of jobs is underway out of San Jose and San Francisco in search of cheaper office space to lease in Oakland and places further afield, such as Portland.
By comparison, consider that the most expensive resale homes in the East Region are in generally less pricey Nassau County, N.Y. ($437,000) and Boston ($435,000). In the Central Region, housing is a bargain, with Austin ($284,000) on the top rung, followed by Chicago ($244,000), Dallas ($231,000) and Houston ($217,000).
The West is also accounting for many of the largest year-over-year gains in median resale home prices. Residences in Seattle are +10.7% year over year; in Portland, +10.3%; and Denver, +8.3%. (Home prices nationally are in the range of +5% to +6%, according to Case-Shiller). Also noteworthy have been the recent advances in existing home prices in Las Vegas (+5.7%) and Phoenix (+5.2%). Those were two of the urban centers where home prices cratered most severely in the wake of the sub-prime mortgage fiasco.
The major ports along the West Coast will continue to offer tremendous potential for trade with Asian markets, which are growing by leaps and bounds. The worry is that man-made (i.e., protectionist) barriers may get in the way. Finally, there are potential ongoing drought conditions that Californians may be forced to confront.