Lots to be Excited About in Canada's January Jobs Report
At an increase of +48,000 jobs, Canada achieved a second straight month of exceptional employment growth in January. December's gain had been an almost equally bullish +46,000 positions, according to Statistics Canada's latest Labour Force Survey.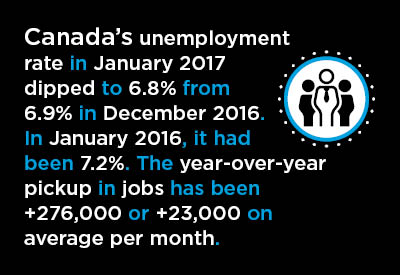 The year-over-year pickup in jobs has been +276,000 or +23,000 on average per month. The comparable figure from a year earlier was +10,000 on average per month. Clearly, the pace of hiring in Canada has accelerated.
Canada's unemployment rate in January 2017 dipped to 6.8% from 6.9% in December 2016. In January 2016, it had been 7.2%.
Included in the latest official write-up is a section with Canada-U.S. comparisons. Statistics Canada points out that if the same more stringent methodology were adopted as in the U.S. to tally up who among the unemployed are truly, seriously looking for work, the current Canadian jobless rate would fall to 5.7%. (America's current unemployment rate is 4.8%.)
January's total improvement in staffing in Canada was two-thirds weighted towards part-time work (+32,000) and one-third supplied by full-time endeavors (+16,000).
The private sector, including the self-employed, contributed +40,000 jobs while the public sector added to payrolls by +8,000.
Services-providing positions were +43,000 in January. The services sector has been consistently accounting for just under 80% of all jobs in the economy for at least the past five years.
Among services-providing sub-sectors, 'finance, insurance, real estate and leasing' contributed an amazing +21,000 jobs month to month and +59,000 jobs year over year.
In other services sub-sectors, there was remarkable uniformity in year-over-year jobs growth: 'accommodation and food services', +30,000; 'retail and wholesale trade', +26,000; 'professional, scientific and technical services', also +26,000; 'transportation and warehousing', +23,000; and 'information, culture and recreation', 21,000.
'Educational services' jobs in January of 2017 were +14,000 year over year and 'health care and social assistance', +17,000.
Construction jobs in the latest period were +5,000 month to month and +38,000 year over year.
For two annual moments in time, 2000 and 2016, Table 1 shows changes in the composition of Canadian construction jobs according to age and sex.
The number of 'hard hat' workers of both sexes, aged 15 to 24, as a proportion of total construction workers has changed little, moving from 2000's 11.7% to 2016's 11.0%.
But for those aged 25 to 54, they are accounting for a considerably smaller share of the total, decreasing from 76.1% in 2000 to 71.1% in 2016.
And for those 55 and older, who come from the aging post-World War II baby boom generation, they have upped their share of construction's total employment from 12.2% in 2000 to 17.9% last year.
Men aged 55 and older now comprise 15.6% of construction's on-site work force where in 2000 they were only 10.8%. Women 55 and over have moved from a miniscule 1.4% in 2000 to a still small, but slightly higher, 2.3% in 2016.
Two obvious conclusions pop out from Table 1. As older construction workers retire, finding adequate labour supply to take their place will be an increasing challenge. And whatever efforts have been made so far to bring more women into the construction labour force have apparently yielded limited success.
Table 1: Share of Total Construction Employment - Canada
Men
Women
Both Sexes
2000
2016
2000
2016
2000
2016
Aged 15 and older
89.2%
88.4%
10.8%
11.6%
100.0%
100.0%
Aged 15 to 24
10.6%
10.0%
1.1%
1.0%
11.7%
11.0%
Aged 25 to 54
67.8%
62.8%
8.3%
8.3%
76.1%
71.1%
Aged 55 and older
10.8%
15.6%
1.4%
2.3%
12.2%
17.9%
89.2%
88.4%
10.8%
11.6%
100.0%
100.0%
Data Source: Statistics Canada (Cansim Table 282-0007).
Table: ConstructConnect.
Among the provinces, British Columbia had the lowest January unemployment rate, at 5.6%, followed by Manitoba, 6.1%. Saskatchewan and Ontario were tied for third, each with a jobless figure of 6.4%.
On account of its energy-sector woes, Alberta's unemployment rate has ballooned to 8.8%. It's interesting to note, though, that Alberta's population change has remained positive and has not gone into reverse as one might have expected, given the deterioration in the province's ability to create new pay-checks since mid-2014. The summer of 2014 was when the world price of oil began to collapse. (More recently, with crude rising above $50 USD per barrel, Alberta's prospects have brightened somewhat.)
Statistics Canada's latest estimate of Alberta's year-over-year population increase – for October 2016 versus October 2015 − is +1.6%. Alberta has been registering losses in interprovincial migration, but immigrants from other countries have continued to flock to the province (+34,000 people in the latest 12 months).
Three other provinces have done even better with respect to their nominal counts of net international migration: B.C., +50,000; Quebec, +76,000; and Ontario, a prodigious +165,000.
Nearly three-quarters of the nation's total population increase (+462,000), from the end of the third quarter, 2015, to the end of the third quarter, 2016, was due to immigration in excess of emigration (+339,000). (The estimate of Canada's total population as at October 1, 2016, is 36.4 million.)
With respect to total population change over the latest 12 months on record, Manitoba (+1.7%) has performed a little better than Alberta; Saskatchewan (+1.6%) and Prince Edward Island (also +1.6%) have tied with Alberta; and Ontario (+1.5%) has trailed a tiny bit.
B.C.'s year-over-year population change has been +1.3% and Quebec's, +0.9%. Canada as whole has managed +1.2%.
Returning to the jobs market as a wrap-up to this article, Canada's year-over-year employment growth in the latest month was +1.5%, which was only slightly slower than America's +1.6%.
In services, Canada and the U.S. were both +2.1% year over year in January.
The two countries were also neck and neck in construction: the U.S., +2.6%, and Canada, +2.8%.
Finally, there was more separation in manufacturing, with the U.S. at -0.4% but Canada, -2.2%.