November Jobs Creation: U.S. +155,000; Canada +94,000
There was a dramatic reversal in fortune on the jobs front between the U.S. and Canada in November.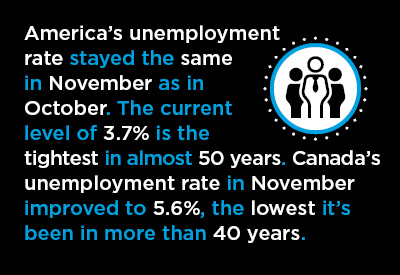 It wasn't that the U.S. number from the Bureau of Labor Statistics (BLS) was so bad. At +155,000, it slowed from +237,000 the month before, but it was still a solid increase.
Rather, it was that Canada set a blistering pace. Statistics Canada's figure of +94,000 jobs was the biggest monthly increase in more than six-and-a-half years, dating back to March 2012 (also +94,000).
Canada's unemployment rate in November improved to 5.6%, the lowest it's been in more than 40 years.
America's unemployment rate stayed the same in November as in October, but keep in mind that the current level of 3.7% is the tightest in almost 50 years.
Canada may have had a better November than the U.S., but for year-to-date 2018, it's been the latter that has been vastly outperforming the former.
U.S. monthly average jobs creation so far this year has been +206,000, +12.7% above last year's comparable figure of +183,000.
Canada's monthly average jobs bump to date in 2018 has been only +14,000, -58% versus January-November 2017's climb of +33,000.
The slight softening in U.S. jobs creation was foreshadowed by weekly initial jobless claims numbers that were on a gradual incline. After touching a bottom of just 202,000 for the week ending September 8, 2018, they have been inching upwards to exceed 230,000 for the latest two reporting periods.
In November, the U.S. total jobs increase was spread across six industrial sectors: 'education and health', +34,000; 'professional and business services', +32,000; 'manufacturing', +27,000; 'transportation and warehousing', +25,000; 'retail trade', +18,000; and 'leisure and hospitality', +15,000.
Construction, with a mediocre gain of +5,000 jobs, did not make the list of frontrunners.
The payroll pickup of +35,000 in 'education and health' came almost entirely in 'health care' alone (+32,000). Hospitals (+13,000) went on a hiring binge.
Within 'professional and business services' (+32,000), three sub-sector leaders were: 'temporary help services', +8,000; 'computer systems and design services' (also +8,000); and 'architectural and engineering services', +6,000.
In 'transportation and warehousing' (+25,000), courier and messenger firms raised staffing by +10,000 jobs. They are undoubtedly thinking ahead to the gift-giving holiday season.
Xmas may also be the reason the number of jobs in retail shot up in November (+18,000), with 'general merchandise stores' (+39,000) being particularly eager to acquire additional personnel.
The total number of government jobs in the U.S. in November shrank by 6,000. Washington (+3,000) and local (+4,000) government were on the watch for more workers, but they couldn't overcome the payroll contraction at the state level (-13,000).
With the heat turned down on hiring in November, compensation advances also eased a little.
For production and non-supervisory workers (i.e., omitting bosses) throughout the economy, average hourly and weekly earnings were both +3.2% year over year. For construction workers as a subset of 'all jobs', their earnings rewards were a bit better, at +4.2% hourly and +3.4% weekly.
Including bosses, November's earnings gains were +3.1% hourly and +2.8% weekly for 'all jobs' and +3.7% hourly and +2.9% weekly for construction workers. All the foregoing earnings advances, however, were either even with or below what were recorded in October.
The Federal Reserve has modified its stance on raising interest rates to put less emphasis on returning to 'neutral' (i.e., 3.00% for the federal funds rate from a current range of 2.00% to 2.25%). Instead, it will favor decision-making that is 'data driven'.
The relaxation evident in November's labor report (i.e., with respect to hiring and wage increases) releases some of the demand and inflationary pressures that had accumulated in the super-charged U.S. jobs market.
Early in 2019, it may be the Bank of Canada that has its feet to the fire more than the Fed with respect to 'data-driven' interest rate policy. The +94,000-change in jobs north of the border in November was composed almost entirely of higher-paying and more stable permanent positions (+90,000). The part-time jobs increase was only +4,000.
Also, it was the private sector (+86,000 jobs) that stepped up more than the public sector (+8,000).
The number of construction workers in Canada in November rose by +15,000. Production-line employees did not fare as well. The payroll of the Canadian manufacturing sector drifted sideways. The impacts of the layoffs announced by General Motors for plants in both the U.S. and Canada will be delayed until the end of next year.
Among Canada's provinces, the biggest month-to-month gains in employment in November were recorded in Quebec (+26,000), Alberta (+24,000), Ontario (+20,000) and British Columbia (+16,000).
On a year-over-year jobs-increase basis, Prince Edward Island (+3.6%) has been the leader, followed by Saskatchewan (+2.7%), Alberta (+2.6%) and B.C. (+1.7%).
Currently, B.C. is the province with the lowest unemployment rate (4.4%). Next in line are Quebec (5.4%), Saskatchewan (5.5%) and Ontario (5.6%).
Cannabis-related Jobs:
You know you're living in extraordinary times when there's a whole section in Statistics Canada's latest jobs report devoted to cannabis-related employment. Non-medicinal cannabis usage has been legal in Canada since October 17th of this year.
Employment in the industry has risen to 10,400 jobs from less than 2,000 a year ago. Slightly more than half of cannabis-related jobs are in agriculture. Other aligned positions are mainly in education, health care and retail.
The median age of cannabis workers is younger than for all workers, 35 compared with 40.
Finally, more than half of all 'cannabis-related' employees reside in Ontario, the province with the highest concentration of licensed producers.