October's U.S. Jobs Data Inspires Mild Mopping of the Brow
When September 2017's Employment Situation report was released by the Bureau of Labor Statistics (BLS), it showed a month-to-month U.S. total employment change of -33,000.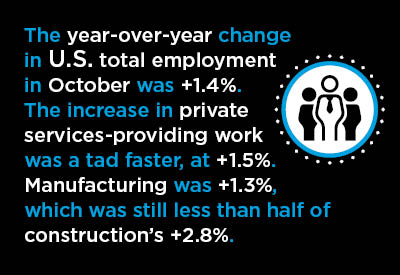 Few cries of alarm were raised in the economics community, however, because the drop was believed to be entirely due to business enterprises battening down the hatches during Hurricanes Harvey and Irma. There was little doubt that the underlying strength of the economy would soon shine through again.
The fact that the weekly initial jobless claims number recently fell to a half-century low of only 222,000 quickly lent support to that contention.
Therefore, it is with only a mild mopping of the brow that October's jobs data will be greeted.
The month-to-month gain in employment in the latest month was an impressive +261,000.
Furthermore, the out-of-work rate in October continued to tighten, to 4.1% from 4.2% in September.
During periods of wide swings in the numbers, it's almost always interesting to study revisions of past data.
The +261,000 jobs number for October versus what is now being estimated for September is only part of the story. Comparing October's present total with what was credited to the preceding month when September results were first published, yields a considerably more substantial +350,000 jobs.
September now is +90,000 compared with what it was when originally reported a month ago. That wipes out the -33,000 jobs loss and argues for an increase of nearly +60,000 – even in the face of the work stoppages caused by the hurricanes.
This says that the U.S. economy is a work-creating juggernaut. No wonder the major stock market indices keep scaling new heights.
The industrial sub-sectors contributing most to September's +90,000 revision were: manufacturing (+10,000); retail trade (+15,000); information (+10,000); professional and business services (+13,000); and local government (+23,000).
The last number in the series is most surprising. Perhaps it can be explained as temporary hiring to help with rebuilding efforts. If that is the case, then there will be plenty more of that to come.
But that's enough about September's altered status. What about the jump of +261,000 in standalone October?
By far, the sub-industry lending the biggest hand to October's large month-to-month total jobs increase was 'leisure and hospitality', +106,000. 'Food services and drinking places', on their own, saw a staffing change of +89,000. (Surely much of this was workers returning to their duties in Florida and southern Texas.)
The other sectors with the biggest bumps in October employment tallies were: 'professional and business services', +50,000; 'education and health services', +41,000; and manufacturing, +24,000.
The breakdown of the 'education and health services improvement was: 'education', +8,000; health care, +22,000; and social assistance, +12,000. The latter may include a hurricane-effect.
Expectations of a sharp uptick in damage-repair construction employment, however, met with disappointment. The +11,000-jobs performance of the 'on-site' sector was okay, but not spectacular.
The not-seasonally-adjusted (NSA) unemployment rate in construction is now 4.5%, down from 4.7% in September and below October 2016's 5.7%.
Two other notably low unemployment rates at present are 3.2% in manufacturing and 2.2% in financial activities.
The year-over-year change in U.S. total employment in October was +1.4%. The increase in private services-providing work was a tad faster, at +1.5%. Manufacturing was +1.3%, which was still less than half of construction's +2.8%.
Construction is continuing to lead all sub-sectors in year-over-year jobs growth. Second place belongs to 'professional and business services', +2.6%. Next in line are 'transportation and warehousing', +2.2%; 'education and health', +2.0%; and 'financial activities' and 'leisure and hospitality', tied at +1.8%.
There are two sectors in which payrolls have been shrinking: 'retail', -0.4%; and 'information services', -2.3%.
In three workplace categories with close ties to 'hard hat' activity, there were encouraging upticks in employment in the latest month: 'architectural and engineering services', +4,000; 'building material and garden supply stores', +6,000; and 'real estate', also +6,000.
After showing some signs of boldness in late summer, wages have mainly gone into retreat again. Average hourly and weekly earnings for all workers in the economy were both +2.4% year over year in October. Construction workers were +2.3% hourly and a timid +1.7% weekly. (The numbers are derived from Table B-3 of the BLS report.)
Excluding supervisory personnel (from Table B-8 of the BLS report), the increases hourly and weekly economy-wide were +2.3% and +2.6% respectively. Construction workers fared the same hourly, at +2.3%, but fell short weekly, +1.8%.
U.S. 'real' (i.e., inflation-adjusted) gross domestic product (GDP) growth has met or slightly surpassed +3.0% (annualized) in the past two quarters. Given the positive way in which the economy is rolling along, the Federal Reserve will likely adhere to a 25-basis point (where 100 basis points equals 1.00%) rate hike in December, with two or three more such increases to come next year.
President Trump is choosing to replace Janet Yellen as Chairman of the Federal Reserve. Jerome Powell will be taking the reins of the central bank in February 2018. Mr. Powell has a law degree from Georgetown University. He accumulated a considerable fortune as in investment banker with a couple of asset management firms, including The Carlyle Group.
Not wanting to tamper with success, he'll maintain the course already set by the Fed in the short term. Over the longer-term, and especially when harder times do come knocking, nobody's quite sure how he will react. He doesn't come with the same deep history of monetary policy decision-making as his predecessors.