Average U.S. August Jobs Report Takes Back Seat to Hurricane Harvey
August's Employment Situation report from the Bureau of Labor Statistics (BLS) records a month-to-month increase in U.S. total employment of +156,000.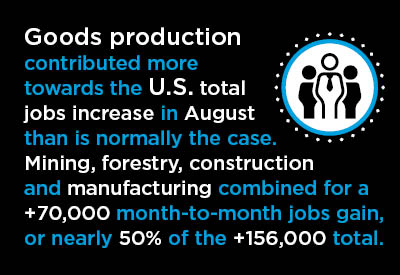 The +156,000 figure is a little weaker than the seven-month average so far this year of +176,000.
Furthermore, this year's January-through-August average of +176,000 is -9.2% compared with the +194,000 number for the same time frame last year.
Just the same, +150,000 or more is a benchmark that defines when a jobs report should be greeted with warmth.
The nation's unemployment rate in August eased back a little to 4.4% from 4.3% in July.
Goods production contributed more towards the total jobs increase in August than is normally the case. Mining, forestry, construction and manufacturing combined for a +70,000 month-to-month jobs gain, or nearly 50% of the +156,000 total.
Hiring by construction firms (+28,000) and manufacturers (+36,000) was especially bullish. The former was led by 'residential specialty trade contractors' (+12,000) and the latter by 'motor vehicle and parts' producers (+14,000).
The unemployment rate in construction in August of this year was 4.7%, lower than the 5.1% in August of last year.
Manufacturing's jobless level has fallen to 3.9% now compared with 4.2% at the same time in 2016.
Five major services-providing sectors performed quite sluggishly with respect to their payroll changes in August. 'Government' entities trimmed employees by -9,000. Staffing with 'information' providers grew slimmer by -8,000. And companies in 'retail trade' (+1,000), 'transportation and warehousing' (+2,000) and 'leisure and hospitality' (+4,000) were exceedingly cautious in offering new positions.
Only 'professional and business services' (+40,000), 'education and health services' (+25,000) and 'financial activities' (+10,000) had personnel departments that opened their doors wider.
Economic and Construction Implications of Hurricane Harvey
The decent-enough news about the country-wide employment situation in August, however, has been completely overshadowed by the latest week's events in south Texas. Hurricane Harvey blew into the region from the Gulf of Mexico and rather than moving on quickly, or dispersing rapidly, as has almost always happened with tropical storms in the past, stuck around and dropped as much as five feet of water on Houston, Corpus Christi and Port Arthur.
Some context is warranted. Houston and Dallas-Ft. Worth have been jockeying back and forth to see which is the larger city by population. Houston comes out on top if the measurement is strictly by urban core. Dallas wins if it's the entire metro area that is taken into consideration.
In any event, Houston is either the fourth or fifth largest city in America. For years, prior to the summer of 2014, the four major cities in Texas – Houston, Dallas, Austin and San Antonio – experienced extraordinary population and economic growth rates.
But lately, Houston has been seeing its fortunes decline relative to the three others. In mid-2014, Saudi Arabia abandoned supply management in oil markets and the international price of crude plummeted. Houston, home to many of the well drilling, service providing and major extraction/production companies in the oil sector was body slammed.
Consider some of the statistics from immediately before the arrival of Harvey. Austin's most recent unemployment rate was only 3.2%. Dallas and San Antonio were tied with a tight jobless figure of 3.7%. Houston was a significant step back at 4.9%.
In residential building permits (in units), Austin was +26% year to date, followed by San Antonio, at +18%, and Dallas-Ft. Worth, +8%. Houston was essentially flat, +1%. (Corpus Christi was -15% and Beaumont-Port Arthur was -44%.)
Estimates of the physical damage caused by Harvey in such a large urban area are placing it equal to or above Hurricanes Katrina and Sandy together. That would amount to more than $100 billion. (The toll in terms of lives lost and peace of mind destroyed is incalculable.)
The tally of economic negatives with respect to the local economies of south Texas begins with, but certainly is not limited to: tens of thousands of homes destroyed or severely damaged; a million or more vehicles washed away or inundated with water; and Gulf Coast refineries shut down and chemical plants taken off line.
The price of gasoline in the eastern half of the country has shot up as deliveries of refined product along the Colonial Pipeline, running from the Houston area to New Jersey, has become uncertain.
No doubt, insurance companies will be faced with a heavy burden. Business news commentators are saying, however, that they won't be wounded too grievously. History has shown that backhanded slaps from Mother Nature requiring elevated payouts have also provided justification for rate increases.
Much of the property damage is uninsured. Therefore, government relief funding will become crucially important. Obtaining approvals for such expenditures will delay and perhaps intensify the debate that is coming at the end of this month about raising the nation's debt ceiling.
The deep dip in economic activity will soon be met by extraordinary recovery efforts. Sales at home improvement centers will be booming.
A shortage of construction workers throughout the U.S. that has already been the subject of much discussion over the past year or so will become more intense.
Another likely consequence will be the authoring of articles and studies advocating improvements to building codes, in attempts to diminish the devastation when such a horrific event occurs again.
But there is also a big question mark now hanging over the future of Houston – previously one of America's most dynamic cities.
How much time must pass before home prices in flood-ravaged areas will again be able sustain upward momentum?
And will the high-profile corporations based in the city be able to recruit the top-quality personnel they will need to continue to succeed?
There are those who will say Houston's can-do spirit will conquer all. It's to be hoped that such a statement isn't merely a bromide.
Everyone's best wishes are with the city and surrounding area.