Signs of Consumer Fatigue in U.S. and Canadian Retail Sales
An 'Overhang' of Space in 'Bricks and Mortar' Retail
With jobs growth so strong and incomes rising, a main driving force behind the ten-year expansion in U.S. gross domestic product (GDP) has been consumer spending. Retail sales as a key component of consumer spending, however, have been taking quite a different path than in the past. Physical shopping outlets have been closing at a truly alarming rate, to be replaced by warehouses to fulfill purchases made over the Internet.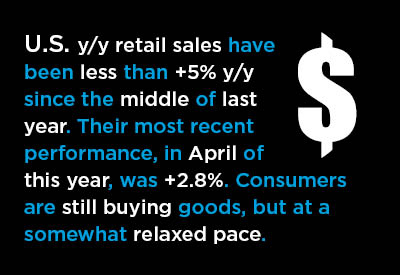 The construction industry welcomes the proliferation of distribution centers but laments the loss of 'bricks and mortar' retail building activity. Moreover, it's not just the pullback in the square footage of retail space that is disappointing for construction. Just as big a problem is the 'overhang'.
Vast amounts of empty space have been accumulating that will require years of gradually increasing occupancy to fill back up again.
U.S. Retail and Food Services Sales
When the 2008-09 recession was at its worst, U.S. total retail sales nosedived by nearly -13.0% year over year. As Graph 1 shows, U.S. retail sales then recovered in 2010 and 2011 to between +5% and +10% y/y. For the most recent seven-plus years, they've been mainly between 0% and +5%.
An often-quoted target for y/y 'current dollar' retail sales is +5%. After 'normal' inflation is factored out, +5% becomes +3% in 'real' terms, which provides healthy backing for GDP advancement.
U.S. y/y retail sales have been less than +5% y/y since the middle of last year. Their most recent performance, in April of this year, was +2.8%. Consumers are still buying goods but at a somewhat relaxed pace.
With respect to dining out and 'partying,' however, Americans have not been holding back. The spending on 'food services and at drinking places' curve in Graph 1 has been positioned above +5% for much of the period since the recession. In April 2019, the y/y percentage change for spending at 'food services' and drinking places' was more than double the figure for retail sales, +5.7% compared with +2.8%.
Graph 1: Year-Over-Year (Y/Y) U.S. Monthly Sales
Retail and Food Services + Drinking Places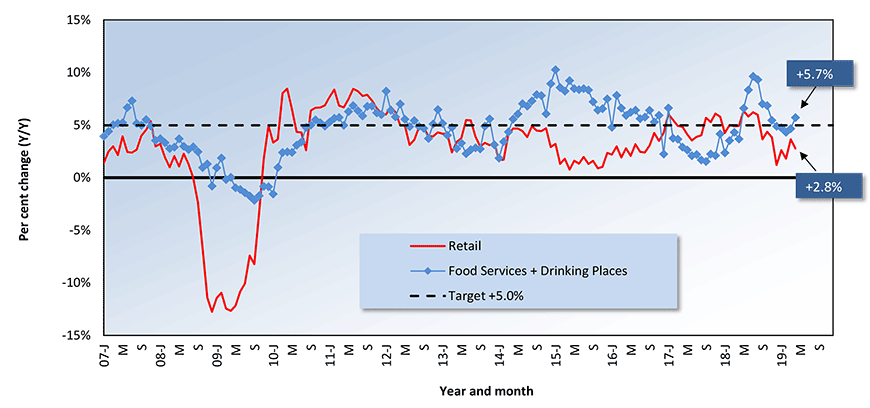 *"Year over year" is each month versus the same month of the previous year. Latest data points are for April 2019.
Current dollars, with adjustments made for seasonal variation, holiday & trading day differences, but not for price changes.
Data source: U.S. Census Bureau (Department of Commerce).
Chart: ConstructConnect
Sales by Nonstore Retailers Continue to Surge
Among shopkeeper subcategories of retail trade, the 'nonstore' segment, composed of web-based sales platforms and electronic auction houses, achieved the greatest y/y revenue gain in April 2019, at +9.0%.
'Food services and drinking places' (+5.7%) were in second place, followed by 'gasoline stations' (+4.9%) and 'health and personal care stores' (+3.6%) in third and fourth spots respectively. Gasoline stations are no longer merely locations where one goes to top up an empty tank. In many cases, they have become super convenience stores, selling all many of groceries and other items.
Three subcategories of retail experienced distressingly poor y/y sales results in April. The lagging trio was composed of 'furniture and home furnishings' (-3.1%), 'electronics and appliances' (-4.3%) and 'sporting goods, books and hobby' merchants (-8.5%).
Graph 2: U.S. Retail Sales, Year over Year (Y/Y) − April 2019

''Current' dollars means not adjusted for inflation.
Data source: U.S. Census Bureau
Chart: ConstructConnect
Gradual Slide in Y/Y Motor Vehicle and Parts Retail Sales
Graph 3 tells the story of U.S. motor vehicle and parts retail sales. Elsewhere in the media, auto sector manufacturers are usually the focus of attention. Here, Graph 3 places the emphasis on dealerships as opposed to producers.
On a year-over-year basis, U.S. 'motor vehicle and parts' retail sales peaked at +21% in early 2011. They had plunged by -28% in the middle of the Great Recession.
The top portion of Graph 3 shows that y/y 'motor vehicle and parts' retail sales, while they have remained above zero percent over the past eight years, have been on a long slow downward slide.
Nevertheless, they have stayed significant enough to reclaim their traditional share of total retail sales. Prior to the recession, they were 23% of total retail and in the latest month, April 2019, they were once again at that level. In 2008-09, they had dipped to only 18%.
Graph 3: U.S. Motor Vehicle & Parts Sales Within Total Retail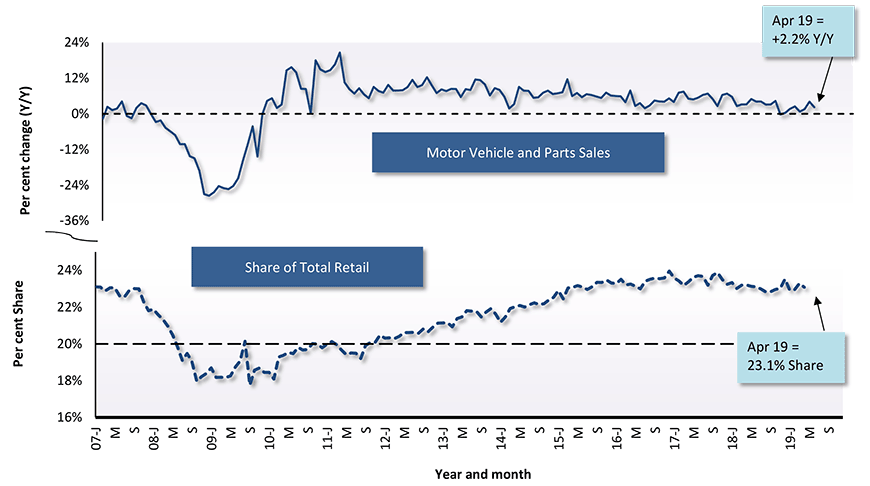 Latest data points are for April 2019.
Data source: U.S. Census Bureau (Department of Commerce).
Chart: ConstructConnect
Retail Sales in Canada, Provinces and Cities
The retail trade numbers for Canada are always a month behind their U.S. counterparts. Therefore, while the U.S. is up to date through April, Canadian retailers must be content with published results through March.
Canadian y/y retail sales in March 2019 were +2.6% year over year. Several subcategories experienced better than average results. Among the 'winners' were 'food and beverage stores', +4.8%; 'clothing and clothing accessories stores', +4.2%, and 'health and personal care stores', +3.1%.
Graph 4 showcases March's y/y retail sales in Canada's ten provinces and the nation's three largest, by population, cities. All the provinces with percentage changes above the nation-wide gain of +2.6% were in the East.
In Western Canada, Saskatchewan (+2.6%) was tied with the national rate, but Alberta (+2.1%), Manitoba (+1.7%) and British Columbia (+1.2%) fell short.
Moving on to the cities, Toronto and Montreal registered impressive and nearly equal y/y retail sales increases in the latest month, +7.9% and +7.8% respectively. Vancouver, though, took a step back, -1.2%.
The blue text box in Graph 4 highlights the economic dominance of Canada's major cities within their own provinces. Montreal's retail sales as a share of Quebec's are 49%; Toronto's as a share of Ontario's are 42%; and Vancouver's as a share of B.C.'s, 47%.
Finally, retail sales in Montreal, Toronto and Vancouver combined are 33% of the total Canada dollar amount. In other words, one dollar out of every three-dollar retail transaction that occurs in Canada takes place in one of the country's three biggest urban areas.
Graph 4: Retail Sales − Canada, Provinces & Cities −
March 2019, Year-over-Year (Y/Y) and Shares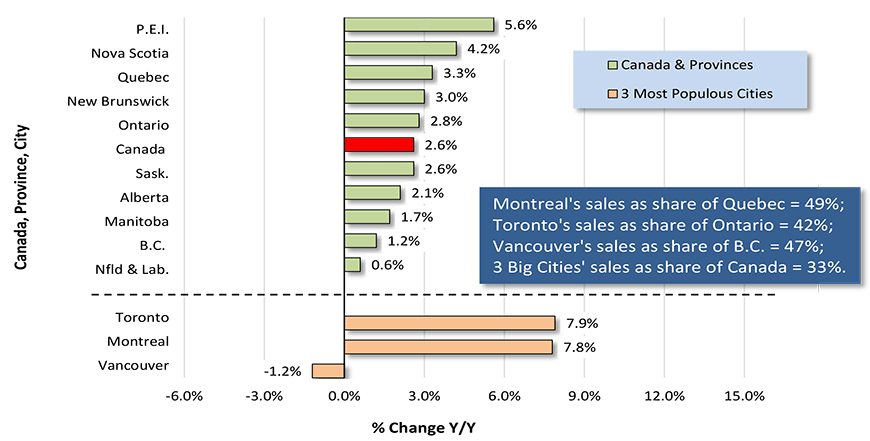 Based on 'current' dollars (i.e., not adjusted for inflation).
Data source: Statistics Canada.
Chart: ConstructConnect.
Canadian Auto Sector Retail Sales
Canadian 'motor vehicle and parts' retail sales fell by -19% at one point in the recession. Subsequently, though, they managed a long positive run until early 2018, with some y/y gains approaching +20% in February 2016 and October 2017.
For the past year-and-a-half, though, they've been nearly flat. March 2019's y/y pickup was only +1.6%.
Like the U.S., the 'bite' of total retail sales in Canada taken by 'motor vehicles and parts' has been climbing. At 26.7% in March, they were more than one quarter of the total.
Furthermore, the share of total retail dollar volume originating with auto and parts dealerships and sellers is higher north of the border than to the south, 26.7% versus 23.1%.
Graph 5: Canada Motor Vehicle & Parts Sales Within Total Retail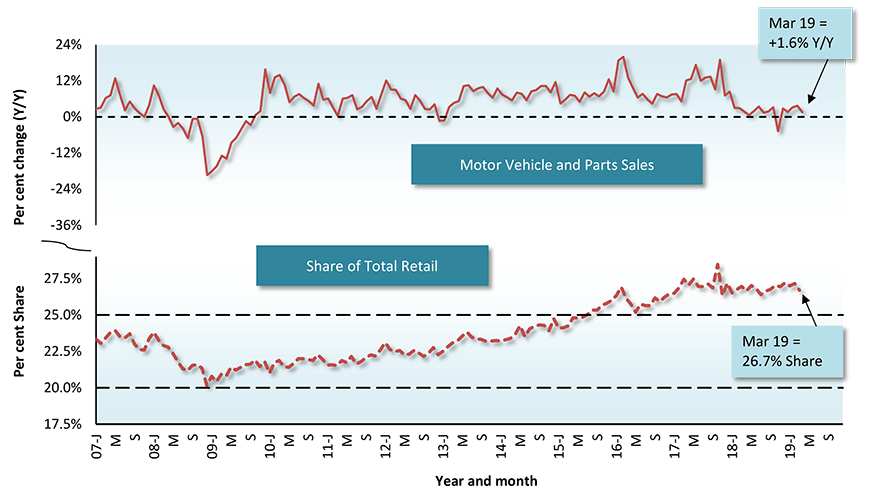 Latest data points are for March 2019.
Data source: Statistics Canada.
Chart: ConstructConnect.