Sixteen Mid-November Economic Nuggets
The election of Donald Trump as President of the United States, an event which caught most polling experts by surprise, is throwing many of the preconceived notions about where the U.S. economy might be heading into doubt.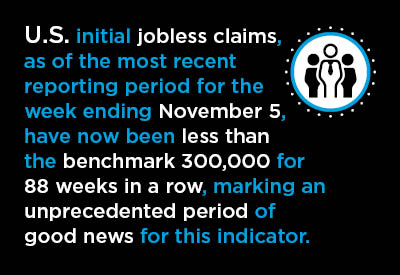 A first reaction has been a marked climb in bond yields. Mr. Trump's plans to apply fiscal stimulus through tax cuts and infrastructure spending, along with more than a hint of higher duties to limit the importation of foreign goods from some countries, are implying a spur to inflation.
The typical reaction of a bond holder to a rising inflation outlook is to sell assets. Greater supply and less demand for bonds lifts their interest rates. This creates a dilemma for government and the private sector alike. Higher yields make it costlier to finance debt.
Now that the vote for President is in the rearview mirror, the next major circled and measurable events on the economic calendar will be Black Friday and Cyber Monday retail sales after American Thanksgiving Day on November 24.
And that's where we'll begin our Nuggets review of the most recent data releases, with the latest report from the Census Bureau on Advance Monthly Sales for Retail and Food Services.
(1) In October, the sales of U.S. shopkeepers, adjusted for seasonal variation and for holiday and trading day differences, but not for price changes, rose +0.8% month to month and +4.3% year over year. Both of those percentage climbs are quite respectable.
(2) There were three sub-categories of retail sales in October that set blistering paces. 'Motor vehicle and parts' sales were +1.1% month to month and +5.4% year over year. 'Building material and garden equipment' sales were +1.1% month to month and +6.5% year over year. Best of all, though, were 'non-store retail sales' (i.e., those made largely over the Internet), +1.5% month to month and +12.9% year over year.
(3) The Federal Reserve is in an awkward spot. An economic outlook that is at least temporarily uncertain on account of the election result would normally be a reason to delay taking action on the 'official' interest rate, the federal funds rate. There is the possibility that stimulus may be needed. But non-fed financial market bond yields are rising regardless.
(4) Also, many analysts believe it is long past time to 'normalize' rates. In anticipation of such an eventuality, the share values of banks and insurance companies have been moving smartly higher. The equity values of firms in the financial sector have also been benefitting from projections of cost savings to be realized from a relaxation of regulations.
(5) The Consumer Confidence Index (CCI) from the U.S. Conference Board eased back to 98.6 from 103.5 in September. Still, it remained close to 100.0. The index has a base of 1985 = 100.0 and that period was chosen as the 'standard' because it was a period of time when the economy was neither outstandingly good nor inordinately bad.
(6) The Purchasing Managers' Index (PMI) of the Institute for Supply Management (ISM) was 51.9% in October, up a smidge from 51.5% in September. The ISM says that when the PMI is 50.0% or more, both the overall economy and manufacturers are expanding. Below 50.0%, but above 43.9%, the economy is still on a roll, but manufacturers are languishing. (If the PMI is 43.9% or less, nobody's prospering.)
(7) The fact the PMI has been above 43.9% for 89 months in a row is causing some observers to conclude that the economy's recovery and expansion phase has lasted so long, it is in jeopardy. According to this way of thinking, the up cycle is soon bound to falter because it has grown 'too long in the tooth'. There are so many points of departure between the current cycle and its predecessors that one should not be too quick to jump to conclusions.
(8) According to the ISM, a PMI reading of 51.9% corresponds to 'real' (i.e., inflation-adjusted) gross domestic product (GDP) growth of +2.8% annually. This assertion is borne out by the Bureau of Economic Analysis (BEA) which has estimated that U.S. constant dollar GDP growth, quarter to quarter and annualized, accelerated from +0.8% in Q1 of this year and +1.4% in Q2, to +2.9% in Q3. The full-year 2016 GDP growth number is likely to be approximately +2.0%, which will be slower than in 2015 when +2.6% was achieved.
(9) U.S. capacity utilization rates remain less than desirable. According to the Federal Reserve, the usage rate for 'total industry' in September 2016 was 75.4%, a marginal improvement from August 2016's 75.3%, but a worsening from September 2015's 76.4%. Manufacturing's pattern has been similar − September 2016 rising ever so slightly to 74.9% from 74.8% in August, but falling from 75.5% in September of last year. A high capacity utilization rate (80% or more) is a leading indicator for new facilities construction.
(10) Four industrial subsectors have current usage rates that are near or above 80.0%. They are: 'computers and peripheral equipment manufacturing', 85.8%; 'motor vehicles and parts manufacturing', 84.5%; 'electrical equipment, appliances and components manufacturing', 83.2%; and 'aerospace and miscellaneous transport equipment manufacturing', 80.7%; Two others are operating near 80.0% of capacity: 'petroleum and coal products producers', 79.1%; and 'utilities', also 79.1%. (Petroleum production plants are more commonly known as refineries.)
(11) U.S. initial jobless claims, as of the most recent reporting period for the week ending November 5, have now been less than the benchmark 300,000 for 88 weeks in a row, marking an unprecedented period of good news for this indicator since it was launched in the 1960s. The number of total jobs in the U.S. economy is +1.7% year over year.
(12) The fastest increases in personnel counts have been coming in services-providing occupations, +2.1% year over year. Some of the most aggressive year-over-year hiring action has been taken by 'electronic shopping and electronic auctions' companies, +6.0%; 'motion picture and sound recording' companies, +5.7%; 'warehouse and storage' firms, +5.3%; 'home health care services' providers, +4.3%; 'building materials and supplies' dealers, +4.0%; 'telemarketing bureaus', +4.0%; and 'computer system and design services' providers, +4.0%.
(13) A number of goods-producing sectors have not been doing as bullish on the employment front. Manufacturing's year-over-year jobs performance has been -0.4%. Work in logging has been -3.7%; in oil and gas extraction, -7.9%; and in coal mining, -16.3%. Construction, on the other hand, has managed a commendable degree of staffing success, +3.0% year over year.
(14) Compared with America's grand total jobs gain of +1.7% year over year in October, Canada's employment pickup at +0.8% has been lackluster. Nevertheless, some subsector employers in the land of maple leaves and Mounties have danced to a livelier tune: 'ship and boat building', +10.7%'; 'warehouses and storage', +9.9%; 'computer systems design and related services', +8.7%; 'call centers and telemarketing', +7.1%; and 'home health care', +6.6%.
(15) Canada Mortgage and Housing Corporation (CMHC) has reported October housing starts to be 193,000 units seasonally adjusted and annualized (SAAR) north of the border. The monthly average through the first ten months of this year has been 198,000 units. There continues to be a flirtation with the 200,000 yardstick that indicates rosy good health in the sector.
(16) But the degree of vitality in Canada's new home starts has been unbalanced. British Columbia and Ontario have been the only two provinces with increases in new home groundbreakings to date in 2016, +31% and +7% respectively. And with measures having been introduced to penalize foreign buyers and to tighten mortgage approvals, few expect Canada's resale and new home markets to continue as robust as they have been.