Ten Mid-December Economic Nuggets
There's an old joke that goes as follows. Knowing that those working in my profession have a frustrating habit of suggesting that such and such a course of action may lead on the one hand to this, but on the other hand to that, a top business executive once supposedly shouted to a nearby eager assistant at an important board meeting, "Go out and find me a one-armed economist."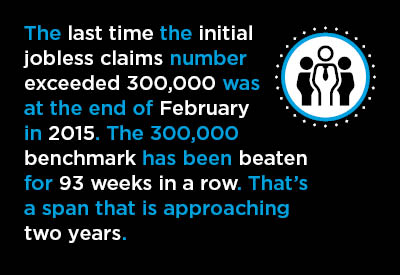 Unfortunately, though, sometimes there's no getting around the 'vague' approach. The latest case in point is the Federal Reserve's recent 0.25 basis point (where 100 basis points equals 1.00%) increase in its key policy-setting interest rate, to a range of 0.50% to 0.75%.
There are indications inflation may be warming up, especially with worker availability diminishing, and the general price level will likely curve further upwards if the new Trump administration chooses (and is able) to move aggressively on providing stimulus through substantial tax cuts and large-scale infrastructure spending. But as much as anything, the Fed wants to 'normalize' rates, so that it will have the traditional wiggle room to move yields up or down, depending on circumstances. Presently, it has almost no leeway on the downside.
Also, higher interest rates will be of benefit to the banking and insurance sectors and that's why 'financials' are leading stock market indices to all-time highs in the ' with the 'Trump rally'. At the same time, there are other considerations to be aware of, and here's where I can get in with those who want their projections served up in an unequivocal package. Higher U.S. interest rates, while they are remaining squishy almost everywhere else, are raising the value of the greenback. While this may provide additional encouragement for foreigners to buy American stocks, (i.e., such investors won't be likely to suffer an exchange rate loss when they divest), it makes efforts to sell American goods and services abroad a more strenuous effort, due to the currency effect.
It will also make the cost of financing debt to enlarge the fiscal deficit and to launch extra infrastructure initiatives more expensive. The rest of this Nuggets report will focus on recent interesting data releases from private and public sources. The soil is rich and the crop abundant.
(1) The underlying strength in the U.S. economy, and especially in its labor market, shows up most clearly in the initial jobless claims statistical series. The figure on first-time unemployment insurance seekers has been below 300,000 for 93 weeks in a row. 300,000 is the demarcation point below which, if it is maintained on a consistent basis, the labor market will become increasingly tight. And indeed, that is what has been happening. The U.S. unemployment rate is now only 4.6%, providing one of the justifications for the Federal Reserve to raise interest rates.
(2) The last time the initial jobless claims number exceeded 300,000 was at the end of February in 2015. The 300,000 benchmark has been beaten for 93 weeks in a row. That's a span that is approaching two years. There has been no period of comparable bullishness for this indicator going back at least four decades. Its low point came five weeks ago when it dipped to 233,000.
(3) The average month-to-month increase in U.S. total employment, as 2016 grows weary and prepares to pass the torch to 2017, has been +180,000 jobs. Historically, +150,000 net new positions per month have always been considered quite good. The construction sector's year-over-year increase in employment, at +2.4%, is continuing to outpace the economy-wide improvement of +1.6%. Some other big sectors with year-over-year jobs gains that are faster than the national average are professional and business services (+2.9%) and education and health (+2.6%).
(4) On a more granular level, some of the sub-sectors with truly outsized year-over-year advances in payrolls have been: 'motion picture and sound recording', +7.7%; 'warehousing and storage', +5.7%; 'electronic shopping and auctions', +5.4%; 'home health care services', +4.1%; 'building material retailers', +3.7%; 'elementary and secondary schools', +3.7%; 'real estate', +3.2%; 'investigation and security services', +3.1%; 'telephone call centers', +3.0%; 'telemarketing bureaus', +2.8%; 'hospitals', +2.7%; and 'food services/drinking places', +2.2%.
(5) Canada's labor market statistics have not been as upbeat as in the U.S. Year-over-year jobs growth in November north of the border was +1.0%. Just the same, there have been some pockets of significant improvement that deserve mention. The sectors with the biggest year-over-year staffing increases in Canada have been: 'warehouses and storage', +9.9%; 'computer systems design services', +8.7%; 'call centers and telemarketing', +7.1%; 'home health care', +6.6%; 'employment services', +6.0%; 'community care facilities for the elderly', +5.1%; 'universities', +4.9%; and motor vehicle and parts manufacturing', +4.0%. Also, thanks to the government in Ottawa making a major long-term financial commitment to upgrade the nation's coast guard, icebreaker and frigate fleets, jobs with 'ship and boat builders' are +10.7%.
(6) After U.S. new home starts in October climbed to their best level, i.e., 1.340 million units seasonally adjusted and annualized (SAAR), in more than nine years, they turned shy again in November and backed off to 1.090 million units. The month-to-month country-wide drop of -18.7% was most severe in the Northeast (-52.1% or a plunge of more than half) and the West (-22.1% or down by nearly one-quarter). The retreats in the Midwest and South weren't nearly so hurried, -14.2% and -9.3% respectively. Multi-family starts (-45.1%) in the latest month were battered much more severely than singles (-4.1%). Multiples as a share of the total fell to only 24.0%. June of 2015 was when multiples grabbed their largest portion (43.4%) of the whole.
(7) The monthly average (1.163 million units) of U.S. total home groundbreakings in 2016, with only December remaining, has been +5.4% compared with January-to-November of 2015. In Canada, this year's new home starts, on average, have stayed on a par (+0.6%) with last year. But that unexciting change nationally glosses over huge divergences regionally. B.C. has an increase of +34% while right next door in Alberta, a decline of 37% prevails. In Canada's six cities with populations of more than one million each, the homebuilding performances, ranked from speediest to slowest, have been: Vancouver, +37%; Ottawa-Gatineau, +7%; Montreal, -5%; Toronto, -10%; Calgary, -33%; and Edmonton, -43%. In the two highest-profile high-rise residential tower markets (i.e., condos), Toronto this year is -18%, but Vancouver is +44%.
(8) The Purchasing Manager's Index (PMI) of the U.S. Institute of Supply Management (ISM) rose to 53.2% in November from 51.9% in October. A PMI reading above 50.0% indicates that both 'real' (i.e., inflation-adjusted) gross domestic product (GDP) and the manufacturing sector are expanding. (Between 43.2% and 50.0%, GDP will still be growing, but manufacturing will be lethargic. Below 43.2%, nearly all aspects of the economy will be in hibernation.) The PMI has been above 50.0% in eight of the eleven months of this year so far. Based on the history of the two series, the PMI's current level corresponds with an annual GDP advance of +3.2%.
(9) U.S. current dollar retail sales in November, adjusted for seasonality and trading day differences, were +0.1% month to month and +3.8% year over year. That's neither spectacular nor shoddy. The take-off point to win a more enthusiastic reaction would be around +4.5%. Owners of 'health and personal care stores', at +6.2% year over year, outperformed other shopkeepers by a wide margin. Non-store retailers (i.e., those with successful web platforms), though, as they have been for a long time now, were the true trendsetters, +11.9%. Others with decent gains were: 'food services and drinking places', +4.9%; 'building material and garden equipment suppliers', +4.3%; and 'furniture and home furnishing stores', +4.1%.
(10) The most recent U.S. goods and services foreign trade deficit worsened from -$434 billion USD (annualized) in September to -$511 billion in October. China accounts for 49% of the shortfall. The Euro area has a 17% share, with Germany alone at 8%. Mexico (10%) and Japan (9%) also have big slices. OPEC (2%) has all but disappeared as a factor in America's foreign trade imbalance. Trade with Canada has been almost in balance of late (i.e., now only a 2% share of the U.S. deficit). Canada's merchandise trade with the world at large has suffered on account of a slump in raw materials markets. Lately, the Toronto Stock Exchange has been reacting in strong positive fashion to the fond hope that commodity prices, especially for oil, are firming up.
See Related Posts
Economic News