Top 10 Largest Construction Project Starts in Canada and Trend Graph - August 2017
The accompanying table records the 10 largest construction project starts in Canada in August 2017. Also included is the latest trend graph on starts. This looks at 12-month moving totals of the civil and nonresidential building categories in Canada.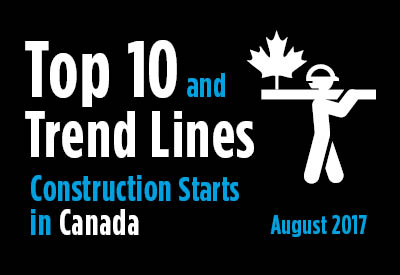 There are several reasons for highlighting upcoming large projects. Such jobs have often received a fair amount of media coverage. Therefore, people in the industry are on the lookout for when jobsite work actually gets underway. And, as showcase projects, they highlight geographically where major construction projects are proceeding.
Also, total construction activity is comprised of many small and medium-sized projects and a limited number of large developments. But the largest projects, simply by their nature, can dramatically affect total dollar and square footage volumes. In other words, the timing and size of these projects have an exaggerated influence on market forecasts.
Top 10 construction projects of the month - August 2017
REGION
(East to

West)
TYPE OF
CONSTRUCTION
DESCRIPTION

Sq. Ft.
000s

Dollars
000,000s

Quebec
Montreal
Commercial
Radio-Canada Headquarters Building
418
$100
(3 structures; 8 storeys) boul René-Lévesque & rue Papineau
Canadian Broadcasting Corp
Montreal
Civil
Water Treatment Plant Jean-R.-Marcotte - Phase 1
*
$33
(1 structure) 12001, boul Maurice-Duplessis
City of Montreal
Terrebonne
Civil
Lanaudiere - Montreal CH-BDI Section 6 Contract 3 and Other Components - 735 Kv and 315 Kv Lines
*
$32
(1 structure) 3779, ch des Quarante-Arpents
Hydro-Quebec
Ontario
Petawawa
Institutional
Mattawa Plains Compound, CFB Petawawa, ON
540
$164
(2 structures; 3 storeys; 9 units) 27 Festubert Blvd
Defence Construction Canada
Hamilton
Civil
Enbridge Pipelines - Line 10 Westover Segment Replacement
*
$75
Westover to Hamilton
Enbridge Inc
Leamington
Residential
Seacliff Heights Apartment Building - Phase Three
167
$30
(1 structure; 6 storeys; 105 units) 24 Seacliff Dr E
Piroli Group Developments
Alberta
Edmonton
Institutional
New Edmonton Police Northwest Campus
180
$75
(1 structure; 1 storey) 1351 Windermere Wy SW
City of Edmonton
Anzac
Civil
Anzac Water And Sewer Contract 2
*
$44
Regional Municipality of Wood Buffalo
British Columbia
Port Coquitlam
Commercial
Port Coquitlam Community Recreation Complex Project
205
$132
(5 structures; 2 storeys) Wilson Ave, Mary Hill Rd, and Kingsway Ave
City of Coquitlam
Yukon Territory
Whitehorse
Institutional
Operations Building Construction
118
$39
(1 structure; 1 storey) 187 Range Rd S
City of Whitehorse
TOTALS:
1,628
$724
*A square footage measure does not apply for alteration and engineering work.
Data source and table: ConstructConnect – CanaData.
Trend lines of construction starts in Canada – August 2017
Moving totals of the latest 12 months*
(ConstructConnect Insight Forecast Figures)


*For example, the August 2017 figure is the sum of the monthly numbers for September 2016 through August 2017.
Data source and chart: ConstructConnect Insight – CanaData.