Top 10 Largest Construction Project Starts in Canada and Trend Graph - July 2017
The accompanying table records the 10 largest construction project starts in Canada in July 2017. Also included is the latest trend graph on starts. This looks at 12-month moving totals of the civil and non-residential building categories in Canada.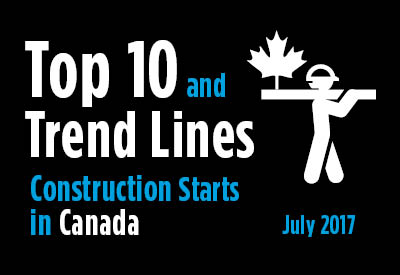 There are several reasons for highlighting upcoming large projects. Such jobs have often received a fair amount of media coverage. Therefore, people in the industry are on the lookout for when jobsite work actually gets underway. And, as showcase projects, they highlight geographically where major construction projects are proceeding.
Also, total construction activity is comprised of many small and medium-sized projects and a limited number of large developments. But the largest projects, simply by their nature, can dramatically affect total dollar and square footage volumes. In other words, the timing and size of these projects have an exaggerated influence on market forecasts.
Top 10 construction projects of the month - July 2017
REGION
(East to

West)
TYPE OF
CONSTRUCTION
DESCRIPTION

Sq. Ft.
000s

Dollars
000,000s

Quebec
Montreal
Residential
Humaniti - Mixed-Use Residential, Hotel and Commercial Complex
750
$200
(5 structures; 44 storeys; 675 units) corner of rues De Bleury and Viger
Fonds immobilié de solidarité FTQ
Rimouski
Commercial
Sports Centre
118
$46
(1 structure; 1 storeys) 2e rue Est
Ville de Rimouski
Ontario
Toronto
Commercial
Manulife Centre Revitalization - Restaurant, Retail
235
$100
(2 structures; 5 storeys) 55 Bloor St W
Manulife Real Estate
Norval
Residential
Hello Georgetown Townhouses
600
$90
(2 structures; 2 storeys; 440 units) 15640 10th Sideroad
Remington Group
Vaughan
Industrial
Industrial Distribution Centres in Vaughan - Phase One
486
$53
(1 structure; 1 storey) 7245 Hwy 50 and 100 Gibraltar Rd
Nexrock Design Build (Owner's Rep)
North York
Civil
Rehabilitation of Concrete Pavement, Grading, Drainage, Hot Mix Paving, Noise Barrier, Electrical, Structures & ATMS
*
$44
Hwy 401
Ontario Ministry of Transportation
Aurora
Residential
Aurora Glen Townhouses
230
$40
(1 structure; 2 storeys; 77 units) 15436 Leslie St
H & R Developments, Lindvest Properties Ltd
Saskatchewan
Saskatoon
Institutional
Shaw Centre - Snow and Condensation Project
*
$296
(1 structure) 122 Bowlt Cres
City of Saskatoon
Alberta
Entwistle
Industrial
Pinnacle Entwistle Pellet Plant
100
$85
(2 structures; 1 storey) Township Rd 534
Pinnacle Renewable Energy Inc
British Columbia
Langley
Industrial
Campbell Heights West Business Park
348
$48
(2 structures; 2 storeys) 18810 24 Ave
Onni Group of Companies
TOTALS:
2,867
$1,002
*A square footage measure does not apply for alteration and engineering work.
Data source and table: ConstructConnect – CanaData.
Trend lines of construction starts in Canada – July 2017
Moving totals of the latest 12 months*
(ConstructConnect Insight Forecast Figures)

*For example, the July 2017 figure is the sum of the monthly numbers for August 2016 through July 2017.
Data source and chart: ConstructConnect Insight – CanaData.