Top 10 Largest Construction Project Starts in Canada and Trend Graph - March 2018
The accompanying table records the 10 largest construction project starts in Canada in March 2018. Also included is the latest trend graph on starts. This looks at 12-month moving totals of the civil and non-residential building categories in Canada.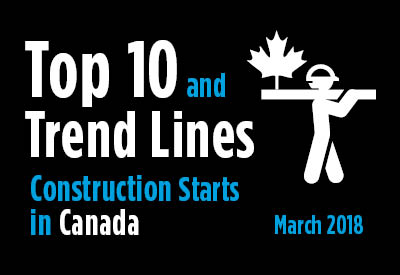 There are several reasons for highlighting upcoming large projects. Such jobs have often received a fair amount of media coverage. Therefore, people in the industry are on the lookout for when job-site work actually gets underway. And, as showcase projects, they highlight geographically where major construction projects are proceeding.
Also, total construction activity is comprised of many small and medium-sized projects and a limited number of large developments. But the largest projects, simply by their nature, can dramatically affect total dollar and square footage volumes. In other words, the timing and size of these projects have an exaggerated influence on market forecasts.
Top 10 construction projects of the month - March 2018
REGION
(East to

West)
TYPE OF
CONSTRUCTION
DESCRIPTION

Sq. Ft.
000s

Dollars
000,000s

New Brunswick
Moncton
Residential
470 Ryan Street Residential Development
118
$14
(4 structures; 8 storeys; 95 units) 470 Ryan St
CG Groupe
Ontario
Brockville
Institutional
Brockville General Hospital Redevelopment - Phase 2
144
$35
(2 structures; 4 storeys; 22 units) 75 Charles St
Brockville General Hospital
Toronto
Commercial
LCBO Interior Fit Up - Multiple Locations
*
$30
Multiple locations
LCBO
Mississauga
Institutional
Sheridan College, Hazel McCallion Campus (HMC) Phase 2A Addition
71
$28
(1 structure; 5 storeys) 4180 Duke of York Blvd
Sheridan College
Alberta
Calgary
Institution
University of Calgary - Mackimmie and Professional Faculties Redevelopment
340
$180
(3 structures; 16 storeys) 2500 University Dr NW
University of Calgary
Nunavut
Kugaaruk
Institutional
Design/Build New Kugaaruk K-12 School
42
$27
(1 structure; 2 storeys; 450 units) Kugaaruk
Government of Nunavut
British Columbia
Vancouver
Residential
W14 Apartment Building
82
$32
(2 structures; 12 storeys; 116 units) 1755 W 14th Ave
Bentall Kennedy
Vancouver
Residential
Vivian Street Seniors Housing Development
66
$11
(2 structures; 4 storeys; 169 units) 6465 Vivian St, 2720 E 48 Ave
Fair Haven United Church Homes
North Vancouver
Residential
Brooklynn Mixed-Use Building
66
$11
(3 structures; 6 storeys; 151 units) 467 Mountain Hwy
Wanson Developments
North Saanich
Commercial
Canadian Tire Store & Auto Service Centre #932
69
$10
(2 structures; 1 storeys) 1810 Glamorgan Rd
Canadian Tire Real Estate Ltd
TOTALS:
998
$378
*A square footage measure does not apply for alteration and engineering work.
Data source and table: ConstructConnect – CanaData.
Trend lines of construction starts in Canada – March 2018
Moving totals of the latest 12 months*
(ConstructConnect Insight Forecast Figures)


*For example, the March 2018 figure is the sum of the monthly numbers for April 2017 through March 2018.
Data source and chart: ConstructConnect Insight – CanaData.