Top 10 Largest Construction Project Starts in Canada and Trend Graph - May 2018
The accompanying table records the 10 largest construction project starts in Canada in May 2018. Also included is the latest trend graph on starts. This looks at 12-month moving totals of the civil and non-residential building categories in Canada.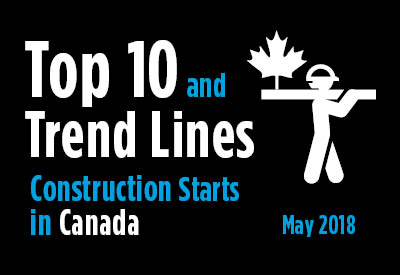 There are several reasons for highlighting upcoming large projects. Such jobs have often received a fair amount of media coverage. Therefore, people in the industry are on the lookout for when job-site work actually gets underway. And, as showcase projects, they highlight geographically where major construction projects are proceeding.
Also, total construction activity is comprised of many small and medium-sized projects and a limited number of large developments. But the largest projects, simply by their nature, can dramatically affect total dollar and square footage volumes. In other words, the timing and size of these projects have an exaggerated influence on market forecasts.
Top 10 construction projects of the month - May 2018
REGION
(East to

West)
TYPE OF
CONSTRUCTION
DESCRIPTION

Sq. Ft.
000s

Dollars
000,000s

Quebec
Quebec
Commercial
CNESST Headquarters - Estimauville
370
$83
(4 structures; 14 storeys; 640 units) 1600. ave d'Estimauville
CNESST
Ontario
Chatham
Engineering/Civil
Highway 401 - Drake Road to Charing Cross Road, Mull Road to Victoria Road
*
$81
(3 structures) Hwy 401
Ontario Ministry of Transportation
Oakville
Engineering/Civil
QEW - East of Winston Churchill Boulevard; Upper Middle Road over Highway 403
*
$66
(2 structures) Multiple Locations
Ontario Ministry of Transportation
North York
Engineering/Civil
Highway 401 Westbound Collector From East of Allen Road to East of Jane Street and Allen Road Interchange - 5.4 km
*
$58
(3 structures) Hwy 401
Ontario Ministry of Transportation
Markham
Residential
Galleria Markham Condominium Townhouses - Phase One
281
$49
(1 structure; 3 storeys; 134 units) Hwy 7 and South Park Rd
Times Group Corporation
Nunavut
Iqaluit
Engineering/Civil
Marine Infrastructure Projects
*
$89
(2 structures) Pond Inlet
Government of Nunavut
Alberta
Lethbridge
Industrial
Cavendish Farms - Lethbridge Potato Processing Plant
333
$360
(2 structure; 1 storey) 4802 - 43 St N
Cavendish Farms
Calgary
Institutional
West Campus (University District) Development - Cambridge Manor
217
$51
(1 structure; 4 storeys; 240 units) 353 Smith St NW
Brenda Stafford Foundation Ltd
British Columbia
Hudson's Hope
Engineering/Civil
Site C - Generating Station and Spillways Civil Works
*
$1,600
(1 structure) Hwy 29
BC Hydro and Power Authority
Surrey
Commercial
Clayton Community Centre
76
$44
(3 structures; 2 storeys) 18680, 18714 72 Ave
City of Surrey
TOTALS:
1,277
$2,481
*A square footage measure does not apply for alteration and engineering work.
Data source and table: ConstructConnect – CanaData.
Trend lines of construction starts in Canada – May 2018
Moving totals of the latest 12 months*
(ConstructConnect Insight Forecast Figures)


*For example, the May 2018 figure is the sum of the monthly numbers for June 2017 through May 2018.
Data source and chart: ConstructConnect Insight – CanaData.