Top 10 Largest Construction Project Starts in Canada and Trend Graph - November 2017
The accompanying table records the 10 largest construction project starts in Canada in November 2017. Also included is the latest trend graph on starts. This looks at 12-month moving totals of the civil and non-residential building categories in Canada.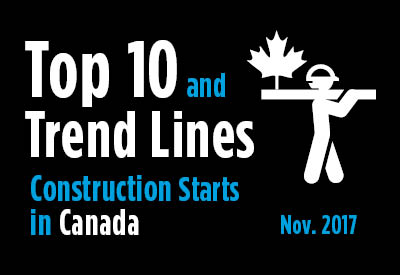 There are several reasons for highlighting upcoming large projects. Such jobs have often received a fair amount of media coverage. Therefore, people in the industry are on the lookout for when job-site work actually gets underway. And, as showcase projects, they highlight geographically where major construction projects are proceeding.
Also, total construction activity is comprised of many small and medium-sized projects and a limited number of large developments. But the largest projects, simply by their nature, can dramatically affect total dollar and square footage volumes. In other words, the timing and size of these projects have an exaggerated influence on market forecasts.
Top 10 construction projects of the month - November 2017
REGION
(East to

West)
TYPE OF
CONSTRUCTION
DESCRIPTION

Sq. Ft.
000s

Dollars
000,000s

Newfoundland & Labrador
Corner Brook
Medical
Corner Brook Long Term Care Facility
600
$120
(2 structures; 5 storeys; 145 units) Corporal Pinksen Memorial Dr
Department of Transportation and Works
New Brunswick
Bathurst
Medical
Chaleur Regional Hospital Addition Interior Fit-Up - Contract #4
*
$77
(4 structures) 1750 Sunset Dr
New Brunswick Transporation and Infrastructure
Quebec
Brossard
Residential
LUM Pur Fleuve Phase I
114
$39
(2 structures; 15 storeys; 234 units) 8300, boul du St-Laurent
PUR Immobilia
Montréal
Community
Canada Formula 1 Grand Prix Infrastructure Upgrades - Gilles-Villeneuve Circuit
*
$32
(2 structures) circuit Gilles-Villeneuve
Société du Parc Jean-Drapeau
Ontario
North York
Residential
The Rocket at Subway Condominiums
500
$84
(2 structures; 14 storeys; 460 units) 36 Tippett Rd
Metropia
Alberta
Calgary
Medical
Calgary Cancer Centre
1,370
$1,400
(2 structures; 12 storeys; 1810 units) 1403 29 St NW, Lot 7
Alberta Infrastructure
Edmonton
Residential
Londonderry Mixed Use Redevelopment
259
$72
(1 structure; 7 storeys; 240 units) 10232 112 St
Capital Region Housing Corporation
Calgary
Civil
SW Bus Rapid Transit Contract 2: Glenmore South
*
$44
(3 structures) Multiple Locations
City of Calgary
British Columbia
Surrey
Residential
196th Avenue Townhouse Development
214
$34
(1 structure; 3 storeys; 422 units) 7405 196 St and 7414 194 St
Barnett Dembek Architects (Owner's Rep)
Vancouver
Residential
Belpark Condominiums
172
$30
(2 structures; 6 storeys; 348 units) 375 W 59 Ave
Intracorp Vancouver
TOTALS:
3,229
$1,932
*A square footage measure does not apply for alteration and engineering work.
Data source and table: ConstructConnect – CanaData.
Trend lines of construction starts in Canada – November 2017
Moving totals of the latest 12 months*
(ConstructConnect Insight Forecast Figures)

*For example, the November 2017 figure is the sum of the monthly numbers for December 2016 through November 2017.
Data source and chart: ConstructConnect Insight – CanaData.