Top 10 Largest Construction Project Starts in Canada and Trend Graph - November 2018
The accompanying table records the 10 largest construction project starts in Canada in November 2018. Also included is the latest trend graph on starts. This looks at 12-month moving totals of the civil and non-residential building categories in Canada.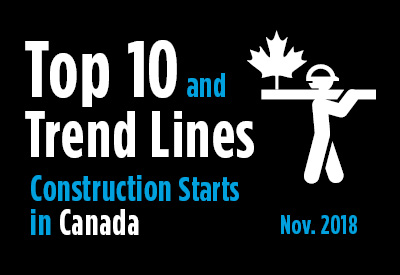 There are several reasons for highlighting upcoming large projects. Such jobs have often received a fair amount of media coverage. Therefore, people in the industry are on the lookout for when jobsite work actually gets underway. And, as showcase projects, they highlight geographically where major construction projects are proceeding.
Also, total construction activity is comprised of many small and medium-sized projects and a limited number of large developments. But the largest projects, simply by their nature, can dramatically affect total dollar and square footage volumes. In other words, the timing and size of these projects have an exaggerated influence on market forecasts.
Top 10 construction projects of the month - November 2018
REGION
(East to

West)
TYPE OF
CONSTRUCTION
DESCRIPTION

Sq. Ft.
000s

Dollars
000,000s

Quebec
Montréal
Commercial
Banque Nationale du Canada - Head Office Construction
1,000
$500
(4 structures; 46 storeys; 502 units) 800, rue Saint-Jacques
Banque Nationale du Canada
Ontario
Toronto
Residential
AYC (Annex Yorkville Connection) Mixed-Use Residential Building
360
$63
(3 structures; 27 storeys; 283 units) 181 Bedford Rd
Diamond Corp
Kitchener
Residential
Charlie West Condominiums
351
$61
(4 structures; 31 storeys; 300 units) 60 Charles St W
Momentum Developments
Scarborough
Residential
The Bluffs Condo
250
$44
(4 structures; 10 storeys; 360 units) 2815 Kingston Rd
SKALE Developments
Manitoba
Winnipeg
Residential
The Onyx Apartment Building
282
$44
(1 structure; 6 storeys; 282 units) 1792 Pembina Hwy
Ironclad Developments
Alberta
Fort Saskatchewan
Engineering/Civil
Alberta Carbon Trunk Line (ACTL) Project
*
$591
(1 structure) Alberta Industrial Heartland
Enhance Energy Inc
Brazeau County
Engineering/Civil
Tidewater Intra-Alberta Pipeline to TransAlta
*
$180
(1 structure) Brazeau River Complex, 55 km SW of Drayton Valley
Tidewater Midstream & Infrastructure
British Columbia
Kitimat
Industrial
LNG Canada Export Terminal
*
$10,000
former Methanex site
G2 LNG LLC
Burnaby
Engineering/Civil
Second Narrows Water Supply Tunnel
*
$267
(3 structures)
Metro Vancouver
New Westminster
Residential
Pier West Mixed-Use Development
680
$132
(2 structures; 109 storeys; 649 units) 750 Quayside Dr
BOSA Development
TOTALS:
2,923
$11,882
*A square footage measure does not apply for alteration and engineering work.
Data source and table: ConstructConnect – CanaData.
Trend lines of construction starts in Canada – November 2018
Moving totals of the latest 12 months*
(ConstructConnect Insight Forecast Figures)


*For example, the November 2018 figure is the sum of the monthly numbers for December 2017 through November 2018.
Data source and chart: ConstructConnect Insight – CanaData.