Top 10 Largest Construction Project Starts in Canada and Trend Graph - October 2016
The accompanying table records the 10 largest construction project starts in Canada in October 2016. Also included is the latest trend graph on starts. This looks at 12-month moving totals of the two major nonresidential building categories in Canada − total ICI starts and engineering work. ICI stands for industrial, commercial and institutional.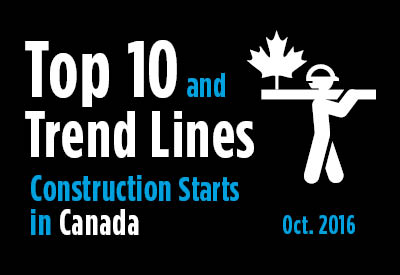 There are several reasons for highlighting upcoming large projects. Such jobs have often received a fair amount of media coverage. Therefore, people in the industry are on the lookout for when jobsite work actually gets underway. And, as showcase projects, they highlight geographically where major construction projects are proceeding.
Also, total construction activity is comprised of many small and medium-sized projects and a limited number of large developments. But the largest projects, simply by their nature, can dramatically affect total dollar and square footage volumes. In other words, the timing and size of these projects have an exaggerated influence on market forecasts.
Top 10 projects of the month - October 2016
REGION
(East to

West)
TYPE OF
CONSTRUCTION
DESCRIPTION

Sq. Ft.
000s

Dollars
000,000s

Quebec
Communauté urbaine de Montréal
Institutional
Complexe des Sciences, projet 70000
594
$225
(2 structures; 6 storeys), prolongement de la rue Wiseman
Université de Montréal
Montréal
Residential
Roccabelle Condominium Building, Phase Two
300
$55
(1 structure; 40 storeys; 298 units), boul René-Levesque O
MC Financial inc
St-Hubert
Residential
Faubourg Cousineau Condominium Apartment Building
310
$47
(20 structures; 4 storeys; 376 units), intersection de l'A-30 et du boulevard Cousineau
Développements Montarville
Ontario
Oakville
Residential
Oak Village Townhouses, Phase One
1,173
$190
(100 structures; 3 storeys; 652 units), 3075 Trafalgar Road
Minto Group Inc., Emshih Developments Inc.
Mississauga
Commercial
Warehouse and Distribution Centre, Office Building
770
$80
(1 structure; 1 storeys), 2020 Logistics Drive
Greater Toronto Airports Authority, Panattoni Developments
Vaughan
Residential
Avenue on 7 Condominium
450
$72
(2 structures; 10 storeys; 350 units) 4800 Highway 7
iKore Developments Ltd.
Alberta
Red Deer
Engineering
Highway 2 and Gaetz Avenue, Highway 2 and Taylor Drive Roadwork and Bridge
*
$79
Alberta Transportation
Calgary
Commercial
Stoney CNG Transit Bus Storage and Transit Facility
480
$63
(1 structure; 1 storey), 12620-15 Street Northeast, will be LEED Certified
City of Calgary
Edmonton
Institutional
NAIT Productivity and Innovation Centre
160
$58
(1 structure; 4 storeys), Princess Elizabeth Avenue
NAIT
British Columbia
Burnaby
Residential
Escala Condominium Apartment and Townhouses
523
$87
(3 structures; 42 storeys; 495 units), 1728 Gilmore Avenue
Ledingham McAllister
TOTALS:
4,760
$956
*A square footage measure does not apply for alteration and engineering work.
Data source and table: ConstructConnect – CanaData.
Trend lines of construction starts in Canada – October 2016
Moving totals of the latest 12 months*
(CanaData Figures)

*For example, the October 2016 figure is the sum of the monthly numbers for November 2015 through October 2016.
†ICI is the sum of industrial, commercial and institutional.
The prominent jumps in the engineering curve reflect such mega project starts as Horizon Oil Sands work in Alberta (March 2005), the Eastmain 1-A hydroelectric power project in northern Québec (June 2007), the Kearl Oil Sands Project in Alberta (April 2010), the Firebag 4 SAGD Oil Sands project in Alberta (June 2011) and the Voyageur heavy oil processing plant Alberta (August 2011). In May 2010, the ICI curve shot upward due to the McGill University medical centre project in Montreal. In March 2012, Alcan's modernization project in Kitimat was initiated.
Data source and chart: ConstructConnect – CanaData.