Top 10 Largest Construction Project Starts in Canada and Trend Graph - September 2017
The accompanying table records the 10 largest construction project starts in Canada in September 2017. Also included is the latest trend graph on starts. This looks at 12-month moving totals of the civil and non-residential building categories in Canada.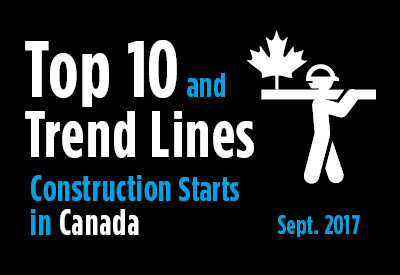 There are several reasons for highlighting upcoming large projects. Such jobs have often received a fair amount of media coverage. Therefore, people in the industry are on the lookout for when job-site work actually gets underway. And, as showcase projects, they highlight geographically where major construction projects are proceeding.
Also, total construction activity is comprised of many small and medium-sized projects and a limited number of large developments. But the largest projects, simply by their nature, can dramatically affect total dollar and square footage volumes. In other words, the timing and size of these projects have an exaggerated influence on market forecasts.
Top 10 construction projects of the month - September 2017
REGION
(East to

West)
TYPE OF
CONSTRUCTION
DESCRIPTION

Sq. Ft.
000s

Dollars
000,000s

Quebec
Verdun
Civil
Atwater Drinking Water Treatement Plant
*
$71
(2 structures) rue Joseph
City of Montreal
Montréal
Civil
Station de Pompage Rosemont Pumping Station
28
$59
(1 structure) 6405, 16e Ave
City of Montreal
Ontario
Toronto
Residential
Sonic and Supersonic Condominium Towers
750
$125
(1 structures; 30 storeys; 617 units) 1185 Eglinton Ave E, Don Mills Rd
Donmeg Developments Ltd
North York
Residential
South Side Condominiums
950
$100
(3 structures; 20 storeys; 1100) 9 Tippett Rd
Malibu Investments Inc
King
Civil
Highway 400 Grading, Drainage, Granular Base, Hot Mix Paving, Electrical, ATMS and Structural
*
$67
Ontario Ministry of Transportation
Hamilton
Civil
Woodward Ave Wastewater Treatment Plant Electrical and Chlorination System Upgrades
*
$61
(1 structure) 700 Woodward Ave
City of Hamilton
Ottawa
Civil
Highway 417
*
$59
Ontario Ministry of Transportation
Nepean
Residential
Titan Private Apartment Building
300
$50
(1 structure; 12 storeys; 138 units) 320 Tighton Private at Merivale Rd
Ontario Ministry of Transportation
Alberta
Calgary
Civil
Glenmore Dam Infrastructure Improvements
*
$60
City of Calgary
Calgary
Commercial
WestJet Calgary Campus Wide Body Hangar
125
$50
(2 structures; 8 storeys) 237 Aero Way NE
WestJet
TOTALS:
2,153
$702
*A square footage measure does not apply for alteration and engineering work.
Data source and table: ConstructConnect – CanaData.
Trend lines of construction starts in Canada – September 2017
Moving totals of the latest 12 months*
(ConstructConnect Insight Forecast Figures)


*For example, the September 2017 figure is the sum of the monthly numbers for October 2016 through September 2017.
Data source and chart: ConstructConnect Insight – CanaData.