Top 10 Largest Construction Project Starts in Canada and Trend Graph - April 2018
The accompanying table records the 10 largest construction project starts in Canada in April 2018. Also included is the latest trend graph on starts. This looks at 12-month moving totals of the civil and non-residential building categories in Canada.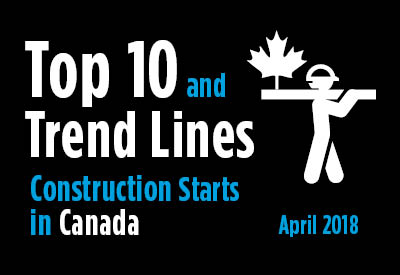 There are several reasons for highlighting upcoming large projects. Such jobs have often received a fair amount of media coverage. Therefore, people in the industry are on the lookout for when job-site work actually gets underway. And, as showcase projects, they highlight geographically where major construction projects are proceeding.
Also, total construction activity is comprised of many small and medium-sized projects and a limited number of large developments. But the largest projects, simply by their nature, can dramatically affect total dollar and square footage volumes. In other words, the timing and size of these projects have an exaggerated influence on market forecasts.
Top 10 construction projects of the month - April 2018
REGION
(East to

West)
TYPE OF
CONSTRUCTION
DESCRIPTION

Sq. Ft.
000s

Dollars
000,000s

Quebec
Montreal
Residential
628 Saint-Jacques Condominiums
256
$150
(2 structures; 35 storeys; 258 units) 628 Saint-Jacques
Broccolini Construction Inc
Laval
Engineering/Civil
Laval Aquatic Complex
175
$60
(1 structure; 2 storeys; 1200 units) avenue Terry-Fox
Provencher_Roy & Associés Architectes (Owner's Rep)
Montreal
Institutional
Concordia University Addition: Incubateur des sciences appliquées
96
$47
(3 structures; 4 storeys) 7141 rue Sherbrooke Ouest
Université Concordia
Ontario
Toronto
Institutional
Design-Build of New Toronto Courthouse
71
$956
(1 structure; 2 storeys) 11 Centre Ave
Ministry of the Attorney General
Mississauga
Engineering/Civil
Burnhamthorpe Water Project, Contracts 1 and 2
*
$119
(1 structure) Burnhamthorpe Rd
Region of Peel
Kitchener
Residential
Charlie West Condominiums
351
$60
(2 structures; 31 storeys; 300 units) 60 Charles St W
Momentum Developments
Alberta
Redwater
Industrial
Inter Pipeline Propane Dehydrogenation (PDH) Facility
*
$3,500
(1 structure) Heartland Petrochemical Complex
Inter Pipeline
Edmonton
Industrial
MTE Logistix Distribution Centre
501
$57
(1 structure; 1 storey) 11250 189 St NW
Stantec Group Ltd (Owner's Rep)
British Columbia
Coquitlam
Residential
Westview Residential Development
389
$67
(4 structures; 57 storeys; 1145 units) 430-450 Westview St
Cressey Development Corp
Burnaby
Residential
Cirrus - SOLO District (Brentwood) Phases 3
362
$60
(5 structures; 42 storeys; 280) 2085 Skyline Court
Appia Group of Companies
TOTALS:
2,201
$5,076
*A square footage measure does not apply for alteration and engineering work.
Data source and table: ConstructConnect – CanaData.
Trend lines of construction starts in Canada – April 2018
Moving totals of the latest 12 months*
(ConstructConnect Insight Forecast Figures)


*For example, the April 2018 figure is the sum of the monthly numbers for May 2017 through April 2018.
Data source and chart: ConstructConnect Insight – CanaData.