Top 10 Largest Construction Project Starts in Canada and Trend Graph - August 2018
The accompanying table records the 10 largest construction project starts in Canada in August 2018. Also included is the latest trend graph on starts. This looks at 12-month moving totals of the civil and non-residential building categories in Canada.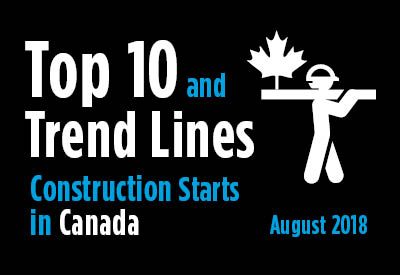 There are several reasons for highlighting upcoming large projects. Such jobs have often received a fair amount of media coverage. Therefore, people in the industry are on the lookout for when job-site work actually gets underway. And, as showcase projects, they highlight geographically where major construction projects are proceeding.
Also, total construction activity is comprised of many small and medium-sized projects and a limited number of large developments. But the largest projects, simply by their nature, can dramatically affect total dollar and square footage volumes. In other words, the timing and size of these projects have an exaggerated influence on market forecasts.
Top 10 construction projects of the month - August 2018
REGION
(East to

West)
TYPE OF
CONSTRUCTION
DESCRIPTION

Sq. Ft.
000s

Dollars
000,000s

Newfoundland & Labrador
Nain
Engineering/Civil
Voisey's Bay Mine Development
*
$1,700
(2 structures) 350km N of Goose Bay, 35km SW of Nain
Vale
Quebec
Montréal
Residential
MaryRobert Condominiums
450
$170
(3 structures; 23 storeys; 497 units) rue, Peel
Devimco Inc
Ontario
Toronto
Residential
Time and Space Condos
2,400
$415
(3 structures; 39 storeys; 2425 units) 177 Front St E
The Pemberton Group
Toronto
Residential
Mirvish Village, Mixed-Use Development
1,400
$260
(5 structures; 26 storeys; 850 units) 581 Bloor St W
Westbank Projects Corp
Toronto
Engineering/Civil
F.G Gardiner Expressway Rehabilitation Project Section 1 - Jarvis to Cherry Street
*
$248
(1 structure) Gardiner Expressway
City of Toronto
Toronto
Commercial
The Well Mixed-Use Office Tower - Phases 1 and 2
1,000
$225
(3 structures; 42 storeys) 8 Spadina Ave
Diamond Corp
Toronto
Commercial
Liberty Market Mixed-Use Tower
617
$120
(5 structures; 28 storeys; 607 units) 171 E Liberty St
Lifetime Developments
Toronto
Residential
Aquabella at Bayside - Mixed-Use Condominium Building
420
$73
(3 structures; 14 storeys; 175 units) 257 Queens Quay E
Tridel Group
Manitoba
Winnipeg
Residential
Park City Commons - Mixed-Use Development
900
$135
(2 structures; 7 storeys; 800 units) 1500 Plessis Rd & 849 Ravelston Ave W
The EdgeCorp Group
British Columbia
Montney
Engineering/Civil
NGTL System - Saddle West Expansion Project
*
$570
(2 structures) Montney
Nova Gas Transmission Ltd
TOTALS:
7,187
$3,916
*A square footage measure does not apply for alteration and engineering work.
Data source and table: ConstructConnect – CanaData.
Trend lines of construction starts in Canada – August 2018
Moving totals of the latest 12 months*
(ConstructConnect Insight Forecast Figures)


*For example, the August 2018 figure is the sum of the monthly numbers for September 2017 through August 2018.
Data source and chart: ConstructConnect Insight – CanaData.